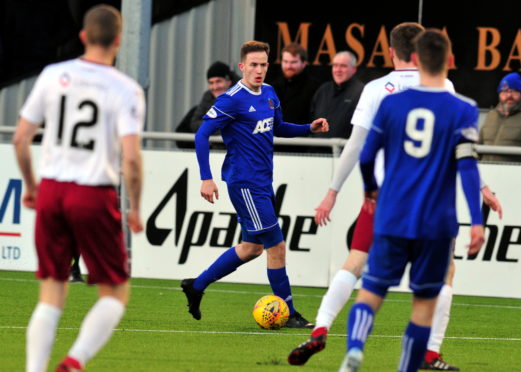 Fraser Fyvie has been in Tom Leighton's shoes.
Coming away from English football, desperate for games, Fyvie found a perfect home for himself at Hibernian after the disappointment of his time at Wigan Athletic.
Leighton may not have experienced the highs Fyvie did at Wigan – he is an FA Cup winner – but was let go by Premier League side Watford in the summer. The 19-year-old was on trial at Celtic over the summer but was still without a club come the start of this month, until a connection with his old Motherwell coach Gordon Young, now Cove Rangers' assistant manager, bore fruit.
Fyvie credits the Hibees with rejuvenating his football career and hopes Cove can do the same for youngster Leighton.
He said: "He has experience of going down south and not playing. The main thing at that age is to be playing games; I've been around a while now and realise that. You see a lot of young boys moving on and not playing – it doesn't matter what level you're at, if you're playing games regularly you'll get to where you should be. All he needs to do is play, enjoy his football and set a goal of where he wants to be in three, four or five years.
"When I came back to Hibs, I was so happy just to play games again. I was lucky to have such a good club to go to. It was a really good place to be and my team-mates at the time spoke about the camaraderie around the place. It's something I will try to emphasise to young players if they ask me; enjoy playing games because once you're out of it, that's when you realise it.
"Cove is a good place for him to be at the minute, to get a bit of experience. If he works his way back up the league and helps us out, then great. He did well for us last weekend in what was his first game in a while."
Today takes former Dons youngster Fyvie back to the venue of one of his career's high points. Hampden Park was the scene of Hibs' 2016 Scottish Cup triumph over Rangers, with Fyvie on the field for their 3-2 win and first lifting of the trophy in over 100 years.
The scenario is somewhat different this time around, with Cove facing Queen's Park while top of League 2, but Fyvie is determined to enjoy the occasion once again.
He added: "I've got very good memories of Hampden. It was an unforgettable, incredible experience and I'm still a bit speechless about it. It was an unbelievable experience for me and my family who were there that day.
"It's been great for Queen's Park to play there for so long and I don't think many of our boys have played there. Hopefully it's an enjoyable experience.
"Nothing is won in November or December and I'm sure there's going to be more ups and down along the way. We're still on top and staying there is the hardest thing. But we're happy with where we are. We just need to take it game by game and see where we are at the end of the season."