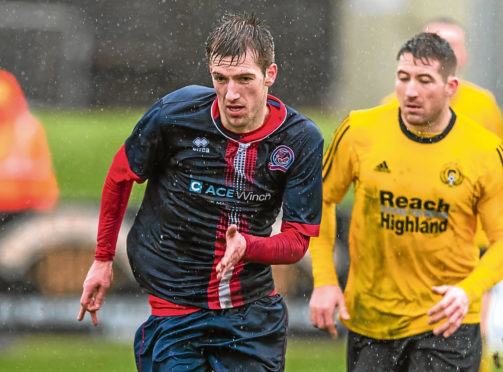 Huntly have re-signed Turriff United left-sided player Neale Davidson on a two-and-a-half year contract.
The 27-year-old, who can play in defence or midfield, will have to wait to make his debut as he wasn't registered in time for tonight's Breedon Highland League Cup first round tie at Strathspey Thistle.
Huntly manager Charlie Charlesworth believes Davidson has a huge amount to offer his side and praised the player's determination and courage, having fought his way back to full fitness after having broken the same leg three times in successive seasons between 2014 and 2017.
He suffered the injury twice while playing for the Black and Golds and again while playing for Turriff in a 1-1 draw with Cove Rangers last April.
Charlesworth said: "I know how difficult it is to come back from a broken leg.
"It took me two years to get back and I was never the same player again but to have suffered three leg breaks and still have the fitness levels Neale possesses is nothing short of miraculous.
"Neale's enthusiasm and commitment is one of the reasons I've brought him back.
"He's a Huntly lad and we need players in the club who really want to be here.
"Neale needed to prove his fitness. He's had a different type of operation this time and we're happy with the healing process.
"We are severely lacking depth across the back four so a natural left-sided flexible player like Neale, who can play left back or in left midfield, fits the bill.
"I'm still looking to bring in another central defender."
Looking ahead to tonight's trip to Grantown, Charlesworth added: "It's a tricky tie.
"We've not been winning games and the fact they've won two and drawn the other in their last three games makes it an extremely difficult tie.
"We are looking for some kind of catalyst to turn our season around. Strathspey have shown what can be done.
"They made a couple of signings and started to get some positive results.
"Neale is ineligible for the cup tie.
"Craig Reid, Cory Ritchie, Martin Charlesworth and Gary McGowan are injured, while Blair Johnston and Alex Thoirs are unavailable."
Strathspey Thistle manager Ally Munro hopes his side can continue its fine recent form if the game beats the weather.
He said: "If we can keep up the standards we've shown in recent weeks we have a chance.
"I'm sure Huntly will be going all out to prove a point as my old Lossiemouth United team-mate Charlie Charlesworth will be wanting to end their run of defeats.
"We will be without Nicky Mochan, who is suspended, and fellow midfielder Dominick Edwards will be out for four weeks after tearing his hamstring against Buckie Thistle."