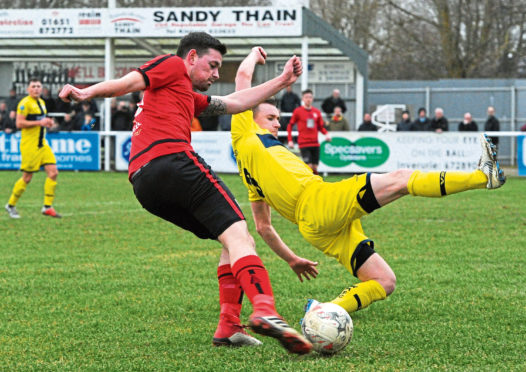 Wick Academy defender Gary Manson is about to celebrate two decades in Highland League football.
The 35-year-old, who is preparing for his 20th season at Harmsworth Park, is enjoying his football just as much now as when he made his league debut against Cove Rangers as a 16-year-old.
Manson said: "It doesn't seem like it was 20 years ago when I made my first appearance for Academy at the age of 16. In some ways it feels like it was a lifetime ago.
"I remember I played the whole of what was a very memorable game.
"Cove Rangers were the reigning champions but on the first day of the new season, if memory serves me right, we beat them 1-0.
"As we were facing the champions we decided to play a back five that day, I was given the job of left wing-back. It was the graveyard shift, they must have thought that as a 16-year-old I was super fit.
"Over the last two decades I've played all over the pitch for Academy. I even played up front for a season as well.
"I remember that season well as that was when Craig Gunn made his debut, like myself, at the age of 16. He went on to score loads of goals in Academy colours.
"I'm still enjoying playing as much as ever. A few weeks ago I played in my long-time team-mate Richard Macadie's testimonial game against a young Aberdeen side and it was great to play against a team of full-time young professional footballers."
Manson, however, has no plan of hanging up his boots anytime soon.
He said: "At my age now I could easily decide to drop down a couple of levels and just take it easy, but I still enjoy the challenge of playing in the Highland League.
"I'm used to spending every other Saturday night in the company of my team-mates coming back up over the Ord from somewhere in deepest Aberdeenshire.
"we always have a good time coming back home to Caithness on the bus on a Saturday night."
Factfile
Ground: Harmsworth Park
Colours: Black and white stripes
Honours: North of Scotland Cup 2015-16
Manager: Tom McKenna
Season 18-19: Finished 7th
Manager's view
Wick Academy manager Tom McKenna is hoping for an improved campaign from his team.
The Scorries finished seventh last term but McKenna felt his team did not win as many games as they should have.
He said: "Last year we had a season that was more progressive than successful, overall it was a season of inconsistency.
"We did well against the top six teams but we struggled to gain points when we should have.
"Unfortunately we don't have the financial support which others enjoy and that gives those teams an advantage in a league like ours.
"We will again be relying on the players we have who continue to serve the club well, an experienced squad full of quality, who all pull together and are extremely ambitious.
"With the club's fantastic youth structure we will promote from within again, the young lads coming through are very promising prospects.
"We've been scouring summer football in Caithness to hopefully find a diamond in the rough and we do have three or four targets."
Looking ahead to the new season, McKenna said: "Like all managers and clubs we have goals which I believe are achievable, without the need to put unnecessary pressure on the players.
"I'm looking forward to the season ahead and couldn't imagine enjoying it with any other group of players.
"It's even more special as it will mark Gary Manson's 20th season in the Highland League, quite a remarkable achievement."
McKenna expects a more competitive league following Cove's promotion to League 2.
He added: "Cove's departure provides an opportunity for certain clubs to maximise their financial budgets to enhance their squads, therefore putting them in a stronger position to compete for the league."