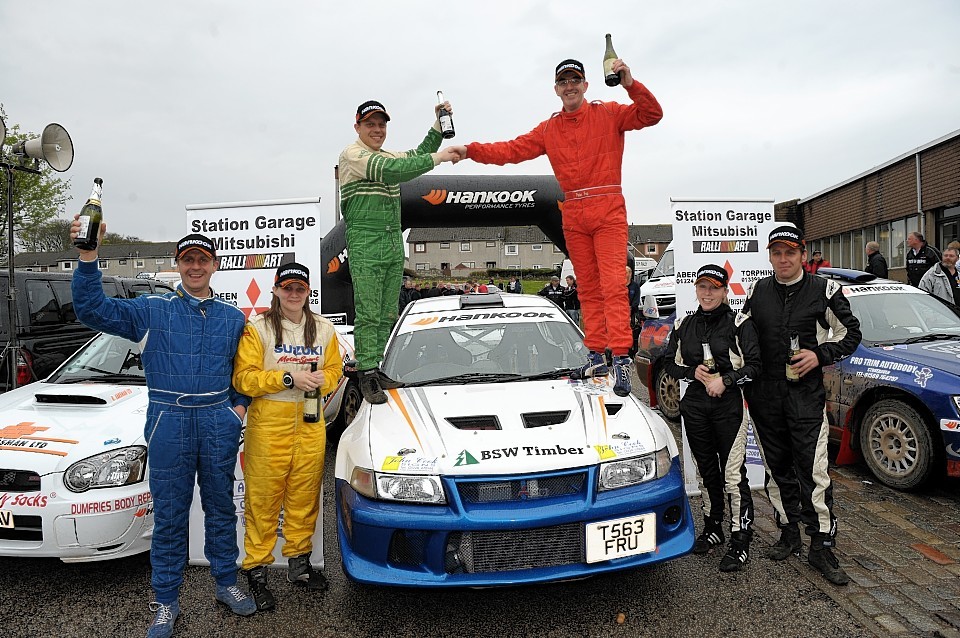 Stonehaven's Barry Groundwater has made a storming start to this year's Scottish rally champion-ship, but is realistic about his chances in this weekend's Granite City Rally.
The 42-year-old, who is in fifth position on the leaderboard after the first two events, will be in a different car this Saturday with his Mitsubishi Lancer Evo 9 out of action.
Groundwater will be behind the wheel of a Lancer E10 and has been forced to lower his expectations around his home circuit.
He said: "As I am in a new car, I am treating this as a test weekend. I just want to go out and get a feel for it.
"If I can finish inside the top 10 then I will be absolutely delighted.
"I certainly won't be pushing for anything more than that because it is not my car and I don't want to wreck it.
"I won't be taking any risks as I would be able to with my own machine.
"I have been in a Mitsu-bishi 09 so this is a step up. It is the next generation car and this is just a trial to see how I go.
"It will take a bit of getting used to but I will probably only be able to get out in the car once before the event itself."
Groundwater is chasing for a third top 10 finish on the trot after placing fifth at the Snowman Rally and eighth at the Border Counties Rally.
However the Stonehaven man, who will be assisted by co-driver Neil Shanks from Elgin, knows there will be no shortage of quality drivers on the starting grid.
He said: "There are always younger guys coming up through the ranks and there seems to be quite strong competition this year so I am pleased with how we have done.
"Jock Armstrong and Mike Faulkner have been doing well this year and David Bogie is racing this week. Everyone in the top 10 is very strong.
"It will be a good test and anything can happen on the day. The Granite City Rally is our home race and one we always look forward to.
"It is always a little bit tricky but it is a really good event.
"Some areas we go to generate more interest than others but in the Granite we always get a good turnout of spectators whatever the weather.
"There seems to be a big interest in motor sport in this area."