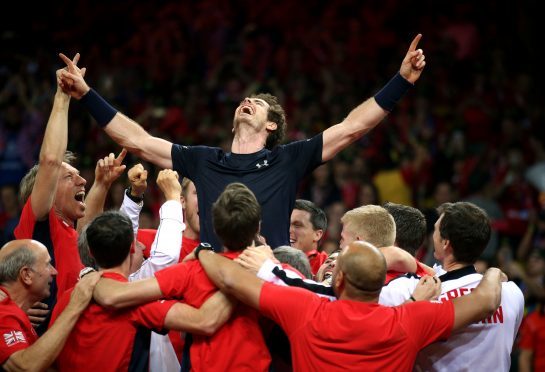 Andy Murray pulled off arguably the most impressive feat of his career by beating David Goffin to clinch the Davis Cup.
Great Britain's first title since 1936 was secured when Murray completed a 6-3 7-5 6-3 victory over the Belgian number one at the Flanders Expo in Ghent.
When the final lob landed in, Murray fell to the clay and covered his face with his hands before being mobbed by captain Leon Smith and his team-mates.
It was entirely fitting, and somewhat inevitable, that it should be Murray that secured the winning point after one of the most remarkable seasons in the competition's 115-year history.
Of the 12 points Britain needed to claim the title, Murray won 11 of them, eight in singles and three in doubles with brother Jamie, with James Ward the only player not a member of the Murray family to contribute.
Three other players have won 11 rubbers in a season since the current format was introduced in 1981 but Murray is the first to do so all in live rubbers and remain unbeaten.
The celebrations were as wild as you would expect after history was made, with captain Smith highlighting star turn Murray for particular praise once they had subsided.
"It is amazing," he said. "It is as good a feeling as I could possibly imagine.
"Andy has shown himself to be an absolute superstar again.
"He will be the first to say it is a team thing, but what he has put himself through this year, in particular, has been astonishing.
"Yet again it was a brutal match, even thought it was straight sets – it was tough going and he rose to the occasion on the big points.
"I am so, so proud of him but I am proud of everybody."
As for the man himself, Murray was elated to be able to add the Davis Cup to his Wimbledon, US Open and Olympic titles.
"It feels amazing," he said. "I never thought we would have the opportunity to do this and I can't believe we did it.
"It was an unbelievably tough, tough year – we won some big matches and I think everyone that played has played at an unbelievably high level.
"We've had chances in almost every single match that we played and, yeah, I can't believe we did it."