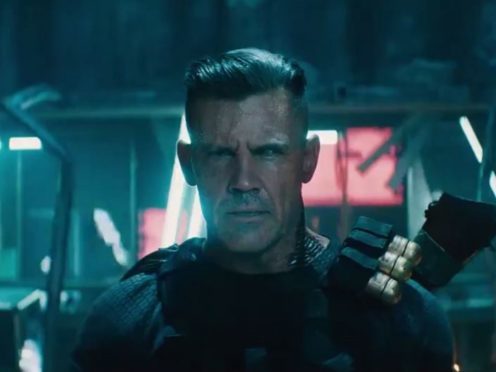 A first look at Josh Brolin's Deadpool 2 character Cable has been revealed in a new trailer for the forthcoming comedy superhero film.
In the expletive-filled trailer posted by the film's official Twitter account and leading star Ryan Reynolds, Brolin is seen in action as the Marvel Comics character, a time-travelling cybernetic mutant soldier.
He is seen wielding his strength and opens the clip by saying: "I was born in the war, bred into it, people think they understand pain, but they have no concept of it.
"What's the most pain you've ever felt? Maybe the kind that makes you more machine, than man."
Deadpool/Wade Wilson, a foul-mouthed and obscure superhero played by Reynolds, then pauses the clip and complains about the lack of digital editing to create Cable's metal arm, breaking the fourth wall in his typical style.
He then sets about creating his own Toy Story-inspired scene with action figures before Brolin returns to the screen in full character, complete with metal arm, to engage in action-style scenes opposite Reynolds.
In the final portion of the trailer, Cable tells Deadpool's alter ego Wade Wilson: "Your time's up, you dumb f***."
Wilson, pointing a gun at Cable, turns to the camera and says: "Well, that's just lazy writing."
The first Deadpool was one of the biggest successes of 2016, raking in 782 million US dollars (£562 million) at the global box office.
Deadpool 2 is set for release on May 18.