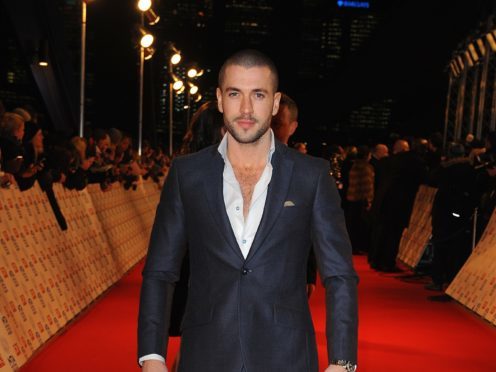 Coronation Street fans have praised the soap for its male suicide storyline as they described Shayne Ward's final scenes as "heartbreaking" to watch.
His character Aidan Connor takes his own life off screen after Monday's double bill, in which he is seen bidding farewell to his ex-fiancee Eva Price (Catherine Tyldesley).
In emotional scenes, Aidan returned the engagement ring to Eva and the pair told each other they loved each other and danced to their favourite song, Cosmic Love by Florence + The Machine.
One fan wrote on Twitter: "It just shows like anyone can be struggling and there friends and family would never know it's like you choose to hide it because you don't want to bother people with your own issues."
Another wrote: "My heart is breaking for Aiden Such an important storyline and message to get across."
Viewers shared their own experiences with suicide as the episodes unfolded, with one writing: "Too close to home this. 7 months ago my 25 year old cousin did the same after sitting in the pub like Aiden. Thank you for highlighting it. If it saves one life its done its job."
Another said: "My brother in law took his own life, we ignored the signs and paid the price,glad #Corrie are covering male suicide. Take the time and talk."
Ward's last scenes saw him sitting in the Rovers Return as the Florence + The Machine song played and distant chatter of his friends and neighbours could be heard.
The final shot saw him sitting alone on the sofa with tears falling down his cheeks.
One viewer said: "As someone who suffers with mental health I understand the feeling of being in a room full of people but feeling so alone & empty inside! Well done #Corrie and Aidan for raising awareness to mental health & depression."
Another wrote: "Hands down… #corrie are so good at handling such a tragic issue with a truth that cannot be denied. Am weeping… didn't know that was going to happen, although there were some subtle signs, which is the way it often is. @shayneTward Kudos to you… delicately done."
One more said: "My heart is broken. Goodbye Aidan. Beautifully portrayed @shayneTward and @itvcorrie – so sad he didnt feel he could tell someone how he was feeling. Remember, if you feel like there is no way out there will always be someone who can guide you. It is OK to not be OK."
Another wrote: "Oh my days, sat in tears thinking of #Aidan to think people feel that they need to take their own lives. Whatever you are going through please talk & get help, all lives matter #shayneward you have been amazing well done #Corrie this story needs to be told."
Another viewer said "You could have everything in the world looks,money,flash cars or own business but still be depressed and commit suicide. Doesn't matter who you are or how happy you may look. Deep down there are people in this world who are suffering and need support."
Tyldesley bid farewell to her co-star in an Instagram post, sharing a picture of Aidan and Eva and writing: "Aidan & Eva' … heartbreaking , phenomenal performance from @shaynetward tonight.
"Darling it's been an absolute pleasure to work with you. Here's hoping that the work that yourself and our wonderful #corrie team have put into this weeks episodes get people talking and help save lives. #itsoktotalk #mentalhealthawareness help is there – and hope is ALWAYS in your heart – no matter how cloudy."
The aftermath of Aidan's suicide will be shown in a special episode of the soap on Wednesday on ITV.