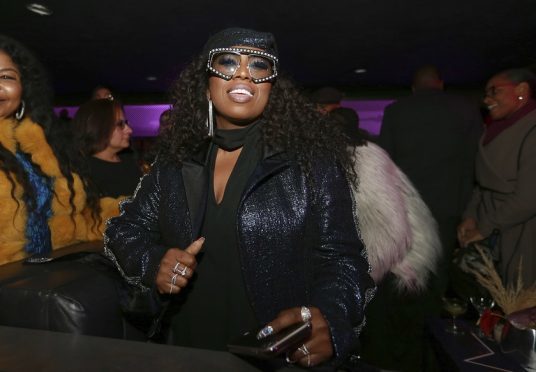 Missy Elliott broke down in tears when Janet Jackson paid tribute to her in an emotional speech while honouring her at Essence magazine's Black Women in Music event.
Elliott was caught by surprise when her close friend Jackson praised her for her career and her influence on others at the New York City event, held a few days ahead of the Grammy Awards.
Jackson told the crowd at the Highline Ballroom: "Some rhyme, some rap; some act, some choreograph; some write hit songs; some create whole new sounds.
"Some women are able to make her mark in some of these fields; but there's only one woman who has made her mark in all of these fields.
"Not only have you made your mark, but she's done so with boldness and courage."
She continued: "Creativity is a beautiful thing, and when creativity flows so freely from a musical genius, all we can do is express gratitude."
Jackson said she is grateful for Elliott's "beautiful soul, her creativity, her energy" and for "how she stood toe-to-toe with the guys, showing them that a woman can do it all, lead the way, innovate and create without fear".
She continued: "Grateful for how she's cleared the way, the path, for new generations of young talent that follow.
"And I'm so very grateful for her loyal friendship that has meant more to me than she could ever know."
Jackson, 51, added that Elliott, with whom she has collaborated on a few tracks, is "one of the most genuine people that I have ever known".
Elliott cried during Jackson's speech before approaching the stage to hug the singer as she accepted the visionary award at Essence magazine's annual pre-Grammy event celebrating black female artists.
Fighting back the tears, Elliott, 46, said: "That was a surprise.
"I've known Janet over a decade and this is not just … someone I do music with. I can call Janet any time of night, and she will listen.
"The times that I may have felt like giving up, she always gave me an encouraging word."
Elliott, whose many hits include Work It, Get Ur Freak On and 4 My People, also shared her thanks to Essence.
She said: "I wouldn't want to be any other colour but black. I'm black and I'm proud. There's something about our DNA that can't be taught, it comes from a different place."
Elliott added: "Essence magazine has over the decades shown me what strong power black women look like and I appreciate that."