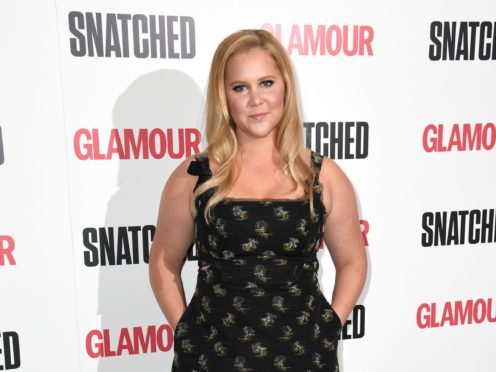 Amy Schumer has issued a rallying call after she was reportedly arrested during a protest against Brett Kavanaugh's nomination to the Supreme Court.
The comedian and actress is said to have been detained alongside the model Emily Ratajkowski during demonstrations in Washington DC on Thursday.
Mr Kavanaugh, Donald Trump's nominee for a place on the highest court in the United States, is accused of sexual assault while in high school. He denies the allegations.
After his nomination cleared a key hurdle in the Senate on Friday, Schumer shared pictures from the rally showing protesters holding placards reading slogans such as, "I am a survivor and I vote" and "don't betray women".
The post was captioned: "Beautiful 36 hours with the sisters I came with and the ones that I met. Shout out to the capitol police for keeping it real. It's fun to show up.
"May I recommend trying it on whatever scale you feel comfortable? (Cue trolls making jokes about the word scale, loving the fat jokes and memes! Nothing says 'I feel powerless' like insulting a woman's appearance)."
The 37-year-old American star then urged her fans to prepare for November's midterm elections, with polls showing a majority of Americans are now viewing them as the most important in a generation.
Schumer said: "Midterms. Let's go! Find the candidates you want to support and spread the word! Donate. Volunteer. It feels good.
"We are all gonna die one day so why not live how you truly believe. No matter where you are from. Once you're honest you'll feel so much better. Believe me. #beabletosleepatnight #showup."
Earlier, Schumer shared a joke on Instagram.
She posted a picture of herself at the march, along with the caption: "Anyone need a date to any Montana weddings tomorrow? I'm fun at a wedding."
Republican senator Steve Daines had earlier promised to walk his daughter down the aisle for her wedding in Montana in Saturday before flying back to Washington DC in case he is needed to secure Mr Kavanaugh's nomination during a final vote the same day.
London-born Ratajkowski, 27, confirmed she was arrested while protesting against the nomination of Kavanaugh.
She shared a photograph of herself in front of the US Capitol brandishing a sign reading "Respect female existence or expect our resistance".
She wrote on Twitter: "Today I was arrested protesting the Supreme Court nomination of Brett Kavanaugh, a man who has been accused by multiple women of sexual assault. Men who hurt women can no longer be placed in positions of power."
Schumer told CNN she too had been arrested.