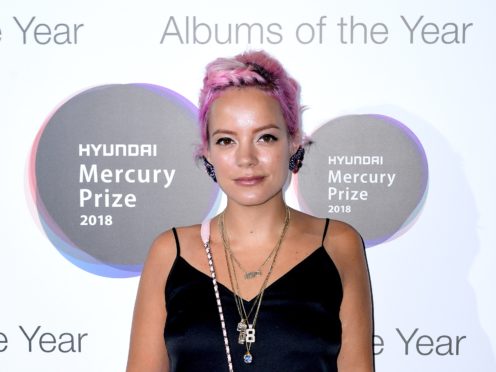 Lily Allen said she has not spoken to her father since the publication of her memoir, in which she shared a story about him that he claims is incorrect.
The singer's book, My Thoughts Exactly, was published in September and in it she wrote that her father, actor Keith Allen, had suffered a drug-induced heart attack at Glastonbury Festival in 1998.
She later revealed that he had sent her a text message to say that her version of events, which had been the focus of a number of reports, was incorrect and that he actually had acute food poisoning at the time.
Allen told BBC Radio 4's Mastertapes: "I haven't spoke to my dad actually since…
"He's been sent it, I don't know, we haven't debriefed."
She added: "I didn't put anything in there to embarrass or humiliate or to shame anybody. I only put something in there if I felt it was significant in that it makes me make a bit more sense to people."
The musician, 33, also said that she thinks the Me Too movement against sexual harassment is not delivering the right results.
In her book, Allen said that a music industry figure allegedly assaulted her when she fell asleep in his hotel room after she got "smashed" at a party.
She told the radio programme, hosted by John Wilson and recorded in front of an audience at BBC Maida Vale Studios: "I think we're in a dangerous place because on the one hand there's a lot of conversation and a lot of talk, and on the other hand not a lot is being done.
"People don't really seem to be going to jail or getting fired or behaving better. So, what are we saying to women? 'Yeah talk all you want, you're worthless, we don't care, we're not going to change anything' that's what it feels like."
She said she believes the issue of sexual misconduct within the music industry is worse than it is in the film industry.
The Smile singer also said that she feels the music industry has been devalued.
"I think it is (difficult to talk about political things) when music has been completely devalued and basically your money is coming from branding," she said.
"I think that all artists are just saying absolutely sod all because they don't know where their next branding deal is coming from and what that brand stands for.
"They don't care, they just want the money because they can't earn it from music."
Lily Allen's Mastertapes: Side A is on Monday December 10 at 11pm, and Side B is on December 11 at 3.30pm on BBC Radio 4 on BBC Sounds.