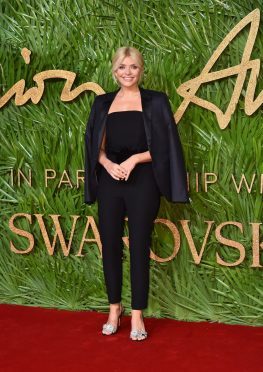 Holly Willoughby has told how she "works at" having a successful marriage to Dan Baldwin.
The couple wed 10 years ago and share three children together.
Willoughby, who co-hosts This Morning with Phillip Schofield, told The Sun: "Marriage is something you have to look after and work at.
"It's really important to do that and I'm very lucky that I count Dan as one of my best friends – he's also a friend that I think is quite hot.
"If you get on and have the same interests, it makes the difficult times easier".
The 36-year-old added: "I never take him for granted… because I imagine it's not easy at times but we do have a real understanding of one another. And he makes me laugh and that's really important."
The Dancing On Ice presenter also said she will not take on extra work as her children get older, over the next few years, when her "main focus" will be "churning out three very grounded, normal, happy, content children".
"I don't really want to do more, I just want to pause everything and keep everything as is….," she said.
Asked about using hand warmers inside her dress to keep her warm while fronting ITV show Dancing On Ice, she said: "It wasn't just me, by the way, Phil had them down his pants. You adapt to your climate."