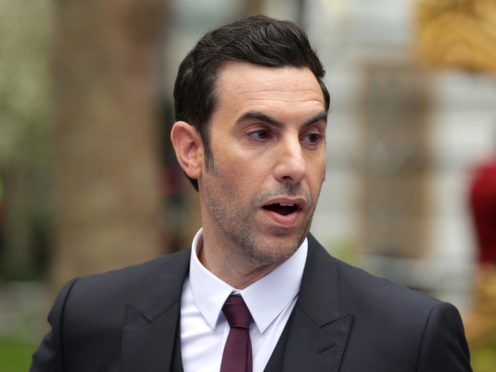 Sacha Baron Cohen is returning to TV in a satirical comedy titled Who Is America?
The London-born comedian, 46, has been secretly filming the seven-episode show for a year and it is due to premiere on Channel 4 later this month.
In a teaser for the programme, Cohen, posing as a journalist, interviews former US vice president Dick Cheney and asks him to autograph a "waterboard kit".
The politician is a known proponent of the controversial torture technique.
Mr Cheney, 77, agreed to sign it and said: "That's a first. That's the first time I've signed a waterboard kit."
Who Is America? is described as exploring "the diverse individuals, from the infamous to the unknown across the political and cultural spectrum, who populate the unique nation".
Announcing the programme, David Nevins, president and chief executive of Showtime Networks Inc, said: "Sacha is a comedic genius who shocks you with his audacity, bravery and inventiveness.
"He is the premier provocateur of our time, but not for the sake of 'gotcha' moments. Behind the elaborate set-up is a genuine quest for the truth about people, places and politics.
"Nobody knows how to cause a stir like Sacha Baron Cohen, and it's going to be fascinating to watch what happens when WHO IS AMERICA? is released on the world."
Fans speculated the programme will take aim at President Donald Trump after Cohen tweeted a video of the politician on Independence Day.
In the clip, the politician insults Cohen, calling him a"third-rate character".
Cohen is best known for his comedy characters such as Ali G and Borat Sagdiyev and he is married to the Australian actress Isla Fisher, 42.
The couple have three children.
The first episode of Who Is America? will air in the UK on Channel 4 at 10pm on Monday July 16.