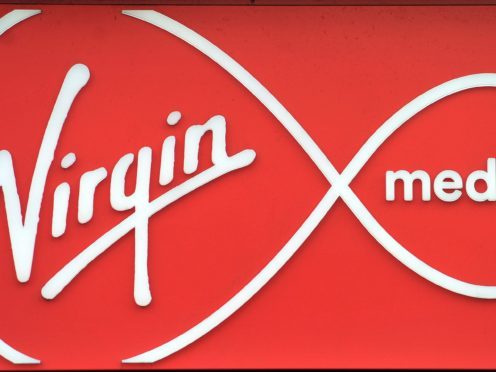 UKTV has apologised to Virgin Media subscribers who are upset they will no longer receive channels including Dave and Gold.
Virgin customers are poised to lose all 23 of UKTV's channels this weekend in a row over fees, and on-demand and catch-up programming will no longer be available.
The channels due to be replaced also include W, Alibi, Drama, Really, Yesterday, Eden, Home and Good Food.
In a video message on Twitter, the head of UKTV's comedy and entertainment channels, Steve North, encouraged subscribers to express their frustration to Virgin Media.
He said: "Here at UKTV we are all incredibly passionate about brilliant television, whether that's bringing you shows like Taskmaster, Red Dwarf or Harrow or introducing you to brand new programmes like Emma Willis: Delivering Babies or Judge Romesh.
"We really want to share our programmes and channels with as many of you as possible. We have been in a partnership with Virgin Media for over a decade and it's a genuine privilege to serve Virgin customers.
"We are really disappointed that Virgin Media viewers may miss out on our channels and shows in the future and that is really not what we want to happen.
"Sadly Virgin Media have asked if they can pay us significantly less and while we massively love what we do, the money we receive from our partners allows us to invest in the shows and channels that you love.
"We are so sorry for any inconvenience that this causes and fully understand your frustration.
"Please do let Virgin Media know if you want to keep receiving our channels."
He added that the channels will continue to be available on services including Sky, BT, Talk Talk, Freesat and Freeview as well as online.
Virgin TV customers with access to Freeview should be able to receive UKTV's free-to-air channels, which include Dave.
Darren Childs, the chief executive of UKTV, previously said: "The huge cut in fees that Virgin has requested doesn't reflect the value that we bring to customers. "
David Bouchier, chief digital entertainment officer at Virgin Media, said the decision to remove UKTV channels comes from restrictions on on-demand programming.
He said: "From Sunday all UKTV channels and programmes will be replaced on Virgin TV.
"Virgin Media has had a long relationship with UKTV, but viewing behaviours amongst our customers are changing and we are committed to investing in the kind of programming they want to watch, whenever and however they want to watch it.
"Unfortunately, due to the restrictions put on UKTV by the BBC, UKTV is not able to provide the significant on-demand programming that we know our customers want.
"We are still in discussions with UKTV but we have already invested in an extensive collection of replacement high-quality programming for our customers to enjoy. In addition, we continue to expand our range of on-demand and 4K Ultra HD TV with more coming this year."