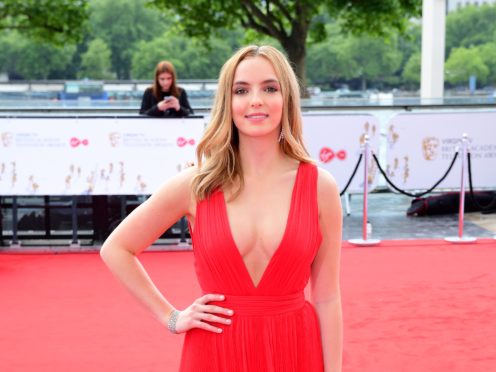 Fans of Strictly Come Dancing were left reeling after noticing Killing Eve star Jodie Comer sitting in the audience of this Saturday's live show.
Viewers joked she had come as her character from the BBC America drama Killing Eve, in which she plays the cold-blooded yet stylish assassin Villanelle.
The eight-part series, which was co-written and executive produced by Phoebe Waller-Bridge, stars Comer, 25, alongside Grey's Anatomy star Sandra Oh in a cat-and-mouse tale of international spies.
One viewer took to social media to joke that Comer had come in character in order to assassinate comedian Seann Walsh, who exited the show in a previous week following a kissing scandal with his professional partner Katya Jones.
Another joked Comer had in fact infiltrated the audience in order to get access to Tess Daly, sharing a tongue-in-cheek picture of the actress staring at the Strictly Come Dancing co-host.
One social media user joked that Comer had been sent to assassinate professional dancer Anton Du Beke, whose partner Susannah Constantine was the first to exit the show. They used his given name instead of his stage name, poking fun at the well-loved professional dancer.
They wrote: "OMG, it's Villanelle! Who's she been sent to do away with? Bet it's Tony Beak."
Another perceptive viewer joked that Comer might pack herself inside a suitcase to get to next week's special episode which will be broadcast live from the Blackpool Tower Ballroom.