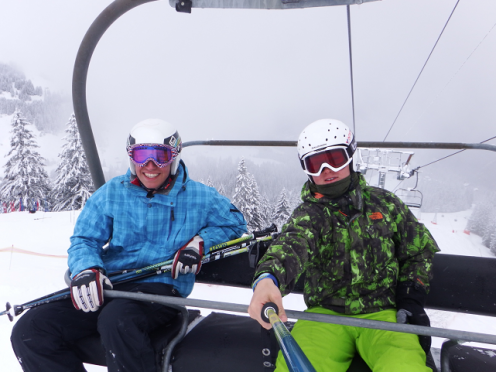 An enterprising young Aberdonian aims to cash in on the modern-day phenomenon of "selfie" photographs after inventing a device which can make the job easier.
Andrew Davidson, 24, came up with the idea during a ski-ing trip to France and is now seeking £25,000 in Kickstarter crowdfunding to help him take it further.
"PolePod was devised as an alternative to a selfie stick," he said, adding: "I wanted to film myself ski-ing and didn't see the point in carrying a flimsy extendable pole when I already had two sturdy ones in my hands."
His solution was to attach a camera to the end of one of his ski poles using duck tape – and so the concept behind the sturdier, trademarked PolePod device was born.
The tiny, versatile camera mount can be fitted to a ski pole, walking stick or even a branch to convert it instantly into an alternative "selfie" stick.
Mr Davidson said: "It can be fitted to your ski or walking pole and left there for when you need it without restricting normal use. It can also be used on a less permanent basis – for example, attaching it to a branch or gate when out and about."
While the idea itself is not unique, PolePod's inventor has registered the device's design and shape to stop others copying it.
A seemingly unstoppable global trend for people taking photographs of themselves has spawned a new market in accessories, and Mr Davidson is hoping he has hit on a sure-fire winner.
The Robert Gordon University product design graduate is no stranger to invention, having already scooped a prestigious innovation award for his first product, Go~Iso, which can be fitted to drink containers to instantly convert water into an isotonic thirst quencher.
He recently set up his own business, AS D-Zine, at Stirling University Innovation Park.
Mr Davidson, who hails from Cove, Aberdeen, said he had "quite a few" other ideas in the pipeline and was working on a couple of products for external companies, adding: "I am excited for what the future holds".
Looming large on the horizon is the Eurobike trade show in Germany, where he hopes to attract support for Go~Iso.
He will also be speaking about his entrepreneurial journey at an event in Aberdeen on September 14, part the city's TechFest programme, and will be exhibiting PolePod at a winter sports show at Battersea Park in London in October.
As well as winning the Sports Innovation Challenge at the Sports Business Innovation Awards earlier this year with Go~Iso, he was also part of the second intake of Elevator UK's Accelerator programme.
The Accelerator scheme offers participants a chance to test, research, develop, launch and refine a product or service-led business to become pitch and investor ready, while they also receive support from the Scottish Institute of Enterprise.
Mr Davidson said: "Winning the Sports Innovation Challenge at the Sports Business Innovation Awards was a great achievement and opened up a lot of opportunities.
"The prize fund included a one-year incubation package at Stirling University Innovation Park which I feel will help AS D-Zine open many new doors.
"I also loved every moment of the Accelerator programme run by Elevator UK – the atmosphere and quality of business support and lectures was top notch."