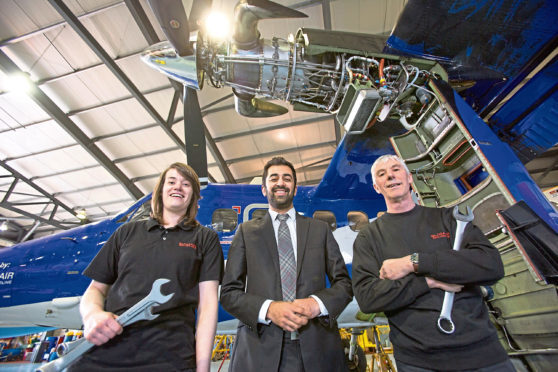 Scotland's first aviation maintenance apprenticeship programme is now accepting applications.
The scheme, established by Loganair and unveiled last year by Transport Minister, Humza Yousaf, is aimed at school leavers.
There are six vacancies for the four-year course where candidates will be based in Glasgow for the first year before being given the option to transfer to either Aberdeen or Kirkwall.
Those recruited will also receive a salary of £13,000.
Intended to meet the needs of the Scottish aviation industry, the new apprenticeship scheme will create an MA in aircraft maintenance that will satisfy the licence requirements of the European Aviation Safety Agency.
It will also address a growing issue in the industry of a shortage of qualified engineers and ensure that the historic reliance on trained engineers leaving the Armed Forces is reduced.
Led by Scotland's Airline Loganair, it is supported by partners from the industry and from education, as well as by Transport Scotland.
Upon qualification, after completing the four-year course and in their early 20s, graduates will be eligible to receive salaries of more than £40,000.
Barry Stone, director of engineering at Loganair said: "We're really impressed by the level of interest we've already received, testament to the opportunity which this course presents to young people. With the choice of three different geographical bases, a £13,000 a year salary and a qualification which is valid across Europe – this is an excellent route to employment for anyone keen to get into aviation maintenance."