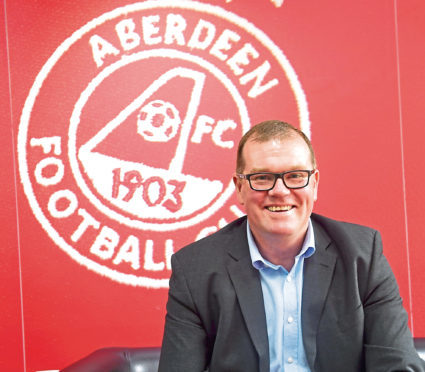 A new appointment has been made to the board of Aberdeen Football Club.
Robert Wicks, recently appointed commercial director, joins the board with immediate effect.
The club said they hoped this would bolster the senior management representation to steer the delivery of the club's ambitious strategy over the next three to five years.
AFC chairman Stewart Milne said: "This appointment is part of the bigger picture to build a stronger board and executive team to realise our ambition of competing at the highest levels and delivering amazing new facilities which will be the envy of other clubs.
"This will ensure that we have a strong and sustainable future and are well-positioned to meet the challenges ahead."
The club says Mr Wicks – with 17 years' experience in sports marketing nationally and internationally, and experience in delivering commercial strategies – has already demonstrated his value to AFC.
Responsible for increasing all key commercial streams, he has also made an early and valuable contribution to the club's marketing and communications efforts, they said.
AFC board director Dave Cormack said: "Having worked closely with Rob over the last few months, I've seen first-hand the valuable contribution he has already made to the club's commercial operations."
He added: "Rob was the outstanding candidate in our search for a commercial director with the vision, experience and leadership skills to help us achieve our goal of being a Uefa Top 100 Club.
"For that to happen, the club needs to expand existing revenue streams and explore and embrace new innovative ways of generating the revenues we will need to step up our investment in the football operation.
"The new stadium, training and community facilities will provide a significant platform for the club to grow, and in Rob we have someone who has demonstrated that he can deliver growth and successful outcomes in the sports world, which he has done for more than a decade," he added
Mr Wicks said he was humbled to be offered the opportunity and the additional responsibility.
"I relish the challenge and, from my first five months' experience, it's clear the club has a bright future," he said.
"I've spent considerable time listening to everyone at the club and, most importantly, to various fans and fans' groups.
"This has enabled me to build on the tremendous foundations that are already here and will assist in the creation of platforms for open communication both inside the club and with our fans.
"In a dynamic and complex commercial environment, it is essential that the club is best-placed to grow its commercial potential so a number of projects are under way to make sure we are in the best position possible.
"This will be increasingly important as our attention focuses on the move to the new training facilities and stadium.
"I very much look forward to working closely with the board to realise the club's ambitious plans."