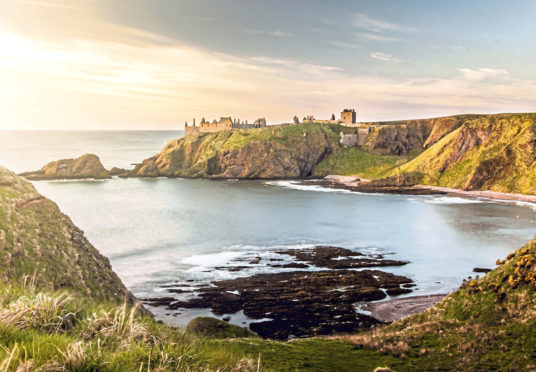 Picture a postcard of Scotland. Highland coos, beautiful lochs, mountainous terrain, historic castles, glorious golf courses on magnificent dunes, rugged cliffs, sandy beaches and whisky galore.
Sounds idyllic, doesn't it? Who wouldn't want to go there?
Why, then, has the north-east commonly fallen short with visitors wanting to experience the quintessential Scottish experience, when the region has all of this and more right on its doorstep?
If you ask someone from outwith the country to name something about our nation, more often than not Edinburgh Castle or Nessie will spring to mind.
But with VisitAberdeenshire's plan to market our region as a visitor destination capable of raking in £1 billion by 2023, are things about to change?
Chris Foy, the tourist board's chief executive, believes they already have.
With initiatives like NuArt and award-winning visitor attractions such as Peterhead Prison Museum coupled with the redevelopment of Aberdeen's Music Hall and the opening of the AWPR, it would seem we have a recipe for success.
And it would appear others agree too. Tour operator Rabbies last month started running bus trips out of the city for the first time.
The firm said a "boom" in clients coming off long-haul flights has allowed it to expand into other cities as it had seen revenue grow 20% year-on-year.
Mr Foy said it was a sign the tourism market was picking up in the north-east, but he added we must not stop trying to build our profile.
"We need to keep up the momentum," he said. "It's about finding innovative ways to get the message across.
"We have recently partnered up with Mackie's of Scotland, who are using images of the region on the side of their ice cream tubs to reach out to more than 250,000 people across the UK.
"We also ran a campaign with Logan Air. Within two weeks of the new route being announced to Southend Airport, we had a campaign targeting travellers in London."
Earlier this year, the tourism body faced a bit of a blow when Aberdeen City Council decided to axe £260,000 in funding.
At the time it was thought this would act as a double whammy with economic development body Opportunity North East (One) reducing the support they provide too, as they acted on a match-funding basis.
But One chief executive Jennifer Craw said the body recognised the importance of the sector and has pledged to keep its funding level with last year's amount.
She said: "The tourism sector has a key role to play in One's activity to strengthen and diversify the regional economy.
"From a visitor economy perspective, the investment in major infrastructure combined with changing consumer demands for authentic experiences offer an opportunity for tourism local businesses to grow, build on our wider strengths as a region and provide a sustainable contribution to the prosperity of north-east Scotland.
"This is why we have committed £795,000 with our co-funders, Aberdeenshire Council and Aberdeen City Council, to achieving our shared vision of success for our region.
"Our activity includes continued partnership working with VisitAberdeenshire and others, including Scottish Enterprise, to grow visitor numbers and tourism revenues in the region and increase business and leisure visitor expenditure from £600m to £1bn per annum by 2023."
Encouraging content by social media bloggers is another innovative way to interact with people who may never have thought to consider the region as a holiday destination before.
It has been proven that people like to see others engaging in experiences and are more likely to book a holiday destination if they know it's been recommended by someone they know.
Likewise, it is not only holiday snaps that can entice visitors to the area. Businesses now are taking to Instagram and Twitter as a way to self-promote.
Using hashtags and place tags linking the images to the local area has proved to be a good way of marketing the region as a destination.
Mr Foy said technology is also helpful in ensuring we stay on top of visitor habits and keeping track of what tourists are thinking.
He said: "Getting the bigger picture often requires technology.
"We're all used to pop-up boxes and online surveys that 'value your opinion'. Arguably, we're too used to seeing them, and the instinct to click the 'close' box is perhaps a symptom of 'feedback fatigue'.
"But it is technology – and big data in particular – that might provide the solution to our apathy when it comes to questionnaires.
"Our unprompted enthusiasm to share thoughts about everything from the punctuality of transport to photos of meals means that opinions are out there in the public space and are ripe for analysis.
"While manipulation of personal profiles on social media for nefarious reasons rightly gets a bad press, there's also a case for positive uses of big data.
"We've recently become the first UK destination to use a visitor index that analyses online sentiment to determine what visitors rate about Aberdeen and Aberdeenshire.
"It's early days, but the sheer volume of (anonymous) views certainly provides a rich crop of opinions to harvest, and to inform our work."
So, if the campaign is successful, when you next ask someone to picture a postcard of Scotland, they should find themselves casting their minds to the wonders that the north-east corner has to offer.
Jennifer Craw, Opportunity North East CEO, has her say
Beyond 2023, we are looking to 2030 when north-east Scotland will be the top Scottish choice for activity sports holidays and business travel.
As a visitor, you will be able to choose from events and experiences for individuals, families and business travellers.
On offer could be a gourmet food festival, an international mountain biking contest, or a famous musician in concert.
Visitors will be enjoying active holidays in our natural playground; from surfing to zip wires, bouldering to biking – all for the enthusiast, not just the professional.
We will continue to be a leading destination for traditional outdoor pursuits such as golf, walking, fishing and riding. Whether you are a cruise ship passenger, part of an organised tour, an independent traveller or you live here.
You will be able to enjoy the best hospitality, high quality accommodation, local food and drink, all served up with a warm and authentic Doric welcome.
Experiences from Old Aberdeen, Aberdeen Art Gallery to St Margaret's in Braemar, from the Grassic Gibbon Centre in Mearns to the Silversmiths in Banff, will attract culture seekers.
Those looking for history and adventure will be drawn to explore castles from Balmoral to Crathes and Dunnottar.
From cycle races to Highland Games, the Turriff Show, and the Portsoy Traditional Boat Festival, visitors will have plenty of choice.
The Cairngorms and the dramatic scenery from river to coast will provide wild, open spaces; a place to escape.
You will come here for business, to attend a major association conference at the P&J Live with other international delegates, staying in high quality hotels and enjoying our regional hospitality.
Aberdeen will be positioned as a global 'go to' destination for energy, digital, medical and life sciences conferences.
Today's investment in infrastructure – the AWPR, Aberdeen International Airport, faster rail journeys – will bring more visitors.
The visitor economy will be a barometer of success – drawing and developing young talented people to drive and lead the tourism and hospitality sector.
From five-star accommodation, family hotels, cottages, activities, experiences, great food and drink, tourism in the north east will be growing, sustainable and authentic. Visitors will keep our economy in motion.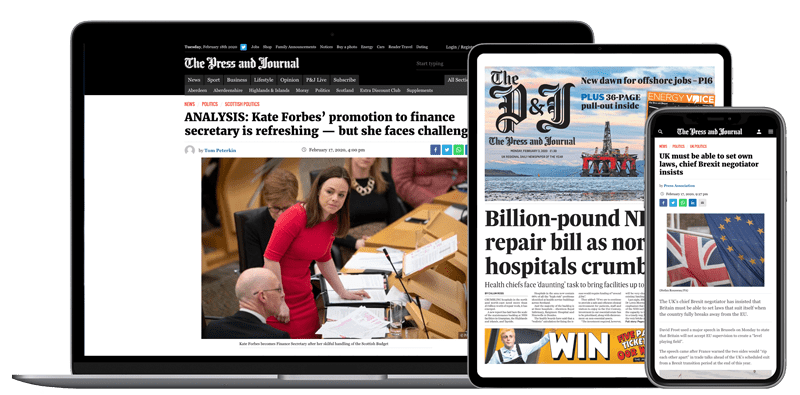 Help support quality local journalism … become a digital subscriber to The Press and Journal
For as little as £5.99 a month you can access all of our content, including Premium articles.
Subscribe