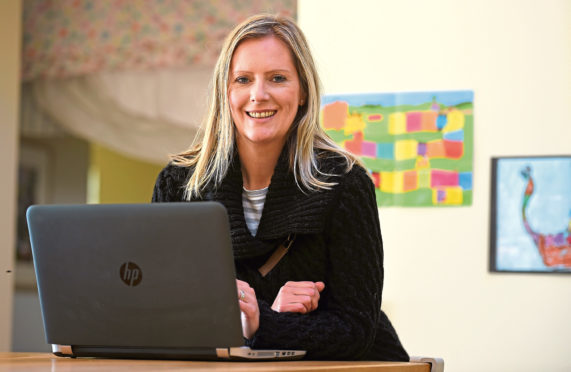 This month in the farmhouse, we have been in full-on fete mode.
Indeed, all the surrounding community including Daisy's school has been busy getting ready for the Mulbuie Summer Fete and today's the day.
As you read this, stalls will be going up around the school grounds ranging from bric-a-brac, bottles and fresh produce to lucky dip, Fair Isle-inspired knitwear and plants as well as a bounty of family-friendly activities including a coconut shy, bean bag toss, face painting and guess the name of the lambs.
And if visitors need a little break from all the festivities, there's Indian head massage, nail art and hand massage on offer too.
When planning began for the fete back in January, I was more than a little enthusiastic about theming the event. I put forward a few ideas to the organising committee, but my personal favourite was "carnival".
I could just picture it – circus skills for the kids, music on kettle drums, rainbow coloured decorations, jerk chicken on the BBQ; we even have a unicycle in our garage, I lobbied desperately.
Alas, it was deemed a tad ambitious for the first fete to be staged in a few years and I conceded The Mulbuie Mardi Gras would have to wait.
So when the royal wedding was announced and Karen, good friend and fellow organiser, suggested that rather than switch dates we embrace Prince Harry and Meghan Markle's nuptials and introduce a royal theme to the fete, I was fully on board.
In this spirit, the bunting, balloons and carnations are red, white and blue and cream teas are being served in the nursery-cum-canteen (it's a small school), where there will be a live screening of the day's events from Windsor.
Hot dogs and hot pancakes will help keep the younger visitors happy, while crown and tiara crafting as well as a royal photo booth stall continues the regal theme.
It has been lovely seeing the rural community pull together, from the pupils and parents to the teachers and local businesses, to create a fun and worthwhile event.
Let's just hope the sun is shining today and there's a big turnout after all the effort everyone's put in.
Meanwhile on the farm, Nick has finally managed to put the cows out to pasture now the grass is further on and the temperatures a little warmer.
The herd's diet is still supplemented throughout the summer months with the top shed, housing the pregnant and newly calved heifers, given a more specific ration. To help improve the overall nutrition of the herd, Nick invested in a new-to-him Keenan feeder wagon last month, which when it arrived looked pretty much like the old one to me, just slightly boxier and green rather than red.
As Nick patiently explained, however, it isn't just the paint colour that's different.
The new wagon records exactly what goes into it (blended barley, silage, straw, molasses, whole crop wheat etc), and how many times it's mixed so that it is producing the same ration every single day.
The high tech, integrated system comes into play when Nick or Scott inputs how many cows the mix is due to feed, which is then stored on the cloud (along with all the other information mentioned above), sent to the nutritional experts at Keenan who then calculate its nutritional efficiency and the cost per ration as well as the carbon cost.
Keenan describes it as "a live review and support service with skilled nutritionists using innovative technology to ensure your animals get exactly what they need, consistently, every day". As a fan of nice coffee and artisan cheese, I can understand why this is important. I recently came across the term "barista milk", which I've written about previously but at the time wasn't aware there was a specific name for it.
Nick has struggled to continue supplying my brother's Milk Bar in Inverness with milk for his coffee because the protein content is inconsistent, affecting the milk's capacity to froth. Equally, Highland Fine Cheese looks for milk with a high protein content, which also helped inform Nick's decision to invest in a Keenan system.
In other milk processing and production news, Rosie and the team have been toasting today's royal nuptials with a prosecco sorbet and a peanut butter and jam ice cream, and as the summer season gets under way, the walk-in container Nick had converted last year for freezer storage is filling up. We really start to notice the influx in demand when the sun comes out not just with our trade clients, but at the honesty shop here on the farm.
Last Saturday, Nick restocked the freezer three times throughout the day. Whenever I go out to give it a quick sweep (Rootfield's a windy spot and the dust from the farm is bothersome), I'm conscious that the well-worn floor desperately needs repainted.
However, we're open 24/7 which isn't exactly conducive to sprucing the shop up. We may just have to close it one Monday night and hope not to disappoint any shoppers.
At least it's looking prettier from the outside thanks to our green-fingered friend, neighbour and ice cream cake maker, Lina.
After a slow start, her polytunnel produce is now flourishing and there's a lovely display of plants for sale in front of the honesty shop ranging from sweet peas and petunias to runner beans and tomatoes.
Lina is selling her plants at the fete today, too, so if you're reading this and are nearby, please come along. It's on between noon and 4pm and there really is something for all ages.
Next month: Taste of summer. Rootfield Farm is on the Black Isle, 10 miles north of Inverness, where Jo lives with husband Nick, a fourth-generation dairy farmer, their daughters Daisy and Mollie, and 150 cows.