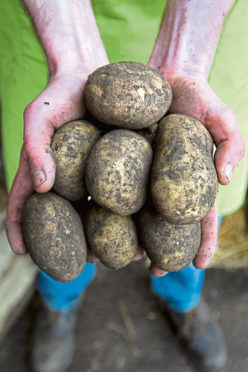 The cost implications for potato businesses of inefficient or old potato stores have been spelled out to Scottish farmers by AHDB.
Growers were told at a levy board meeting that poor and ageing potato stores can have running costs three times those of better models. Taygrow director Ewan Stark said growers needed to put as much effort into storage planning as they do the growing season.
"Potatoes will often be in storage for months, equating to a huge portion of their life cycle, and if you don't get it right in the stores you can potentially lose a significant amount of the crop," he added.
Adrian Cunnington, who heads up AHDB's Sutton Bridge crop storage research facility, has launched a StoreCheck service, which analyses a grower's store and offers advice on how to improve performance and efficiency.
Greenvale AP manager, John Hutchison, who is responsible for 24 stores, said the StoreCheck service was a way to ensure facilities were as efficient as possible.
He said: "After the assessment we invested £20,000 in a store upgrade, which dramatically improved our energy costs and plant running time. We reduced electricity usage from 38,000 kWh to 22,000 kWh in a three-month period, and those savings meant we made back that initial investment in just five years."
Mr Hutchison added that gathering data was important, and crop temperature, CO2 levels, compressor/fan/energy usage informed how the company's stores are managed.