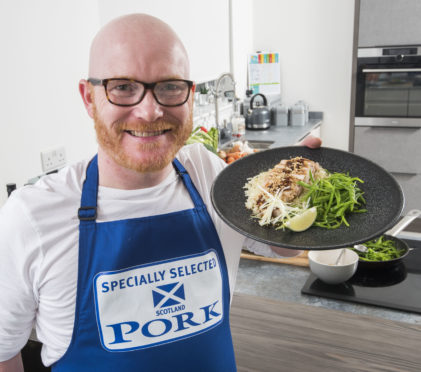 Shoppers are being encouraged to eat more Specially Selected Pork as part of their efforts to eat healthier in 2019.
Research conducted on behalf of red meat levy body Quality Meat Scotland (QMS), which manages the Specially Selected Pork brand, found almost four in five Scots plan to kick off the new year by going on a diet.
Six out of 10 of those surveyed cited weight loss as one of the primary reasons for dieting, while 53% said they wanted to feel healthier, 30% to look good and 29% wanted to be more body confident.
QMS has now recruited celebrity chef Gary Maclean to front a campaign urging Scots to stay on track with their diet plans and opt for healthier eating in 2019.
QMS director of marketing and communications, Carol McLaren, said: "It is fantastic to see that so many people are planning to start the new year committed to leading a healthier lifestyle. Our new campaign, with help from Gary, aims to ensure their plans don't go awry by providing them with lots of inspiration in the kitchen.
"We'll be focusing on Specially Selected Pork dishes in the new year as the research also shows that almost two-thirds of Scots are not aware that pork, one of Scotland's most versatile and tasty ingredients, is the perfect choice for healthy eating."
She said the research marked the start of the new Go Places with Pork campaign, which aims to get the nation cooking pork and highlight the fact it is low in fat, high in protein and budget friendly.