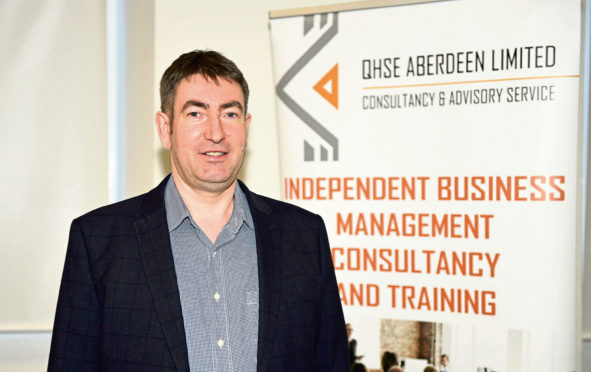 Each week, we ask small businesses key questions. Here we speak to David Rusling, managing director of QHSE Aberdeen
How and why did you start in business?
Myself along with Angela Scott, as directors, started this business after I was made redundant during the oil and gas downturn.
I realised my own experience could help other small businesses to understand and implement ISO management systems.
My first consultancy role was as a quality, health, safety and environment (QHSE) management advisor at Dounreay nuclear power station. This gave me a great insight into nuclear decommissioning projects and took us away from Aberdeen during the worst of the downturn.
Although starting our own business was a huge step, it has given us focus and drive.
How did you get to where you are today?
I have been fortunate enough to have a wealth of experience and first-class training in several different sectors of business from my time in aerospace engineering, further education, nuclear decommissioning and within oil and gas organisations.
Angela has run and assisted other small businesses to run effectively – using her knowledge and experience, we didn't have the fear which prevents some people from taking on a challenge.
Who helped you?
My work and life partner, Angela.
She has an accounts and administrative background, which is essential to our organisation, and also spends a lot of her time on networking and business development.
We also now have staff and associates with their own specialist areas of expertise. They are a great asset and truly passionate about what they deliver to clients.
What has been your biggest mistake?
We all learn from our mistakes or "learning curves" as we like to call them, but our most annoying was probably trusting a client and not making a legal contract. We learned a disappointing lesson there and now go into contracts with a different view.
Off the back of this we have had great advice from the Federation of Small Businesses and would recommend all small businesses to join.
What is your greatest achievement?
Starting our own business – it's empowering, as is the satisfaction gained each time we assist a client to develop and implement a management system, and go on to achieve ISO certification.
If you were in power in government, what would you change?
I would give small business owners a tax break, and somehow make it easier to start up and get through the first couple of years with assistance from funding. It's not a level playing field. Demographics plays a big part, as does the type of business you run.
Also, financial skills and business studies should be taught at a younger age.
What do you still hope to achieve?
We have customers all over the UK, from the most northerly town in Scotland to the south of England. We also have clients in Italy, Russia and one in Barcelona. We would ideally like to expand and perhaps start an online element to our business. We have a plan to undertake this in 2020.
What do you do to relax?
Relaxing generally only happens on holiday, so we make sure we take time out. Walking is always a good way to wind down and get those all-important steps in after sitting at a desk all day.
What are you currently reading, listening to or glued to on the TV?
I like to read biographies or QHSE stuff and keep up-to-date. Generally, my reading consists of catching up with emails.
What do you waste your money on?
I don't particularly like to "waste" money – I'm a Yorkshireman – but if I spend any, it is generally on eating out or a long overdue holiday.
How would your friends describe you?
I hope they would say I'm friendly and approachable, first at the bar but also last on the dance floor.
What would your enemies say about you?
I have plenty of competition in my work life but no enemies. We are all just trying to make a living.
What do you drive and dream of driving?
I drive the company van. I'm not a flash car kind of guy but, apparently, I drive Angela round the bend.