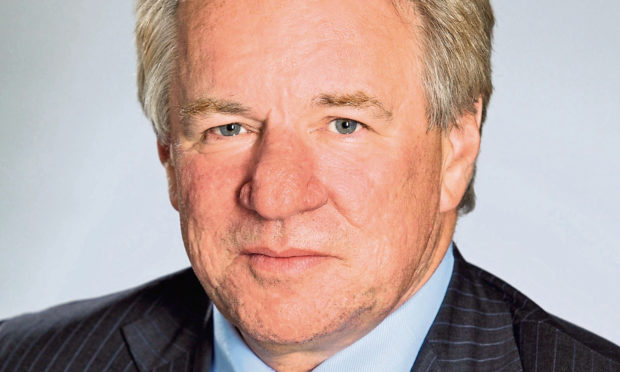 North-east entrepreneur Martin Gilbert will be spared the hugs and handshakes as an annual general meeting brings down the curtain on his boardroom days at Standard Life Aberdeen tomorrow.
Covid-19 has transformed the way company AGMs are held, with only a minimal and socially distanced number of directors attending.
Mr Gilbert will not be in Edinburgh to hear in person the plaudits that will come his way as he steps down from SLA's board in a milestone moment in his long and at times turbulent career.
Presentations by the chairman, Sir Douglas Flint, and chief executive Keith Skeoch will be recorded and uploaded on to SLA's website.
Mr Gilbert, SLA's vice- chairman and former co-CEO, said it would make the day "easier" on the emotional front as he moves closer to finally leaving a business he played a big part in creating.
After giving up boardroom duties he will continue working for the Scottish financial services giant until the end of September, when he finally severs his ties.
"Not being at the AGM will help," he said, adding: "It would have been really difficult being there in person."
He said he would be using his own AGM presentation "just to thank the people I have worked with for so long", adding: "They are all part of the story."
The 64-year-old said: "I have been really fortunate to have worked with some great people, some of whom have stuck by me for more than 30 years."
Mr Gilbert, who co-founded Aberdeen Asset Management (AAM) and led it into a £3.8 billion takeover by Standard Life in 2017, will have plenty to keep him busy after SLA.
Since January 1 he has been chairman of digital bank Revolut, and he is also a senior independent director of commodity trading and mining company Glencore. Last month he was appointed chairman of hedge fund Toscafund, a former stakeholder in AAM.
'All the qualities needed in a top leader'
Standard Life Aberdeen chief executive Keith Skeoch described Martin Gilbert as a "true entrepreneur".
Mr Skeoch added: "Martin has achieved so much during his career. He put Aberdeen on the map in terms of it being home to a global asset management house.
"Co-founding and growing a business from a small office in Aberdeen to one with a network of offices and clients around the world is a huge achievement and something he should be rightly proud of.
"I've known Martin for many years, but have only worked closely with him over the past three after Aberdeen Asset Management and Standard Life merged. I've really enjoyed it – he has a sharp mind, likes to solve problems and has a great sense of humour."
Hugh Little worked alongside Mr Gilbert at Aberdeen Asset Management for nearly 30 years, while the pair also served on the board at Aberdeen FC together.
Mr Little said: "Martin, for me, had everything you want in a top leader – strategic vision, great leadership skills, huge loyalty and yet capable of great humility.
"He could be a hard taskmaster at times, but that was fine. You knew exactly where you stood and what was expected of you, and in return he would be massively loyal and supportive. He always put his colleagues and staff first."
The background
When Standard Life Aberdeen (SLA) announced last autumn that Martin Gilbert was stepping down from the board this month, no one could have foreseen the global turmoil the world would be in when he did so.
Covid-19 has left about 280,000 dead and wreaked havoc on economies around the world.
Mr Gilbert said he had enjoyed family life at his Granite City home during lockdown, while also keeping up with his various business interests by holding "even more meetings via video conferencing apps".
He added: "One of the many advantages of this format is meetings are shorter and to the point, rather than informalities of serving coffee, water, etc.
"I'm loving doing my daily exercise by walking along the scenic coast."
But he is impatient for the country to get back to work. "People are getting tired of it now," he said, adding he expected economic recovery to be "quite slow". He also said it was good to be bowing out from SLA on his terms "rather than to be pushed out". He added: "I've been lucky."
While he regrets "some things" in his career, he said there was nothing he would change. Undoubtedly the low point was in 2003, when Aberdeen Asset Management (AAM) – the fund manager he had co-founded and proudly led since the 1980s – nearly went bust.
It was caught up in an industry-wide scandal over split capital investment trusts, a complex product that was designed for professionals but sold more widely, which left tens of thousands of people millions of pounds out of pocket. Lessons were learned and AAM went on to enjoy spectacular growth as Mr Gilbert and his top team built it into one of the investment industry's best-known firms.
Mr Gilbert shared the CEO's role at Standard Life Aberdeen with Keith Skeoch until March last year, when he became vice-chairman.