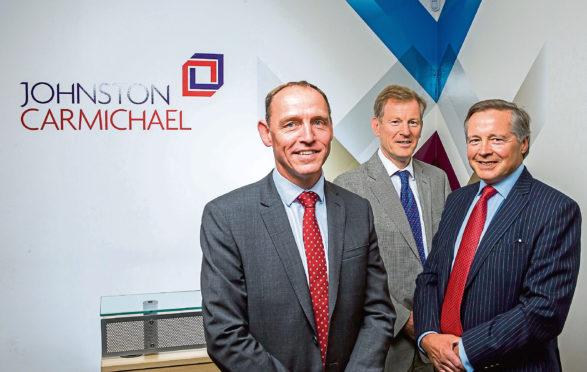 The man appointed as the next chief executive of Johnston Carmichael (JC) is the ideal choice for taking it forward "to the next stage", current boss Sandy Manson said yesterday.
Mr Manson, who has led Scotland's largest independent accountancy and business advice firm since before the financial crisis, will step down as CEO to become chairman and head of client service at the end of next month.
Andrew Walker, currently managing partner of JC's Aberdeen office, having joined the Granite City-based firm in 2003, is taking over the reins from August 1.
Mr Manson, 57, said: "The firm is in great shape and, after 12 years at the helm, I just felt it was the right time for me to step down.
"I'm handing over to the next generation and someone who definitely has the aptitude to take the business forward.
"I will still be around for a few more years to support Andrew and the rest of the management team."
Mr Manson has guided the firm through the financial crisis, a severe oil and gas downturn affecting business in its home city and two referenda amid major political turmoil.
Over that time, JC has grown to become one of Scotland's leading professional service firms.
Annual revenue has ballooned to £49 million, from £18m in 2017, while the business now employs 800 people in 12 locations.
Mr Walker, 48, said: "It is a great honour to take over the role of CEO from Sandy and build on Johnston Carmichael's strong track record.
"Our profession is going through a lot of change and we as a firm need to keep evolving, improving and investing to take advantage of the exciting opportunities.
"Our talent pipeline is stronger than ever because of our long-term focus on succession planning and I am looking forward to harnessing that energy and expertise as we take the business to the next level."
JC said current chairman Andrew Shepherd would stay with the firm while also supporting the development of the "next generation of talent".