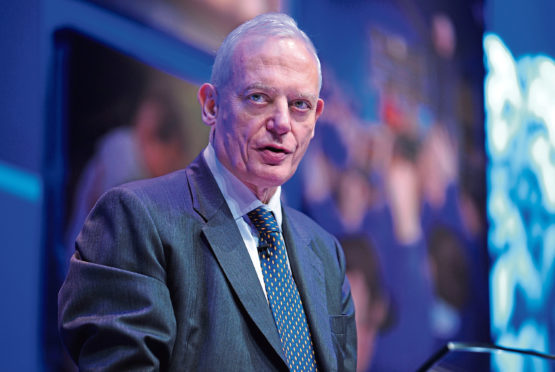 A row between Standard Life Aberdeen (SLA) and Lloyds Banking Group may take until the end of this year to resolve, it emerged yesterday.
It is likely to be months at least before an arbitration process reaches its conclusion, SLA chairman Sir Gerry Grimstone revealed in an interview with news agency Reuters.
Sir Gerry's update, as well as an appeal for UK Government "clarity" over Brexit, came just before shareholders overwhelmingly voted to approve a £3.2 billion sale of the Scottish financial services giant's UK and continental European insurance business to Phoenix Group.
Lloyds, SLA's biggest client, is pulling £109bn worth of business out of SLA, having cited competition issues arising from last year's merger of Aberdeen Asset Management and Standard Life.
The plan to axe partnership deals for Lloyds-owned Scottish Widows and LBG Wealth is at the centre of a dispute process announced by SLA in May.
An exit by Scottish Widows and LBG Wealth at the end of a 12-month notice period would remove nearly 17% from SLA's total assets under management as of September 30 2017, when they were worth £646.2bn.
SLA has said LBG, whose businesses also include Bank of Scotland, is locked into their long-term asset management partnership.
But LBG has insisted contractual terms of its previous relationship with AAM allow it to terminate its investment management agreements as Standard Life was a "material competitor".
SLA investors meanwhile will enjoy a £1.75bn windfall from the sale of a "capital intensive" life assurance arm to Phoenix Group.
Edinburgh-based SLA will receive £2.3bn in cash and a 19.9% slice of the Phoenix business.
Welcoming a 99.26% vote in favour of the deal, Sir Gerry said: "I'm pleased our shareholders have voted so decisively in favour of our proposals. The sale of our UK and European insurance business to Phoenix is an important milestone in our company's history and marks a decisive break from our past as an insurer."
SLA plans to return £1bn to investors through a B stock scheme and up to £750 million via a share buyback, subject to regulatory approval and market conditions.