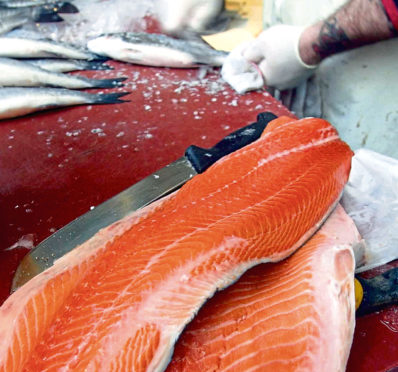 The £2 billion-a-year Scottish salmon farming industry produced nearly 18% fewer fish during 2018, compared with the year before, official figures showed yesterday.
But the huge reduction in output last year – equating to nearly one in five of the salmon harvested during the previous 12 months – was self-inflicted as farmers deliberately cut output to manageable levels after industry-wide problems in 2017.
Scottish Salmon Producers' Organisation (SSPO) chief executive Julie Hesketh-Laird said: "Farm-raised salmon spend more than 18 months at sea, allowing farmers to anticipate annual production levels.
"The anticipated dip in production in 2018 was the result of a one-off adjustment by farmers on stocking the year before to ensure control over some biological issues which had been witnessed in previous years.
"The result was that in 2018 there were fewer fish in the water to harvest."
Ms Hesketh-Laird insisted the long-term outlook for Scottish salmon production remained strong, driven by focused investment by farmers.
She added: "The outlook for 2019 is good, with production predicted to be up because of adjusted stocking levels and good continued management of fish health – and in line with the general trend of growth which has characterised the Scottish salmon sector over the last few years."
Salmon farming arch critic Don Staniford, who has fought long and hard to highlight fish welfare and mortality issues in the sector, said the figures showed the industry was "far from being a success story".
He added: "Production in 2018 was less than 15 years ago.
"Scottish salmon farming is a welfare nightmare and disease disaster. Lice infestation, pathogens, viruses and infectious diseases are ravaging salmon farms across Scotland."
Scottish Government figures also showed the number of people employed in salmon farming grew by 77, or more than 5%, to 1,466 last year despite the fall in output to 156,025 tonnes. Production tonnage of rainbow trout dropped by 16%, to 6,413 tonnes, while brown trout/sea trout production decreased by more than two thirds to 20 tonnes.
Earlier this year, SSPO estimated the Scottish salmon farming industry was directly generating more than £1 billion a year for Scotland's economy. Nearly the same again was being generated through the supply chains, as well as high street spending via the wages paid to employees, SPPO said.
Scottish salmon exports were worth more than £500m last year.