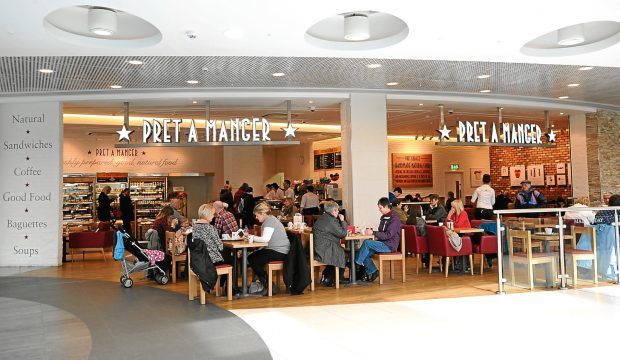 Filipino fast food group Jollibee Foods Corp is reportedly eyeing a potential takeover of UK sandwich chain Pret A Manger that could value the business at more than £738million.
The parent company of Jollibee – best known for its menu featuring fried chicken, noodles and spaghetti – is said to be discussing a potential deal with an adviser, though the talks are not yet public.
A possible takeover of Pret A Manger, which is owned by private equity firm Bridgepoint, would expand the global reach of Jollibee Foods Corp, which has a market value of £3.79billion.
The Filipino chain currently operates in countries including the US, Kuwait, Singapore and Hong Kong.
However, it is thought that Bridgepoint will sell off only part of the business it acquired for £442million – at the current exchange rate – in 2008.
A spokeswoman for Pret, which has outlets in Union Street and the Bon Accord shopping centre in Aberdeen, said the company was "unable to comment on market rumours".
The news comes just months after reports broke saying Pret was gearing up for a potential US stock market listing.
It is understood the US was favoured over the UK because it is a key future growth market for Pret, and a listing in the country would raise the chain's profile.
Pret said in April its US sales broke the £148million mark for the first time last year.
Overall, the group posted a record set of results in 2016, with worldwide sales rising 15% to £776.2million. Operating profits grew by 11% to £93.2million, with like-for-like sales up 4.8%.
Pret opened 50 new shops during 2016, including 31 in the UK, taking its total to 444, with the 500th due to open within the next 12 months.
Its Bon Accord Centre branch in Aberdeen became the chain's most northerly UK outpost when it opened in 2011, with the Union Street outlet following less than a year later.