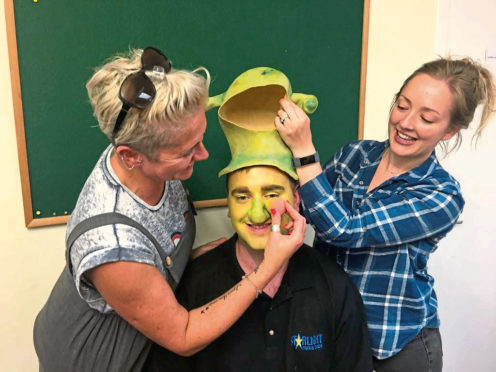 After months of rehearsals, lots of laughter and a huge helping of hard work, members of Inverness-based Starlight Musical Theatre can currently be found gracing the stage of the Empire Theatre in Eden Court where they are presenting Shrek the Musical.
It's a huge coup for the company to be able to stage the show, and they are one of only two Scottish companies lucky enough to be picked by MTI, the rights holders, to put on an amateur version of the much-loved musical.
As the company in its current format has only been active for nine years, it's a significant feather in their cap, but given the extremely high standard of previous shows they have presented, not that surprising.
Peter Kelly, who runs Starlight, said: "The show is set in the mythical, 'once upon a time' land, and tells the story of Shrek, a hulking green ogre who, after being mocked and feared his entire life by anything that crosses his path, retreats to an ugly green swamp to exist in happy isolation.
"There he meets Donkey and the fun really begins in this show, which features a cast of more than 50."
It's been a long road for the show to get to this stage, as Peter explained: "Auditions started in February and more than 140 people applied to take part, which is incredible.
"What struck me was how many talented people we have in this part of the world.
"There's a huge amount of talent on the stage – every one of the lead fairytale characters could have been leads in their own right, as their acting and singing skills have to be seen to be believed."
One of the challenges Peter faced was finding a trio to play Shrek's love interest, Princess Fiona.
"We need three different Fiona's ranging from a 10-year-old to adult, so we had to find people who looked quite similar and were around the same height as adults," said Peter.
"Then there was Lord Farquaad who is vertically challenged, so Alasdair Davidson, a fine actor, plays the whole show on his knees, which is pretty remarkable, but creates a magical illusion."
The title role of Shrek is played by Liam MacAskil, the older Princess Fiona by Amy Atkinson, Donkey by Matt Tyrer, while Amy Louise Lowe provides the voice of the dragon.
"The dragon is 14ft tall and it takes about five people to operate it fully, so Amy provides the voice off-stage," said Peter.
The show, which is supported by a 12-piece band, features great costumes, dazzling sets, whimsical puppetry, high-energy dance numbers, plenty of laughs and songs.
"Apart from I'm A Believer, which features in the Shrek movie, all the songs are new and some of them are pretty poignant," said Peter.
Tickets for the show have been selling like hot cakes and some dates are already sold out, so it's essential to check with the Eden Court booking office before coming along.
Performances take place at 7.30pm nightly until Saturday August 24 and there's a 2.30pm matinee on Saturday. Contact Eden Court on 01463 234234.