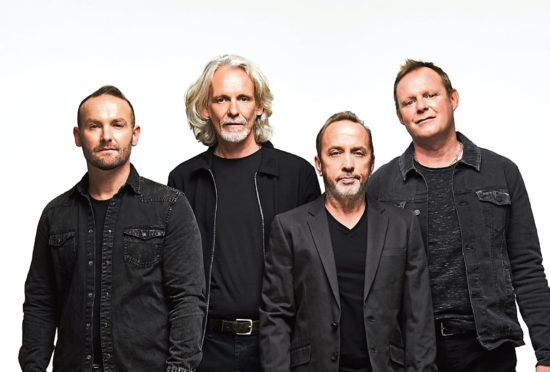 Joining an already established band like Wet Wet Wet is no easy task – but singer Kevin Simm has taken it all in his stride.
The former Liberty X member and winner of The Voice was announced as Marti Pellow's replacement in late 2018, and the new frontman is determined to impress fans.
The band is currently on a Scotland-wide tour, which is stopping off in Aberdeen at P&J Live this Saturday November 2.
Philippa Gerrard spoke with Kevin to find out how things are going and what life on the road with the Wets is like.
What has it been like joining such an established band?
It was a bit of a case of going into the unknown to be honest! With Marti being the band's singer for 30 years, we weren't sure how the change would go down with fans. And for that reason, anyone taking on the role had to be a little bit brave. But luckily I like a challenge.
Were you a fan of the band already?
Yes, I've always been a fan of Wet Wet Wet's music, but it was exciting listening to their music again with the intention of actually singing it on stage. I've never met Marti, but I have watched him perform and think we are quite different. I'm not trying to emulate him – for me it's about doing it my way and adding some fresh air to the songs. It's a real balance to do that without taking away from the nostalgia or the original melody.
Do you get on well with your new bandmates?
I've been in a group before, albeit Liberty X was a very different kind of group. Regardless, it's very important to click with your bandmates as you do spend so much time in each other's company. When I started playing songs at the audition, I was quite nervous but we started kind of jamming with each other and it sounded natural. It sounds cliché but we did click and it felt comfortable right from the start. I know it was a big deal for the other guys to have someone new join, so they wanted to be sure they picked the right person.
After Liberty X split in 2007, we didn't hear much from you until you won The Voice in 2016. What was that like to be back in the spotlight?
My nerves were so bad on The Voice! I'd been toying with the idea of going on it for a while before I actually did it. Music is a funny old world, you see, there are lots of ups and downs and I've had my fair share of both. When I was young, I started off singing in pubs and clubs, then the opportunity to be in Liberty X came round really quickly and suddenly we had number one singles and were winning BRIT Awards. After the band split, I tried to do some solo stuff but got messed about so decided to stop for a while. I'd gone back to singing in pubs and clubs when I took a gamble on The Voice. I'd seen previously famous singers on it before and most left with egg on their face. I knew that could be me so it was a huge shock to win.
It's now been a year since you joined Wet Wet Wet. How has it been so far?
It's been absolutely brilliant. I was really nervous before the first couple of shows we did, particularly as the very first one we did happened to be in Glasgow – Wet Wet Wet's home crowd. I knew all eyes were on me, comparing me to Marti, but I went out there and proved my worth, and the reception we've gotten has been fantastic. Over the summer, we did a few festivals and even flew over to Munich to support Phil Collins in Germany.
Are there any plans to release new music?
Graeme [Clark, the band's bassist] and I have had some jamming sessions until 2am so we are definitely looking to put some new music together. But we've been so busy with touring and the summer festivals that we've not had the time to nail down anything concrete yet. Once this and the tour dies down, we will definitely get into writing. I wrote a lot for Liberty X and wrote two albums for myself. I also wrote a song for a K-pop band in Korea called Super Junior, which went to number one.
What can audiences expect from the show?
Judging by what we've done so far, lots of energy and fun. Feedback so far has been great and our interactions on stage have been good. There is a nice vibe on stage and the fans have loved it. From my point of view, the big selling point is the set list – the catalogue of songs is incredible. There are total bangers and ballads throughout. It's a great night out.
Wet Wet Wet are playing at P&J Live on November 2. For tickets, visit www.wetwetwet.co.uk