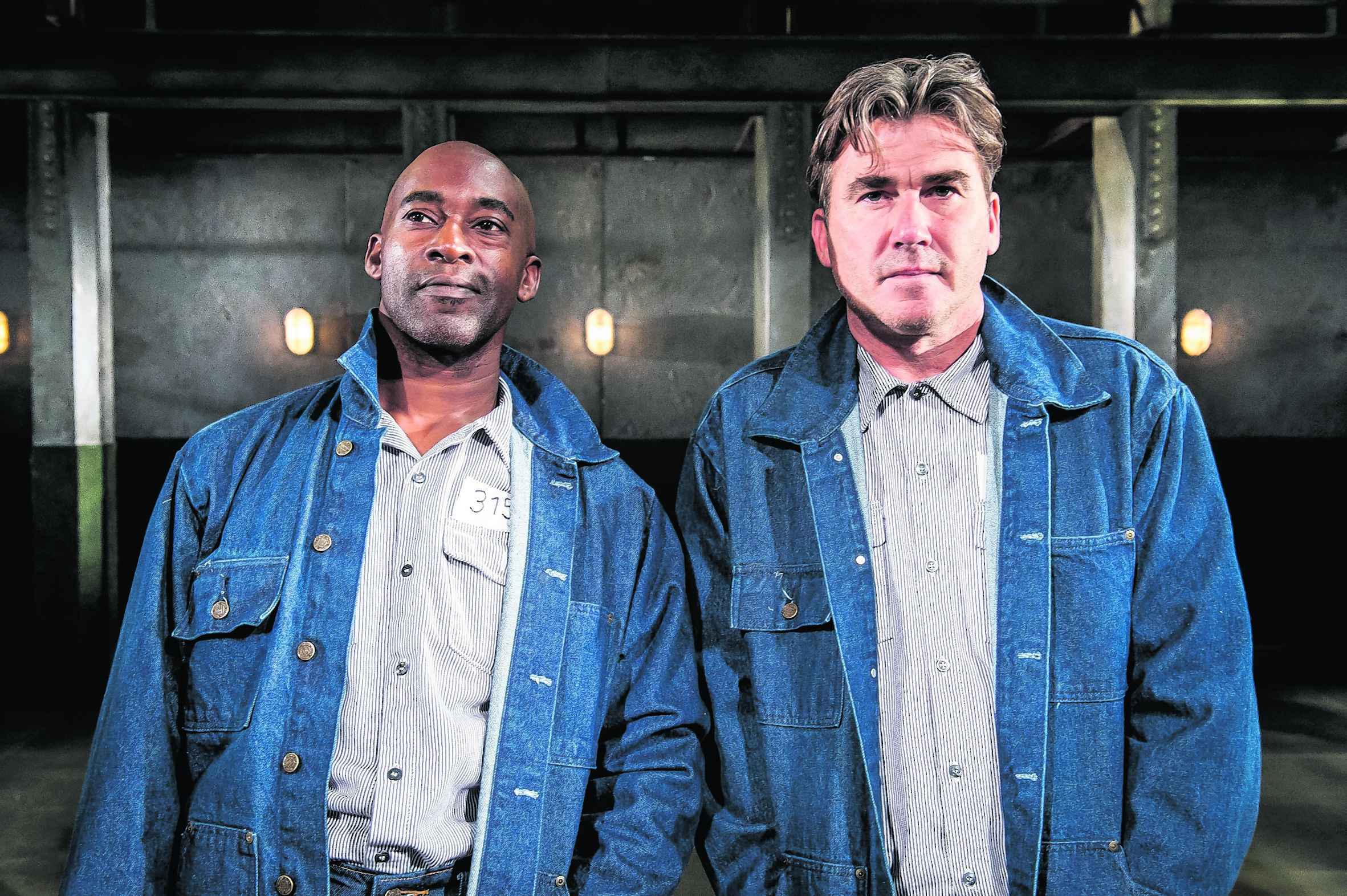 Your Weekend catches up with Patrick Robinson and Ian Kelsey as they prepare to tread the boards in a new stage production of
The Shawshank Redemption
Two of television's most loved medics – Ian Kelsey and Patrick Robinson – are taking a break from the wards to tread the boards in a new stage production of The Shawshank Redemption, which opens at His Majesty's Theatre in Aberdeen on Monday, October 12.
They will take the leading roles of Andy Dufresne and Red, made famous by Tim Robbins and Morgan Freeman in the famed 1994 feature film which was nominated for seven Academy Awards.
Based on the 1982 Steven King novella Rita Hayworth and The Shawshank Redemption, the play examines desperation, injustice, friendship and hope behind the bars of a maximum security facility.
TELL ME HOW YOU GOT INVOLVED WITH THE SHAWSHANK REDEMPTION?
IAN: I was two days off set from Doctors when the phone call came in. I couldn't believe it. I finished at 12 o'clock on the Tuesday night and I thought I would have the summer off, easily have two months off. And then the call came in on the Thursday and I couldn't say no to Andy and the Shawshank.
PATRICK: Likewise, as Ian said, when they said we'd love you to play Red, I was like, yes, I would love to do that, how could I say no.
THE PLAY COINCIDES WITH THE 21ST ANNIVERSARY OF THE ICONIC FILM – ARE YOU FANS OF THE FILM AND WAS THIS A SELLING POINT FOR YOU WHEN ACCEPTING THE ROLES?
PATRICK: Absolutely. 21 years though, is it really? Wow. I'm a big fan of the film. I think it's in most people's top-10 films of all time.
IAN: They are just great parts to play, as in any other film that's adapted, or any other book that's adapted. If it's a good part, you're attracted to it.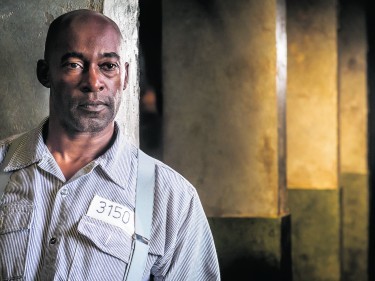 AND WHAT WITH IT BEING SUCH AN ICONIC PART, HOW DIFFICULT IS IT TO PUT ALL THOUGHTS OF THE FILM OUT OF YOUR MIND WHEN PREPARING FOR THE ROLE, HOW DO YOU SEPARATE YOURSELVES FROM IT?
IAN: I actually started watching the film the other day and then turned it off after five minutes and thought, no, this isn't going to help me because what Tim Robbins was doing was because he had a camera up his nose, and his portrayal of Andy enabled him to play it very small, in his eyes, because there was a camera right there. Now, I nick anything and everything off anybody who is good, I have no bones about it, because they've probably nicked it, and they've probably nicked it before them, so nick as much as you can. But with his performance, I thought, I can't really nick anything from that. If you look at how he's approached it, this stillness, which is the part anyway. So I have to do what he did but shove it past the front row and it doesn't help to watch the movie. And also, the play is in a different order as it's based on the book anyway.
PATRICK: We're on our own path, our own trajectory. As Ian said, we're not playing Tim Robbins and Morgan Freeman, we're playing Red and Andy and as Ian said, it's from the book, it's been adapted from the short story by Stephen King, and there are differences in the film to what's in the short story. And it's a bit like saying, I played Romeo, how many actors have played Romeo in their lifetime? And this is the same thing, but it's what you bring to the role as an individual.
FOR THOSE WHO DON'T KNOW THE STORY, AND WITHOUT GIVING TOO MUCH AWAY, TELL ME ABOUT RED AND ANDY
IAN: It's a story of survival, for Andy, and how to survive it and he's bringing the dignity that he had in his own life into the prison. Which sticks out like a sore thumb, but he's not conforming to what prison makes people conform to, he's staying his own person. And he can see, in Red, a good man and he forms a friendship with him and it's a friendship for life.
PATRICK: I will second that and say it's all of those things, it's about friendship, a real friendship. And you find that out as you go through it and see them on their journey. It's almost like a love story.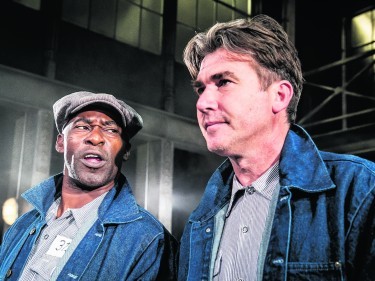 HAVE YOU READ RITA HAYWORTH AND THE SHAWSHANK REDEMPTION AND ARE YOU STEPHEN KING FANS?
PATRICK: Yes I have, but with Stephen King I'm not too keen on the dark side of things. But he has done some brilliant stories. Misery, damn, that's dark. It's the two characters, how did he think of that and putting them together? It's how he throws complete opposites together, Misery and Shawshank are good examples.
IAN: I've spent the last three years on the M40 (Doctors is filmed in Birmingham) and I used that time to listen to audiobooks and I've just finished a fantastic Stephen King one – 11.22.63. I was, like Patrick, always under the impression Stephen King was quite dark, so when this came up (Shawshank), I couldn't believe this was Stephen King, I'd forgotten he'd written this. And when I heard the Stephen King office had to give the nod for me and Patrick, I was quite chuffed. I'm quite proud of that.
IT'S A FOUR-MONTH TOUR OF THE UK – YOU'VE BOTH BEEN ON THE ROAD BEFORE, SO HOW DO YOU FIND TOURING, BEING AWAY FROM FRIENDS AND FAMILY, AND ARE THERE ANY DATES ON THIS TOUR YOU'VE NOT PLAYED, ANY CITIES YOU'RE LOOKING FORWARD TO VISITING?
PATRICK: For me, most of my children are of an age where they do their own thing. Being away doesn't matter to me as I'm a single man, so I'm not too fussed about going on tour. I like the provinces. I've never been to Aberdeen and there are other places I've not played which will be interesting to see.
NOW, MOST PEOPLE WILL KNOW YOU, PATRICK, AS ASH FROM CASUALTY, PROBABLY YOUR MOST RECOGNISABLE ROLE. AND YOU, IAN, YOU'RE A VERY WELL-KNOWN FACE ON ITV. DO YOU GET RECOGNISED A LOT?
PATRICK: It depends where I go. But it's always been, not all the time, but a lot, that people see my face and it's familiar to them but they haven't got a clue where from.
IAN: I get so many people who think I work in the local petrol station. If I say I've been on telly, they'll deny it and say, "No, no, that's not it".
PATRICK: Yeah, they say: "no, don't you go down the Frog and Toad on a Friday night?"
IAN: I used to live in London as you can go anywhere and pretty much live a grey life because Londoners see so many, much more famous people. I went to Leeds once and there were loads of people looking at me and I forgot I was well known because of Emmerdale. And if I go anywhere up north now, I still get "Dave, hello Dave". I've been mistaken for the presenter Tim Vincent a few times.
PATRICK: I get mistaken for Andi Peters.
IAN: It's the way you walk.
The Shawshank Redemption runs at Aberdeen's HM Theatre from Monday, October 12, to Saturday, October 17. Tickets are available from www.aberdeenperformingarts.com or by calling 01224 641122.