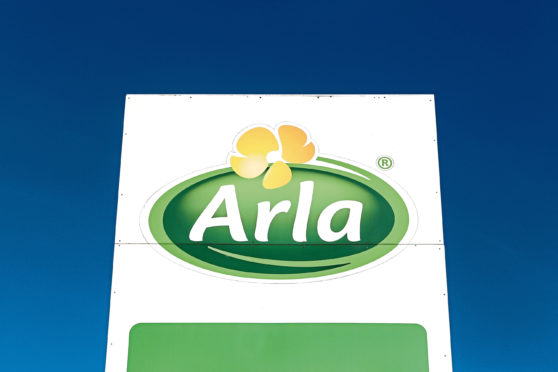 One of the main milk processors in the UK says it is confident that it can overcome Covid-19's impact despite a shift in consumer buying habits and market disruption during the pandemic.
Arla Foods Limited – the British arm of European dairy farmers' co-operative Arla – made the comments in its latest accounts for the year to December 31 2019.
"The impact of the Covid-19 pandemic on consumer trends within the dairy sector during early 2020 has seen a shift in the company's short-term product sales mix, as well as a considerable shift between sectors," said the company.
"Following the unprecedented shutdown of foodservice outlets across the UK, trading in the company's foodservice business experienced significant pressure during the second quarter of 2020.
"This has been in part offset by consumers satisfying increased home consumption needs through traditional retail and online purchasing habits. As a result, our overall levels of revenue observed to date during 2020 are consistent with the prior year."
It said coronavirus was unlikely to affect overall demand in the dairy industry and steps had been taken to ensure the company could continue to operate safely during the pandemic.
"The board remains confident that any negative impact on the company performance (due to Covid-19) is being, and will continue to be, kept to a minimum," added Arla.
The accounts reveal the company, which produces well-known brands including Cravendale, Lurpak and Anchor, had a revenue of £2.468 billion last year. This is down almost 6% on 2018 when sales were worth £2.62bn.
The bulk of sales were in the UK, while sales to Europe were down to £13.5 million from £93.2m previously.
The company posted a pre-tax profit of £38.5m in the year – up from a pre-tax loss of £40.7m the year before.
It said 2019 had been a successful year against a backdrop of falling milk consumption levels in the UK, Brexit uncertainty and large shifts in both fat and protein prices.
"Despite a slight drop in revenue, our sales mix shifted towards higher volumes in our higher- margin branded products," added Arla.
"In the face of challenging conditions in private- label liquid milk, we achieved growth in this category, albeit at falling margins, which was offset by growth in our branded products."
It said changes in charges between Arla Foods Limited and the wider Arla co-operative had also had a positive impact on the company's profitability.
"The strong performance in 2019 has put the company in a good position to withstand the impacts of the Covid-19 pandemic," it added.