Local amateur dancers find a new tribal rhythm in Matthew Bourne's Lord of the Flies, writes Andrew Youngson
A gang of 24 local boys clambered over a multi-tiered construct within Aberdeen's Music Hall, the large black slabs of staging overlapping at increasingly dramatic angles.
At a single instruction, the boys snapped instantaneously from jovial boyishness into tribal savagery, chanting ritualistically in unison. Another instruction was barked, and two boys leapt to the front, throwing themselves into a dance fight, bo staffs colliding in coordinated combat, while their feral fellows goaded them.
"OK, thanks, boys," cried a photographer, satisfied with his bank of snaps, at which point the boys fell straight back into their chatty bantering.
It was one week before the young men would step on to the stage at HM Theatre in Matthew Bourne's Lord of the Flies – a Scotland-wide all-male tour in which each performance features local amateur talent on stage alongside a professional cast of nine dancers. The local performers range in age from 12 up to their late teens, and many of them have never danced on stage before.
"It's like we've all been friends for years. I think it's just because we all like the same things," said Michael Skene of finding a place among his newfound gang of "savages".
The 14-year-old Hazlehead Academy student heard about the production's pre-audition workshops before the summer break. His PE teacher passed him a leaflet when she noticed he had a flare for movement during a gymnastics lesson. As it happened, Michael had been keen on dance for years, but shied away from picking it up because he always felt it was considered a "girl thing to do". Bolstered by his teacher's belief in him, he decided to attend the workshops and, after auditioning, got the call back, saying he had been selected to join the cast.
"I kind of broke down when I found out. When I was on the phone, I just asked if they were joking," Michael remembered.
In this new adaptation of William Golding's book, the setting of a desert island has been re-imagined by Matthew Bourne as a deserted theatre. Like in the 1954 novel, the boys create their own social structure – with equally disastrous results.
Springing from the mind of the internationally renowned choreographer who brought the stunning dance adaptations of Edward Scissorhands and the all-male Swan Lake to the stage, Lord of the Flies features Bourne's signature blend of contemporary dance forms and punchy physical theatre.
"We're involved on stage a lot," said 16-year-old Inverbervie local Euan Lownie of the north-east boys' roles alongside the professional roster of dancers.
"We do full cast dances as well as our own sequences. We have a lot of acting as well, and lots of reacting to what's going on. Later on in the show, we all become a bit savage. There's a real tribal feel to it."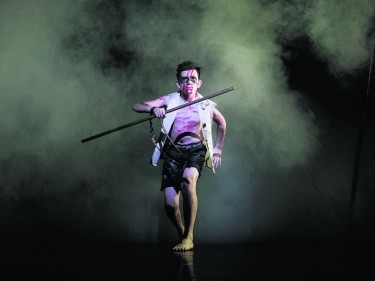 Also new to dance, Euan found out about the production online. As a keen footballer, he was trepidatious initially about signing up, but his love of performing – which had been stoked during his involvement in the school's Rock Challenge, and the Urie Players' annual pantomime – overcame any concerns he had.
"In a way, it has been quite odd doing this, because football is completely different, but it's good because I've got really fit," the Stonehaven Youths centre-midfield player said.
Now that the performance week is looming, Michael, Euan and their fellow dancers are biting their nails in anticipation. Some have been well and truly bitten by the dancing bug, intending to continue well beyond Lord of the Flies, whereas others are just glad to have taken
part, learned something new and to be showcasing it to their friends and families.
For some like Michael, it has been a joy to release an inner passion for dance, and to form a new gang of friends who share that passion.
"At first, I remember being really quiet," Michael said, "but now I'm totally myself. It has shown me that if you want to do something then you should just go for it. If you have a dream, no matter what, just go for it. And I think if there's someone else out there who loves dance, I want to show them it's OK to do it."
Matthew's money-can't-buy feeling
When Matthew Bourne first devised his Lord of the Flies adaptation two years ago in Glasgow, as part of an outreach project for his new charitable arm, Re:Bourne, he realised that tapping into a raw stream of amateur talent produced very special results. Other choreographers might have been scared off from working with untrained youths, but not Matthew.
"It's very exciting. What you get is this incredible involvement from the boys and their families as well. And you can't buy that," the multiple-award-winning artist said.
"So the atmosphere at every performance – especially the first night – is electric. It reminds you why you do what you do. You go backstage and the boys are so high on the whole thing. And the last performance is always gut-wrenchingly emotional, because it's been a life-changing experience for them. You can only feel great about that."
While the amateur cast for each production in the tour is different, Matthew and his team strive to stick to the original concept as much as is possible when coming to a new city.
"We're looking for boys who are really passionate about doing it. That can vary from ones who have just got into dance recently to some who have been doing drama but no dance. Some have an ambition to be dancers; some are into other dance forms like hip hop, and we have slightly older lads in their early 20s who have just got into dance. So we try to create a mix in each city as much as we can. But really we always want to have some guys who have never done dance before."
While he recognises the tour is a great way to seek out and inspire new generations of professional dancers, he firmly believes this is first and foremost about giving youngsters a positive experience, irrespective of their artistic aspirations.
"A lot of the guys sign up to do a workshop initially, and we want that to be a positive experience, whether they get picked or not," he said.
"I swear, a lot of these lads will turn up at auditions for our company in the future saying: 'Remember me?' But I'm not saying that's what this is all about. It's about giving them a great experience, and confidence building."
Lord of the Flies runs at HM Theatre, Aberdeen, from Wednesday to Saturday, August 27-30 at 7.30pm. Matinee performances will also run on Thursday at 2pm and Saturday at 2.30pm. Tickets are available from www.aberdeenperformingarts.com or by calling 01224 641122.