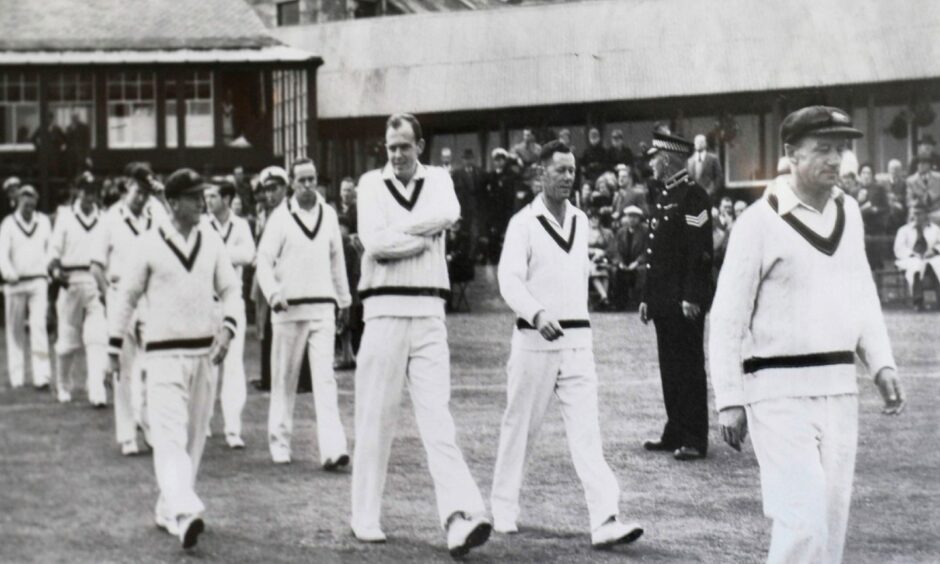 One after another, hour after hour, buses and trams whizzed along Union Street, past Holburn Junction and Great Western Road as thousands of Aberdonians flocked to a big sporting occasion.
Those who travelled to the venue licked their lips as they dreamed of watching some of the greatest players who had ever graced the game – and snapped up their tickets, mementoes and programmes with the relish of Bunter unleashed in a tuck shop.
What, you might ask, had piqued the imagination of so many people in the north-east? A grand football international? The visit of rugby legends? Or a major boxing bout?
In the event, it was none of these things, but rather a two-day cricket match between Scotland and the Australian "Invincibles", captained by the soon-to-be-knighted Don Bradman, which took place at Mannofield on September 17 and 18 in 1948.
And, even now, 75 years later, it was a remarkable spectacle which attracted an unprecedented number of fans for Bradman's last hurrah in Britain.
For "The Don", here was one final opportunity to ply his trade with flashing blade in Britain and he duly obliged with yet another majestic century. For the supporters, it was a chance to behold masters at work against the SCU's amateur brigade.
There were as many as 8,000 spectators on the first day and 10,000 on the second, which was when Bradman struck a magnificent 123 in only 89 minutes with a string of sumptuous boundaries and a couple of towering 6s.
Main revelled his Mannofield visit
Most of the attendees are gone now, of course. Yet we have the memories of such people as Ally Main and Buff Hardie to testify to the fervour which swept among the throng as the Australians – who had just thrashed England in the Ashes series that summer – took to the field and the crowd reacted with a racket never previously heard at the ground.
As somebody who joined the Royal Navy in 1942 and served his country throughout the rest of the Second World War, Main from Broughty Ferry understood the sentiment once expressed by the Aussie all-rounder Keith Miller – "Pressure is having a Messerschmitt up your a**e, playing cricket is not" – and revelled in the atmosphere.
'Nobody expected us to win'
Main told me, prior to his death in 2020, aged 96: "It was an unforgettable experience to watch the Australians, because they had so much quality in their squad that they could afford to rest people like Miller for the Scotland game.
"Nobody expected us to win, and especially not after what had happened in the Ashes, but we made a decent fist of it on the opening day before being bowled out for 178.
"Once Bradman came to the crease on the Saturday, it all changed and it was as if he was playing a different game from any of the Scottish lads who tried their best, but to no avail. But you have to say he had the talent to do that to any opponents in the world and it was a privilege to see him producing a marvellous array of shots.
"Nobody went home disappointed. And the beer tent was always busy. Unforgettable."
Remarkable scenes
As one of the members of the popular Scotland the What? trio, alongside George Donald and Steve Robertson, Buff Hardie performed all across the world, the trio were awarded MBEs in 1994 and were honoured with the Freedom of Aberdeen in 2008.
But, as one of life's genuine cricket aficionados, Buff was mesmerised by the remarkable scenes which surrounded the biggest match in north-east cricket: a tussle between Bradman and his illustrious band and the amateurs of Scotland.
Hardie told me in 2018, two years before his death at the age of 89: "The place was packed and I don't suppose that we will ever see anything like it again.
"Like a lot of Aberdonians, I was daft about the game, followed all the scores in the Press & Journal and listened to Tests on the wireless and made sure I got a ticket. There were temporary stands put up over the reservoir next to the ground and I think there were something like 10,000 people there, which was quite extraordinary at the time.
"It was probably not up to modern health and safety standards, but everybody was such in a good mood we all made room for as many as wanted to watch. Which was plenty.
The place was absolutely packed
"I was just 17, but we had all followed the Australians throughout that summer and we knew the quality they had in their team. It wasn't just Bradman either. They had a whole band of wonderful players, of the calibre of Keith Miller, who was one of the best all-rounders in history; Neil Harvey, Ray Lindwall, Ian Johnson…and so it went on.
"However, it was all managed quite nicely for the Saturday when 10,000 people turned up to watch the action. The weather was fine, Bradman came to the crease quite quickly and made a near effortless 123 not out in about 90 minutes. He was 40 years old by that stage, but we all admired his talent and that of Colin McCool who also hit a century.
"Eventually, they declared (on an imposing 407 for six) and there wasn't much the Scots could do to stem the tide. Even the Australian wicket-keeper Don Tallon took his gloves off, had a wee bowl, and took a couple of wickets as the home side were dismissed for 142. So they won, but they were always going to win."
'The result didn't matter to anybody'
Hardie, one of many aficionados of the sport in his homeland, added: "The result didn't matter to anybody who was lucky enough to be there. It was Bradman's final appearance on British soil and we had been there to see it.
"The next day, he travelled to Balmoral to meet the King [George VI] and some of the stuffier royal commentators were shocked when he was photographed walking with the monarch with his hands in his pockets. But it obviously didn't bother the King that much – after all, Bradman was given his knighthood just a few weeks later."
Etched in history
Hardie and the rest of his now sadly-departed STW confreres made millions laugh in their own right, while promoting the Doric language and creating rib-tickling tales which were often set in the fictional Aberdeenshire Village "Auchterturra".
Indeed, he never strayed far from his roots and celebrated his 80th birthday in 2011 with a group of friends and acquaintances at Mannofield and the setting was – where else – the Bradman Suite which is packed with splendid memorabilia.
He said: "I told the guests it was nice I had reached 80 at the same venue where I had watched the Don pass the same score more than 60 years earlier.
"And it really struck a chord with the audience."
Nowadays, Aberdeenshire CC draw 100 people if they're lucky to their local league fixtures. But that star-studded brace of days in 1948 are indelibly etched in history.