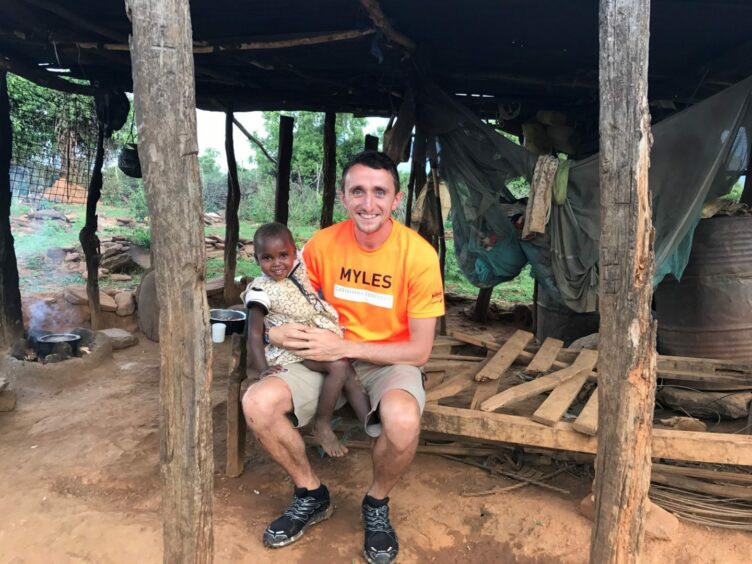 Myles Edwards had barely been born before athletics were a part of his life.
He didn't know it at the time, of course, but on the way home from hospital after he entered the world in 1988, his dad Mel – "much to my mum Kareen's dismay" – stopped at Balgownie playing fields in Aberdeen to watch a local cross-country race.
It was the start of a remarkable journey for the former pupil at Mile End Primary and Aberdeen Grammar School, who has subsequently excelled both on and off the track, whether as a former Scotland champion in the 1,500m or a philanthropic, enterprising figure who has poured his heart and soul into the Gathimba Edwards Foundation.
I've known Myles for the last decade and he has transcended tragedy – the death of his friend Neil Jaffrey in a traffic collision in 2014 and the loss of his beloved father, a road service engineer, formidable marathon runner and charity fundraiser, to terminal cancer five years later – with a single-minded resolve to make the world a better place and help those less fortunate than himself. And the results are inspirational.
'I have a lot to thank him for'
In Kenya, he and his colleagues have carried out an astonishing amount of work building houses, assisting myriad youngsters gain a proper education and knuckling down throughout the pandemic to ensure these ventures didn't wither on the vine.
Then, there's the Neil Jaffrey Initiative which has provided more than £30,000 of equipment and services to five children with severe disabilities living in Aberdeenshire.
There's never any sense of Myles resting on his laurels, as one of life's hardy individuals, but he admits he has benefited from his outgoing perspective in different ways.
EYEWITNESS: Aberdeen athlete Mel Edwards' exploits still evoke rich memories
As he said: "I met my wife Mary during a post-house building trip holiday in Mombasa in 2016 and we have two young daughters, Dahlia who is eight and Amelie who is two.  My dad loved spending time with Dahlia, but sadly passed away before Amelie was born. We chose the name Amelie, so that it had 'Mel' as part of it.
"It was at university in Edinburgh where I met my good friend Dan Mulhare who later invited me out to Kenya for the first time in 2011.  Dan was also with me on the 2016 house building trip in Iten and holiday in Mombasa – without him, I may never have gone to Kenya, started the charity or met my wife. So I have a lot to thank him for."
Supporting children through charity
If he has plenty of other priorities, the foundation sits proudly at the forefront of his achievements, but it's one of those endeavours like painting the Forth Bridge. There's never a moment to sit back and feel you've done everything you can.
On the contrary, the scale of the projects which the organisation has taken on in Kenya means that, for the forseeable future, it's a case of: "Finished that – now what's next?"
As he told me: "We are really proud and grateful to have been able to support 620 children through either school, college or university, build 54 houses for families in need of safe shelter and provide ongoing food/farming and psychosocial support to children and their parents in Kenya.
"I am fortunate to work with great colleagues (two in Aberdeen and eight in Kenya), trustees and volunteers who constantly enable us to help as many children as possible.
Challenges of Covid
"The pandemic was a challenging time. Schools in Kenya were completely closed for large parts of 2020 and 2021 and it wasn't possible for children to do any home learning due to many families not having access to electricity or devices.
"Many of the children we support rely on school meals and families were struggling to put food on the table.  Most of the parents/guardians we support depend on casual work, which is typically on a local farm, where they earn £2 a day.
"The Covid situation also meant that less of this work was available, leaving many families with no source of income.  Thanks to the support of donors, prosource.IT (our principal sponsor), MDT International (our office sponsor), virtual run participants and monthly child sponsors, we were able to provide 80 families with a total of 8,946 days worth of food and essential items during the lockdowns."
Myles has clear aims for the future
Myles is blessed with apparently endless reserves of resilience and tenacity. Obstacles don't deter him, but provide fresh motivation to overcome anything in his way. He realises that in a world where many are struggling and the majority of the news headlines seem to be focused on negativity, it can be difficult to remain optimistic.
Yet it's one of his qualities – which he shares with his father – that he can focus on what's in front of him, rather than be daunted by anything else. Call it what you will, but all the training sessions in which he and Mel participated for so long had the advantage of teaching him you can't beat the clock, but you can keep pursuing personal bests.
And without chasing specific goals, he has clear aims for the future.
He said: "The main focus for GEF in the coming years is doing all we can to get as many children as possible into school, college and university.
"Public secondary school education can cost up to £710 a year, and with many single parents only earning up to £500 a year, it is impossible for their children to gain the education they deserve without extra support.
"I don't particularly like setting targets such as getting 1,000 children into school by a certain year, because there will always be more children beyond that who are still sitting at home without an education.  For us, it is a case of waking up everyday and going the extra mile to reach as many kids as possible."
Marathon goal
Myles recognises that he more things to worry about than just himself. Yet, unsurprisingly, given his DNA, he can still be spotted pounding the beat in Aberdeen, as he pursues his passion for athletics with new plans in the pipeline.
He said: "At 34 years old, I am enjoying running more than ever. I have moved away from 1,500m racing and have really enjoyed doing a couple of half marathons.
"The training is tough in a different way, but the less frequent races also suit my family life better as it means I get to be home more at weekends. My goal for next year is to run my first marathon which will hopefully be London in April.
"Family time and catching up with friends are what I enjoy most outside of work and running, but coaching the Hazlehead Primary School running club every Wednesday morning is always a highlight of the week.
"As every parent will know, you also spend a lot of your 'free' time chauffeuring kids to various activities."
Myles Edwards has never taken a backward step in his life. If everybody had his attitude to adversity, the world would be a far better place.
Further information is available at: gathimbaedwardsfoundation.org
Five questions for Myles Edwards
What book are you reading? Out of Thin Air: Running wisdom and magic from above the clouds in Ethiopia by Michael Crawley.
Who's your hero/heroine? My parents. My dad Mel's positivity, drive to help others and determination when he battled cancer really inspires me to this day. My mum Kareen's selflessness, advice and again passion for helping others has really shaped me as a person.
Do you speak any foreign languages? I am learning Swahili – must do better, though!
What's your favourite band/music? Probably Milburn – a relatively small band from Sheffield.
What's your most treasured possession? Better not say my Nike Vaprofly Next % racing shoes – let's go with my wedding ring!