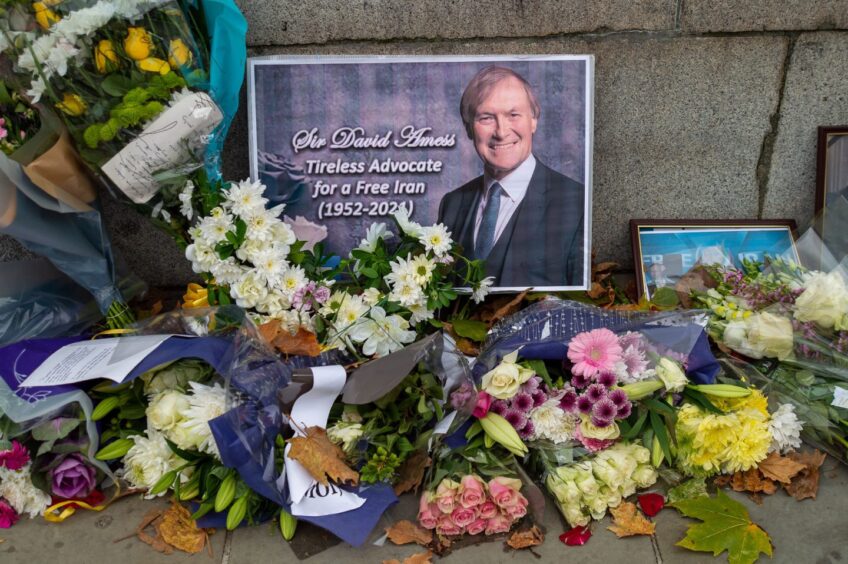 It used to be one of the watchwords of life in Britain. Tolerance: the tacit understanding that even if you didn't agree with somebody else, you could accept they were entitled to their point of view.
Yet it's two years tomorrow since the Conservative MP, Sir David Amess, was stabbed several times at his constituency surgery in Leigh-on-Sea in Essex and his murderer, Ali Harbi Ali, is currently serving life imprisonment, following the senseless attack.
It was a crime which shocked people across the party spectrum, but, of course, it wasn't the only shocking murder of a British politician in recent years. In June 2016, the Labour MP, Jo Cox, died after being shot and stabbed multiple times in West Yorkshire, and her killer, Thomas Mair, was given a whole life term at his trial.
They were two very different individuals, in terms of their beliefs: Amess was a Brexiteer, whereas Cox was a member of the pro-Remain campaign. Yet, many of the tributes afterwards in both cases reflected the widespread feeling that, in a democracy, nobody should ever lose their life for expressing sincerely-held convictions.
Questions over security
But is that still true, in a world where social media has turned into a cesspit, where trolling and abuse of politicians occurs every hour of every day of every week and women, in particular, are targeted for vitriol, threats, insults about their appearance – and occasionally worse, such as the death threats which were made to the SNP MP Joanna Cherry in 2021 and earlier this year?
And earlier this week questions were raised about security after a protester managed to get onto the stage at the Labour Party conference. Sir Keir Starmer was about to give his speech when he was accosted by the protester who threw glitter over him and shouted "true democracy is citizen-led".
Sir Keir pushed him away from the microphone with his right arm before security arrived, and after removing his jacket said:  "if he thinks that bothers me, he doesn't know me." A man was later arrested over the incident.
The Press & Journal spoke to leading figures from different parties last week and it became obvious they believe the atmosphere is growing more noxious, not just to them, but their office workers and anybody who has any dealings with them.
North-east Tory MSP Liam Kerr, said: "What concerns me is that the level of hate seems to be escalating. Even the most innocent post about delivering newsletters and surveys can provoke vitriol. And it's galling having to warn outstanding charities who want to put photos of my visits on their social media that they may be subjected to it.
'It's bile at your staff and family'
"I have grown a thick skin, and most of the abuse is playground stuff that betrays the lack of wits at a keyboard warrior's disposal. But I have seen many – too many – instances of the most vile misogynistic language deployed against women.
"I have lost count of the number of conversations I've had with female friends of my politics and not, who would really add to our political discourse, but wouldn't touch public service for the abuse they'd be subjected to.
"Some of that abuse comes from the misconceived notion that anyone in the public eye is fair game. But it's not just pelters in the press, Private Eye or Spitting Image, it's bile targeted at your office staff, your friends, and your family.
"People don't realise there are real people on the other side of the post. Some MSPs have staff to do their social media so they never have to see it. I do it all myself and the abuse can often be hurtful and distressing.
"Ultimately, I believe all our MSPs/MPs are doing this public service for the right reasons. We're all trying to get to a better Scotland; we just have different ways to get to it. The dog's abuse we get simply for doing the right thing is damaging to us and damaging to the future of genuine politics and betterment of Scotland."
Advised against drop-in surgeries
Maree Todd, the SNP MSP for Caithness, Sutherland and Ross, said: "Scrutiny and criticism are part and parcel of politics, but on platforms such as Twitter [or X], it often crosses the line into abusive and threatening behaviour.
"The Scottish Parliament takes online security very seriously and is responsive to threats. The murders of two MPs, along with the rise in abuse aimed at members, has prompted a change in how we conduct our constituency work. For example, we are advised not to hold drop-in surgeries or share our location publicly.
'We must do better'
"As elected representatives, we also have a role to play in setting the tone of debate.
"Some of the worst abuse I have faced online came after [the Scottish Lib Dem leader] Alex Cole-Hamilton swore at me during a virtual committee meeting. I was then subjected to a relentless onslaught of misogynistic abuse on social media.
"When one person publicly abuses you, it emboldens others to do the same. As politicians, we must do better if we are to inspire more people, especially women, to get involved in politics. We also need the social media giants, such as [the owner of Twitter/X] Elon Musk to moderate platforms responsibly."
But, too often, the Frankie Goes to Hollywood song, Two Tribes, embodies British – and global – politics these days. The subtext is: "You're either with us or you're a traitor". Searching for compromises in this fetid climate is reviled as sitting on the fence.
And one Aberdeen politician revealed it can extend to one's very own doorstep.
Ross Grant, the Labour councillor for Tillydrone, Seaton and Old Aberdeen, said: "When I was first elected in 2012 [at 23], I was the third youngest member of the council, sadly I'm still one of the younger members of the council 12 years on.
We had our windows smashed
"In that time, we moved from a family home that we loved, in part because of the regular abuse we got at our home where our children lived.
"I remember someone very nearly smashed the window in which our, then, one year old child was sleeping in front of, and we had open bags of rubbish maliciously dumped on our doorstep at feverish political moments.
"We had unusual things posted through our letter box and had front door kicked in and windows smashed."
"Putting yourself forward to become a representative is constant hard work and the work never ends. It will always be a huge privilege, but it requires a huge sacrifice."
No wonder some are reluctant to stand for office. Kirstene Hair, the director of Empower Coaching, and former MP for Angus, paid a warm tribute to Sir David Amess – "he was an incredibly hard-working MP, and a wonderful colleague" – but spoke candidly about the current political environment.
She said: "While security is taken seriously in the aftermath of these tragedies, there is a tendency to move on far too quickly before any meaningful change takes place.
Many decide it's not for them
"There is no doubt that online abuse of politicians has a disproportionate impact on females – having asked many extremely capable women to stand for office as MPs, MSPs and councillors, they regularly point to the abuse myself and others have received and decide it's not for them.
"Many of those trolling online specifically target women in order to delegitimise them and make them question if they can carry out the role.
"There is undoubtedly a human toll on this for the women who are targeted, but, ultimately, we all lose out."
And that is surely something which all of us should find disturbing.