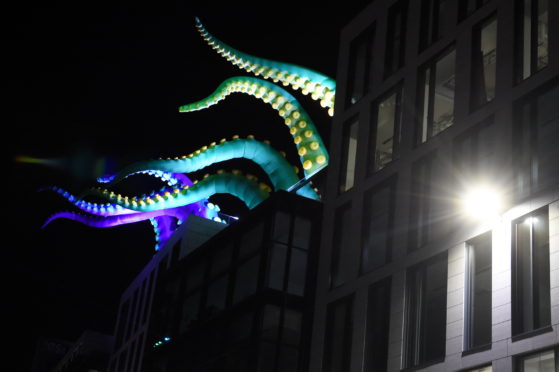 Winter in the north of Scotland is long and bleak.
However, rather than wait out the last weeks of winter hiding indoors and dreaming of summer, Aberdeen City Council has decided to embrace the all-encompassing darkness with the return of the Spectra festival of light.
Organised alongside creative production company Curated Place, the free four-day event first took place in the city in 2015 and sees major pieces of art temporarily installed to light up the streets in unusual and often spectacular ways.
Approximately 100,000 visitors flocked to the attractions in 2018 and, after last year's hiatus, the 2020 edition is more hotly-anticipated than ever.
In line with VisitScotland's chosen 2020 theme of coasts and waters, Spectra will focus on the country's maritime heritage, with artists coming from around the world to take part.
Use our interactive map to find all the innovative art pieces starring in this year's Spectra Festival in Aberdeen
"We've got interactive light artwork, giant inflatable installations, laser fireworks, light shows, music and loads more," said Andy Brydon, director of Curated Place.
"The whole idea is to create a range of really fun and engaging pieces of artwork which will intrigue visitors.
"Many of the pieces on offer are entertaining and family-friendly. It's not supposed to feel like you're walking around a stuffy museum.
"Yet several of the installations would be classed as fine art and could easily stand up on their own merit in a gallery.
"It's just that your perspective of art totally changes when you are outdoors in the dark and looking up at some colourful light show – it seems more accessible."
Spectra originally began as a project between the council and Peacock Visual Arts.
The premise was to design a winter event which would bring people into the city in the post-Christmas lull when the streets are dark and quiet.
The scale of the project has grown year on year and Curated Place has continued this expansion.
"It's a big change for the festival this year," said Andy.
"In past years it's always been centred around Union Terrace Gardens, but of course they are out of commission at the moment, which is rather a shame as it feels somewhat like the festival's home.
"But what the closure of the gardens did do is give us the opportunity to try out new locations, particularly buildings like Marischal Square and the art gallery, which weren't available when Spectra first started out.
"VisitScotland's theme of coasts and waters really opened doors for us too and got us working with lots of different local groups, like Aberdeen University and the RSPB's Dolphinwatch programme.
"This is not a touring festival so all the artwork can be location-specific, both in its content and its installation.
"Though I'm not from Aberdeen myself, I'm very proud to have been working here on Spectra for the last few years and it's so important that the best bits of the city and surrounding landscape are seen.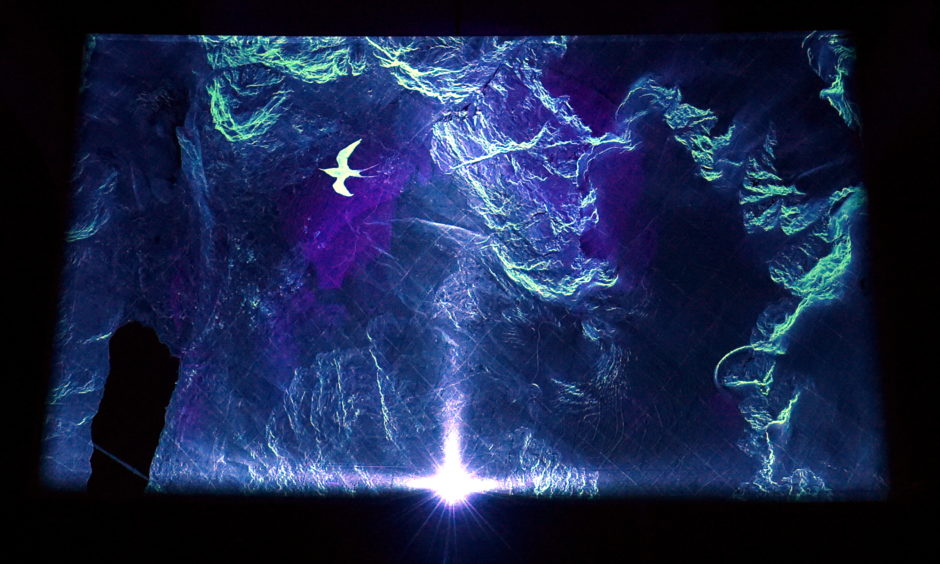 "Cities across the UK are changing and high streets aren't the magnets they used to be.
"It's more critical than ever that places like Aberdeen have artistic and cultural events to focus on to offer a sense of community and identity."
Bringing their talents to the north-east for the first time as part of the festival are English artistic duo Heinrich and Palmer, aka Anna Heinrich and Leon Palmer.
The pair have a broad approach to their work, which in the most part involves large-scale projections, films and photography.
"We visited Aberdeen back in October to get an idea of what the city is like and what we might do for our role in Spectra," said Anna.
"We had a real good nosey round a selection of the potential spaces, but the Kirk of St Nicholas was the one which stood out to us.
"The dimensions of the building were perfect for what we had in mind."
And what they had planned was no small proposal.
Inspired by the Norse story of Skidbladnir, a magical shape-shifting boat, Ship of the Gods combines film, 3D laser technology, sound and lighting effects to create an ethereal projection experience.
"Aberdeen has strong ties to Norway and Scandinavia in general, so the Norse mythology link is there, plus the north-east has always had a history of fishing and shipbuilding which gave another added element," she added.
"Supposedly, this magical Norse ship always had a favourable wind and could transport all the Norse gods at once, yet could transform to fit into your pocket.
"We used scans of models and real ships plus historic life-size measurements to put the piece together to make sure it's incredibly accurate.
"And the aerial projection technology gives it a wonderfully ethereal effect, allowing it to morph from one form to another as though it is shape-shifting as it's sailing through the church."
The pair will be on-site throughout the festival to chat to members of the public about their creation and are looking forward to seeing the other installations over the course of the weekend.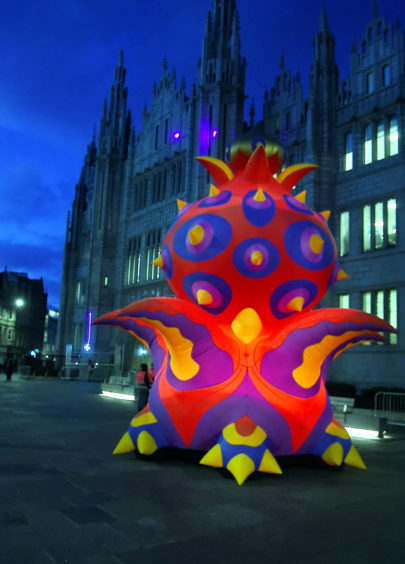 Other artists will also be explaining more about their work during the two Catalyst Conferences on Friday and Saturday at the Music Hall, where speakers will explore how to bring culture and creativity to the forefront of our town and city centres.
So when darkness blankets the city this weekend, it is a good time to open your eyes and see the north-east in a new light.
Spectra is running from today until Sunday at various locations around the city centre.
See spectrafestival.co.uk for a free map and guide. Tickets for the Catalyst Conferences are also available from the website.