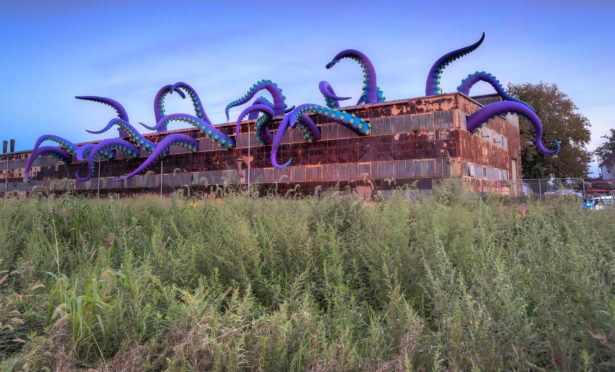 Creatures from the deep will invade Aberdeen next week, with sprawling masses of inflatable tentacles winding their way round some of its most recognisable buildings.
Artists both local and international have been drafted in to fill the city with colour from February 13-16 for the return of festival Spectra, with its full line-up now revealed.
As the sun sets, seven different locations will be lit up with sculptures, projections and innovative art pieces to illuminate the dark evenings.
A maritime theme has been chosen for this year's festival – which is making a comeback after a two year hiatus – with giant sea creature tentacles framing the festivities.
Edinburgh firm Curated Places was recently awarded a £875,000 contract to oversee the festivals for five years.
Created by art duo Designs in Air, the brightly-coloured limbs will appear to be bursting through the windows and walls of sites including Aberdeen Art Gallery, Marischal College and Marischal Square.
They have previously been seen taking over buildings and skylines in France, Australia, Hong Kong and Taiwan.
Visitors to St Nicholas Kirkyard will experience a "haunting soundscape" and mesmerising light shows by Mark Anderson, while Steve Symons' Eloa will offer illusions of spirits and sprites.
And inside the church, guests can witness a stunning ghostly Norse ship and flocks of migratory birds, with both pieces devised by Portsmouth pair Heinrich and Palmer.
Marischal College will play host to the fireworks-themed projection Rainbow Laser Flares, while Yiannis Kranidotis will highlight the plight of ocean pollution in Plastic Sea at Marischal Square.
Elsewhere a giant starfish made of films and animations by local secondary school children will take over the windows of department store John Lewis, while artist Amy Gear will host an installation at the Look Again Project Space on St Andrew St.
For the first time Spectra will also include a conference, with delegates discussing culture and creativity over two days at Aberdeen Music Hall.
Anna Heinrich, one half of Heinrich and Palmer, said: "We have heard the city embraces it and really positive things about Spectra.
"There aren't any nearby cities in close proximity."
Leon Palmer added: "That's the thing that really make it – when a city comes really alive with the project and the place is so full with people.
"And with Aberdeen being so far north, it will be dark and then we'll have the lights.
"It makes it a really tangible sort of event that should bring people together.
"Part of the excitement ahead of it is what we have heard about and part of it is what we have imagined."
Chief executive of Aberdeen Inspired, Adrian Watson, said: "The excitement is starting to build.
"It is fantastic having a light festival back in this northern city.
"We are absolutely delighted to see many thousands getting around the city centre and all the installations.
"It's proven one of the most popular and successful festivals in the city, despite the break, and it fits very comfortably between the likes of Christmas and NuArt as a must-attend event in the north-east.
"The scale of our ambition should be to bring people from further afield here – and ambitious events like Spectra fit that bill."