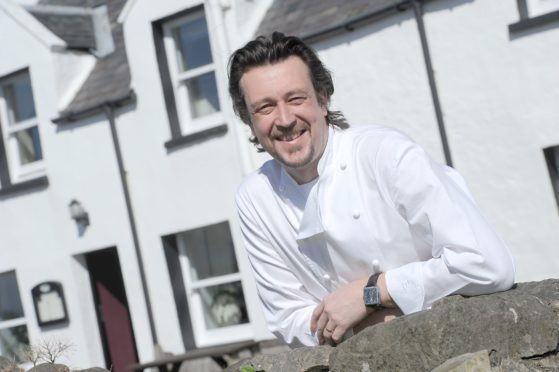 Today's recipes are easy to make at home and feature two of my favourite fish – fresh mackerel and Scottish farmed halibut from Ghia.
Both are plentiful and on the sustainable seafood list.
The only work you have to put in is tracking down your local fishmonger as it's the fishmonger who has the best quality and freshest seafood.
Mackerel is a wonderful fish that's rich in essential oils, minerals and vitamins and is really good for your heart. If it's on the menu I'll never say no to it, and I like to think of Scottish mackerel as being the UK's answer to tuna. When choosing mackerel, look for bright eyes, shiny gills and a stiff body.
The first recipe features mackerel which can either be cooked on a heavyridged pan, grilled or popped on the barbecue. It cooks quickly so make sure you get the skin nicely charred.
It's served with a healthy purple coleslaw made with red cabbage, red onion and beetroot which takes minutes to put together making this a very quick and easy dish.
Farmed Ghia halibut is another super-healthy Scottish fish which is very easy to cook. Full of flavour and with thick, white flesh, it can turn a mid-week supper into a special occasion.
Here, I've served it with a roasted red pepper, tomato and olive salad which can be made in advance and kept in the fridge for up to a week.
You can try Michael's cooking for yourself at his Loch Bay Restaurant on Skye. Call 01470 592235 or visit www.lochbay-restaurant.co.uk
Grilled Mackerel with Purple Slaw (serves four)
4 fillets fresh mackerel
FOR THE PURPLE SLAW
A quarter red cabbage
finely shredded 1 medium red onion
finely shredded
1 medium beetroot
finely shredded
1 purple carrot (if available)
grated 1 green apple (optional), grated
chopped fresh chives
FOR THE RAPESEED LEMON DRESSING (KEEPS IN FRIDGE FOR 10-12 DAYS)
200/250ml approximately Scottish rapeseed oil
1 dessert spoon Dijon mustard
1 dessert spoon
white wine vinegar
2 dessert spoons
fresh lemon juice half a dessert spoon sugar
pinch of salt
TO MAKE THE DRESSING
Put all the dressing ingredients into a bowl, except the oil. Whisk to combine then slowly begin to pour in the oil (this process can be done in an electric blender) until it is all incorporated, giving an emulsified shiny finish.
The dressing can be stored in a jar in the fridge.
TO MAKE THE PURPLE SLAW
Combine the shredded vegetables in a bowl, add enough of the dressing to coat evenly, and mix well.
TO COOK THE MACKEREL
Heat a ridged, heavy pan on a medium setting. Once hot, carefully place the mackerel fillets skin side down. Cook the fish like this until the skin has started to turn a light golden colour and is becoming crisp. At this point, turn each fillet for a further 30 seconds, then remove from the pan.
Serve each fillet with some of the purple slaw and a squeeze of fresh lemon.
Pan-Fried Ghia Halibut with Red Pepper, Tomato and Olive Salad (serves four)
4 pieces Gigha halibut fillet 110g approximately (or any sustainable white fish)
3 red peppers, skinned and seeded 1 small punnet of cherry tomatoes, quartered Olives (of your own preference), halved
Fresh basil – Greek basil is best if you are lucky enough to find it
FOR THE TOMATO DRESSING
100ml rapeseed lemon dressing 1tbsp ready-made tomato sauce for pasta (shop bought is perfectly good). In a bowl, gradually whisk the dressing into the tomato sauce. Dress the peppers, cherry tomatoes and olives.
Heat a non-stick frying pan on a moderate setting. Once hot add a very small amount of oil then carefully place the fish pieces in the pan, seasoning with salt.
Cook for three to four minutes, then turn and continue cooking for a further two to three minutes. Turn off the heat and allow the fish to rest for a minute in the pan.
Serve the cooked fish with the dressed salad, adding some fresh basil to garnish.