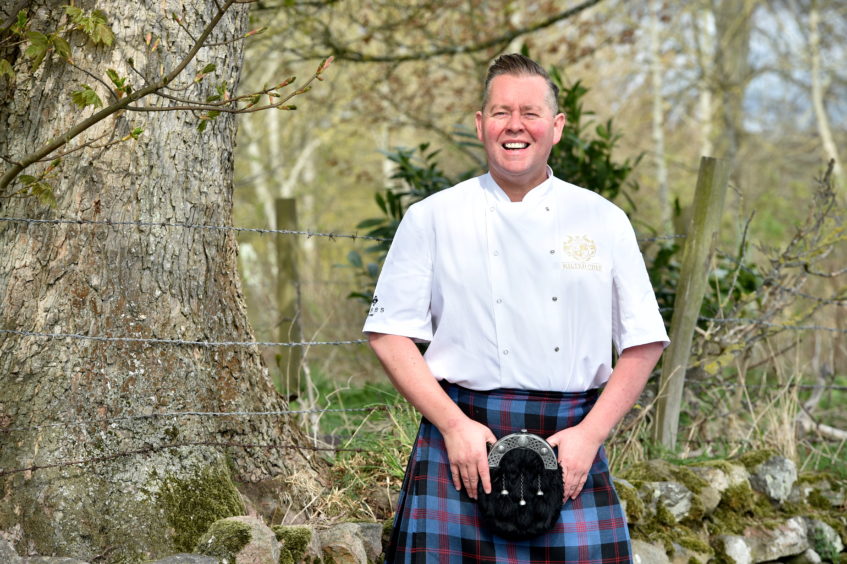 Every month, our new chef columnist Craig Wilson will show readers of P&J food magazine, The Menu, how to make restaurant-quality food at home
Craig Wilson, who is often referred to as The Kilted Chef thanks to his passion for wearing the kilt while cooking, is owner of the award-winning Eat on the Green restaurant in Udny Green, Aberdeenshire.
With more than 30 years of experience, he's passionate about locally-grown produce and showcasing the best of Scotland's larder.
During lockdown, he's been encouraging people to get cooking in the kitchen, learn new skills and try new recipes. He has launched his own cookery slot on Facebook called Live@5 which is streamed on Mondays, Wednesdays and Fridays.
Reminder to join The Kilted Chef Live @ 5 today with special guest Jimmy Buchan!

Posted by Eat On The Green on Friday, 22 May 2020
An ambassador for Scottish food and drink, he's cooked for many celebrities over the years – now he's cooking for menu readers.
This week, he's focusing on fish…
"For a quick and easy dinner, fish is always a winner," said Craig. "The fresher the better, and if you can get it from a local fishmonger, they will happily fillet and debone your fish to save you the time and hassle at home.
"These recipes are really simple and can be adapted to suit your favourite type of fish.
"Serve with local, seasonal produce and you've got the perfect accompaniment."
---
Corn on the cod
(Serves 2)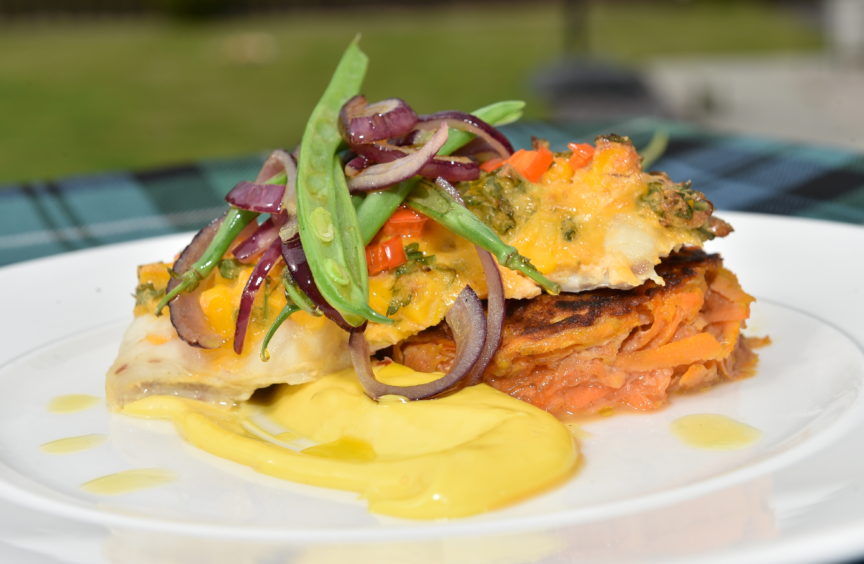 Ingredients
2 cod fillets (approx weight 150g each)
75g cheddar cheese, grated
1 egg, whisked
1 tbsp fresh parsley, chopped
½ a red pepper, diced
½ a small tin of sweetcorn
Salt and pepper, to taste
For the lemon and saffron mayonnaise:
3 tbsp mayonnaise
10ml white wine
Juice from ¼ of a fresh lemon
½ tsp lemon zest
A few saffron strands or ¼ tsp turmeric
For the sweet potato rosti:
½ a sweet potato, grated
1 Rooster potato, grated
1 carrot, grated
1 egg yolk
For the side dish:
A handful of green beans, par boiled
1 red onion, finely chopped
½ a garlic clove, minced (optional)
½ tsp sugar
50ml white wine
Method
To make the fish: 
Combine the red pepper, sweetcorn, egg, parsley and cheese in a bowl and season with salt and pepper to taste.
Put the mix on top of the fish, skin-side down. Place on a greased baking tray. Top with a little bit more cheese and herbs. Bake at 200°C for 12 minutes.
To make the mayonnaise: Mix the mayo, wine, fresh lemon juice and zest with the saffron and place in fridge.
To make the rosti: 
Put the grated sweet potato, potato, carrot and egg yolk in a bowl and combine.
Season to taste.
Preheat a non-stick pan and add half the rosti mix to the inside of a large metal cutter in the pan. Squeeze the mixture down with a spoon to achieve a thickness of about three quarters of an inch.
Next, sauté the red onion in the pan around the side of the cutter to combine the flavours, then add a touch of garlic, half a tsp of sugar, a splash of white wine and cook until caramelised.
Allow the rosti to cook for three minutes on the first side. Remove cutter, and using a fish slice, turn over and cook the other side until golden brown.
Turn on to a plate and keep warm, leave onions to continue caramelising but take care not to burn while you repeat with remaining half of rosti mix.
Remove rosti to the warmed plate and add par-boiled green beans to the pan with the onions for the last minute before serving.
---
Prosciutto and courgette fish parcels
(Serves 2)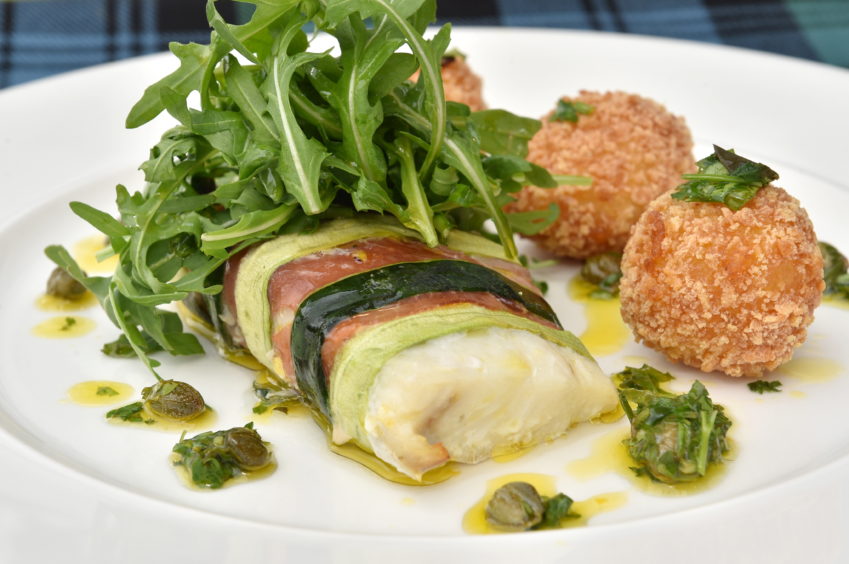 Ingredients
2 slices Prosciutto or Parma ham slices
1 courgette, sliced into long fine pieces with a speed peeler
Fish of your choice (I used 2 sea bass fillets)
2 tbsp olive oil
2 tbsp fresh lemon juice
50ml white wine
4 cherry tomatoes, halved
2 basil leaves
Method
Wrap the prosciutto and courgette slices around the fish fillet in an alternate pattern (cross ways rather than lengthways so it appears as stripes).
Place skin-side up on a piece of foil, big enough to loosely fold into a parcel with air space.
Add the olive oil, lemon juice, basil leaves, tomato halves and wine.
Close up the sides of the foil parcel leaving a small opening at the top for steam to escape.
Bake in the oven at 185°C for 4-5 minutes –thicker fillets like cod may need 9-10 minutes.
Remove from the oven, pop on to a plate and serve with seasonal veg and arancini (see recipe below).
---
Arancini, roasted veg and Parmesan
(Makes 8- 10) 
Ingredients
400g cooked arborio risotto rice
150g fresh veg such as courgette, red/yellow peppers cut into small cubes
50ml white wine
1 tsp balsamic vinegar
4 fresh basil leaves, finely chopped
1 clove garlic, minced
Salt to season
Olive oil
100g Parmesan cheese, grated
For the coating:
1 bowl plain flour
1 egg yolk, whisked
1 bowl breadcrumbs
For the garlic butter:
½ a garlic clove, minced
50g butter
Pinch of salt
Method
Make the garlic butter by mixing the butter, salt and half clove minced garlic together.
Fry the onion, 1 garlic clove and veg for a few minutes until softened.
Stir through rice, wine and vinegar until absorbed and starting to get sticky.
Take off the heat, add the garlic butter and work through.
Add the basil, Parmesan and mix well. Roll into firm balls and place in the fridge for 30 minutes. Coat the rice balls in flour, egg yolk and fine breadcrumbs in that order. Pop back in the fridge until you are ready to cook them.
Fry in hot oil for 3-4 minutes, until golden brown.
Serve alongside the fish parcels.