Scotland's national chef creates two exclusive recipes for Press and Journal readers using a number of fabulous north-east products.
Gary Maclean, Scotland's national chef, should be attending the Turriff Show this weekend. But, like a lot of events this year, Scotland's biggest two-day agricultural show has been cancelled and is instead going to be a virtual event, which takes place tomorrow and Monday (August 3).
But there's no need for Gary's fans to be disappointed as he'll appear as part of the online offering via three cooking demonstration videos made in association with Quality Meat Scotland (QMS).
"I'm using lovely produce from the north-east of Scotland and in every single dish I'm using lots of items from producers who would normally have been at the Turriff Show," said Gary
Gary is also taking part in the virtual Taste of Grampian festival which will take place via an online and interactive platform from September 18-20.
"This would have been my fourth appearance at the festival so I'm naturally disappointed not to be there in person, but I'm looking forward to showcasing some wonderful produce from the Grampian region online."
Here, he shares two recipes which are exclusive to Press and Journal readers, featuring Specially Selected Pork and Scotch Beef.
"I'd like to elevate pork so people see it as an amazing, luxurious and beautiful product," said Gary.
"Pork is 100% underrated. It's probably the most economical bit of meat you
can buy yet full of flavour and easy to cook.
"When cooking Scotch Beef fillet steak you need to pre-heat a heavy-based non-stick pan or griddle pan on a high heat, and add a touch of oil.
"Once the pan is hot, the oil will start to haze slightly.
"Once the steak has been seasoned add it to the pan – you are 'sealing' the meat, which is all about creating colour and flavour.
"Resist the need to shake the pan, shaking the pan will only cool it down and end up boiling the meat.
"If the pan cools down, the juices come out, and if the juices come out, you lose colour and moisture."
Meanwhile, you'll find the videos Gary created for the Turriff Show on the Scotch Kitchen.
---
Peppered fillet of Scotch Beef with a blue cheese, pickled celery and walnut salad
(Serves 4) 
Ingredients
4 x 160g Scotch Beef fillet steaks
2 sticks celery, peeled and cut into fine strips
70ml white wine vinegar
50g Rora Dairy Scottish honey
2 sprigs thyme
1 carrot, peeled and cut into fine strips
100g Cambus O'May Cheese
2 slices of bread
20g unsalted butter
Handful of mixed leaves
50ml Macintosh of Glendaveny rapeseed oil
75g walnuts
1 tsp cracked black pepper
Sea salt flakes
Method
Remove the steak from the fridge and allow it to come to room temperature.
Put the vinegar, honey and thyme in a pan and bring to the boil. Check the balance as it should be a pleasant, sweet pickle flavour.
Once it's been removed from the heat and cooled, add the celery strips.
Make croutons by cutting the bread into small cubes and pan frying in a little butter until crisp.
Place the mixed leaves, carrot, croutons, pickled celery, cheese and walnuts in a bowl and set aside.
Pre-heat a heavy base non-stick pan or griddle pan on a high heat, add a touch of
oil. Season the steak with salt and pepper.
When the pan is hot, add the steak and cook it to your liking. Remove from the pan and allow the meat to rest for a few minutes.
Drizzle a little rapeseed oil over the salad and toss until everything is mixed. Serve with your fillet steak.
---
Specially Selected Pork belly with noodles
(Serves 4) 
Ingredients
400g Specially Selected Pork belly, sliced 2cm thick
300g noodles
50g ginger, finely diced or grated
2 Really Garlicky garlic cloves, finely chopped
2 chestnut mushrooms, sliced
2 spring onions, sliced
1 tbsp toasted sesame oil
1 tbsp chilli bean paste (Doubanjiang)
½ tsp dried bonito flakes
For the broth:
300ml stock
1 tsp Japanese miso paste
1 tsp soy sauce
1½ tsp rice vinegar
For the toppings:
2 hard-boiled eggs
1 sheet nori seaweed
50g bean sprouts
1 bunch fresh coriander
1 Veg Company red chilli, sliced
Method
In a medium saucepan, heat sesame oil over a medium-high heat and add ginger and garlic when oil is hot.
When fragrant, add chilli bean paste and stir. Add the pork and cook until it takes on some colour. Add the chestnut mushrooms and cook until wilted. Add water or stock and bring to a boil.
Lower the heat to medium-low, add miso paste and soy sauce and simmer for 5 minutes. Add the spring onions and rice vinegar. Turn off the heat and set aside.
Cook the noodles in boiling salted water. When done, drain completely and place in ice cold water.
Divide the noodles on plates or bowls. Serve all the toppings on the noodles or on a separate plate. Pour the hot soup in a bowl.
Serve the noodles, toppings and soup and sprinkle bonito flakes in the soup right before enjoying.
---
Read more in this series…
Main Course: Lady Claire Macdonald shares the perfect get-together dish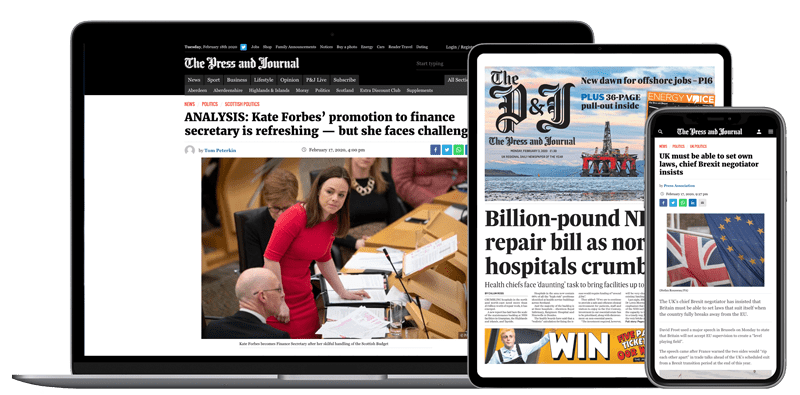 Help support quality local journalism … become a digital subscriber to The Press and Journal
For as little as £5.99 a month you can access all of our content, including Premium articles.
Subscribe