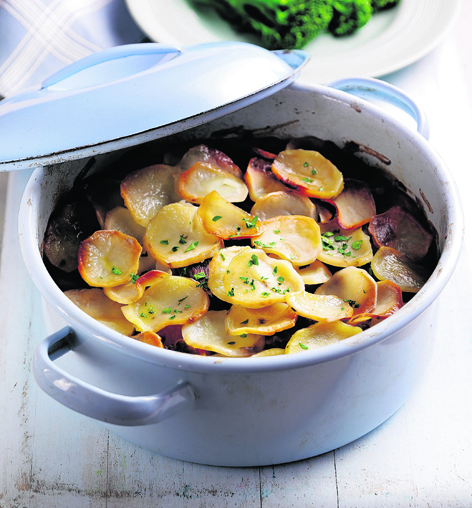 Potato Pete may not be a name familiar to the younger generation, but for those who lived through World War II, he was a familiar cartoon character, introduced by the Ministry of Agriculture to encourage the population to eat home grown vegetables.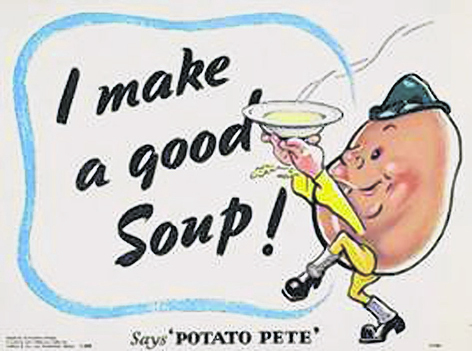 He's been brought back to life in time to celebrate the 70th anniversary of VE Day, which takes place on Friday, May 8, and this time he's given wartime recipes a bit of a modern makeover.
Potatoes are the original superfood, with research showing children get more Vitamin C, B1, B6, Folate, Iron, Magnesium and Potassium from potatoes than from the five superfoods; beetroot, bananas, nuts, broccoli and avocado combined.
And the good news is you no longer have to dig for victory – instead make a quick trip to your local store, and for a very reasonable price, you can pick up a bag of potatoes from which you can create the following recipes.
WOOLTON PIE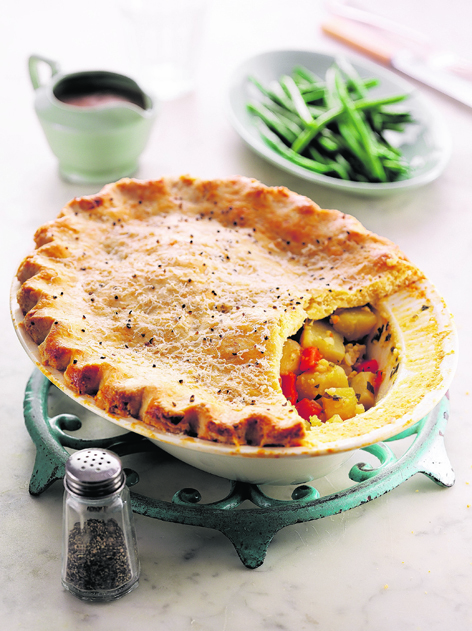 SERVES 4-6
This tasty and nutritious vegetable pie could still be made during times of rationing and food shortages. Named after Lord Woolton, who helped to make the recipe popular when he became Minister of Food in 1940.
FOR THE PIE FILLING
2tbsp olive oil
450g diced smooth potato such as Desiree
450g cauliflower, broken into small florets
450g diced carrot
450g diced parsnip
3 spring onions, chopped
2 garlic cloves chopped
200ml vegetable stock
1tbsp oatmeal
2tbsp parsley, chopped
FOR THE CRUST
115g cooked and mashed smooth potatoes such as Desiree
tsp salt
225g plain flour
85g shortening/ vegetable suet
2tsp baking powder
1 egg, beaten
2tbsp semi-skimmed milk
20g grated Parmesan
Course ground black pepper
For the filling, heat the olive oil in a large saucepan then add the vegetables and fry over a medium heat until lightly golden brown for about 10 minutes. Stir in the garlic and cook for one minute then stir in the oatmeal and pour in the stock and cover with a lid.
Simmer gently for 10 minutes until tender, stirring every minute to prevent the vegetables from catching on the bottom of the pan.
Once the vegetables are tender remove from the heat and stir in the parsley. Season well with salt and pepper. Spoon the vegetables into a deep pie dish and make the crust.
For the crust, combine salt, flour and baking powder then rub shortening into the flour mixture. Gently mix in the potato then add a little milk if needed to create desired consistency, then knead.
Roll out the crust onto a floured board then place on top of the vegetable mixture, crimpling the edges. Brush the top with egg then sprinkle with a little black pepper and Parmesan.
Bake in a preheated oven set at 220C / 200C fan / gas mark 7 for 25-30 minutes or until the pastry is lightly browned then serve with gravy.
SCOTCH HOTPOT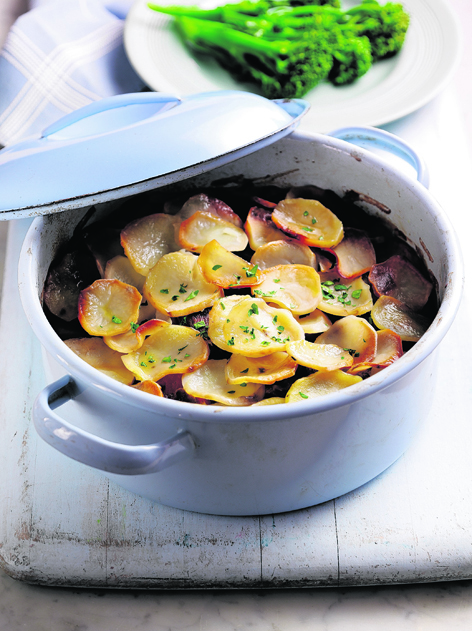 SERVES 4-6
This dish was often made with shin of beef and sausages for a hearty meal. This lighter version omits the sausages and includes fresh rosemary for extra flavour.
450g peeled smooth potatoes such as Desiree
2tbsp olive oil
600g shin of beef, cut into 2cm pieces, excess fat removed
1tbsp rosemary leaves, chopped
225g tomatoes
2 apples, peeled
2 onions
1tbsp plain flour, seasoned with salt and pepper
Around 300ml fresh good quality beef stock
Pepper to taste
Heat the olive oil in a frying pan then dip the beef into well-seasoned flour. Fry in the frying pan until golden brown all over then set to one side.
Slice the apple, onion, potatoes and tomatoes. Arrange a layer of sliced potatoes in the bottom of a casserole dish. Cover with beef then with the mixed vegetable and apple slices then sprinkle with a little rosemary. Repeat layers, finishing with potato. Pour over the stock then cover with a lid and bake in a preheated oven at 180C / 160C fan / gas mark 4 for 2.5 hours and serve with green vegetables.
For more potato recipe ideas visit the Potato Council website: www.lovepotatoes.co.uk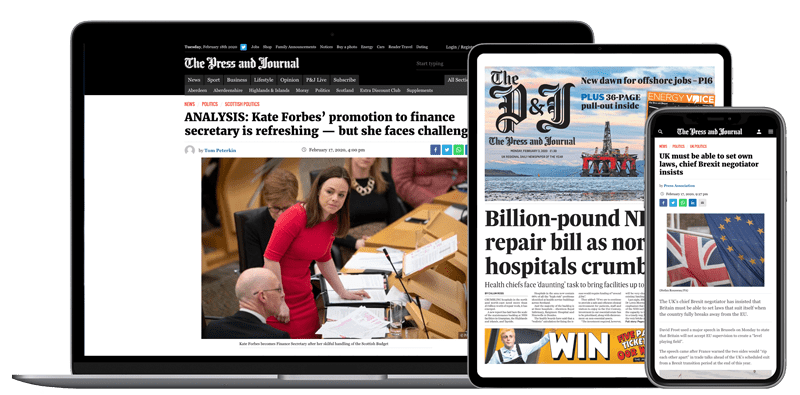 Help support quality local journalism … become a digital subscriber to The Press and Journal
For as little as £5.99 a month you can access all of our content, including Premium articles.
Subscribe