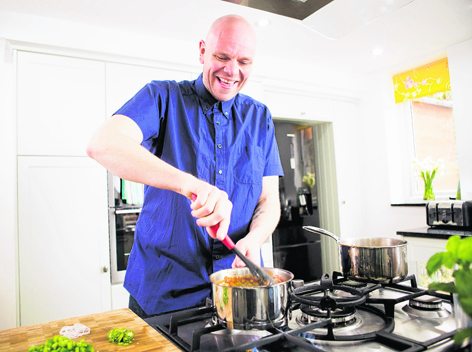 From supermarket to bijou restaurants, pulled pork is certainly having a moment. Here's Tom Kerridge's tips for creating the juicy favourite at home
Affordable, tasty and versatile, it's no wonder our appetite for pulled pork shows no sign of waning. Everywhere you look, from fast-food chains and high-street favourites, all the way up to high-end restaurants, it seems some version of the American barbecue classic will be on the menu.
While our craving for this flaky delight is evidently well catered for out and about, affable TV chef Tom Kerridge thinks it's a doddle to recreate at home too. Cooked over a low temperature for a long time, there's limited faff required, and the slow cook time means you can get away with using a cheap cut of meat like pork shoulder.
"A dish like pulled pork really could be the answer for busy families who still want to enjoy a Sunday meal together," said Tom. "All you need to do is apply a rub to the pork, stick it in the oven and then go enjoy your Sunday, while the oven does all the hard work. It's much less fiddly than a roast, and pulling it apart with two forks at the end is easier than carving."
Easy to pull off (no pun intended), affordable and crowd-pleasing, I'd definitely plump for pulled pork again. Fancy having a go? Here are three of Tom Kerridge's recipes.
TOM KERRIDGE'S PERFECT PULLED PORK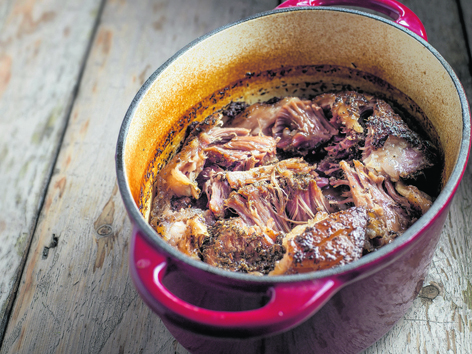 SERVES 6-8
1.5kg pork shoulder
1l chicken stock
TO MAKE THE SPICE RUB, MIX TOGETHER:
50g table salt
75g muscovado sugar
1tbsp dried sage
1tbsp English mustard powder
1tsp dried thyme
1tbsp cracked black pepper
1tbsp cumin seeds, toasted
3 star anise, toasted and crushed
1tsp garlic powder
Lay the pork shoulder in a roasting dish and with a sharp knife, score 10 or so deep holes into the flesh. Rub the combined spice mix all over the meat and into the grooves you've made, making sure the mix is fully rubbed in. Wrap the joint completely in cling film and place in the fridge overnight.
The following day, remove the pork from the fridge and take off the cling film. Place in a casserole dish and pour over the chicken stock. Cover with a lid and place into a pre-heated oven at 150C for five-six hours – at the four-hour mark, remove the lid for a crispy crust.
Once cooked, remove from the oven and leave to rest for half an hour or
so before pulling the meat apart with
a fork.
TOM KERRIDGE'S BLACK PEPPER PULLED PORK SLOPPY JOE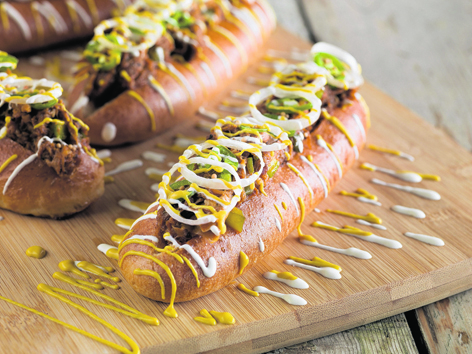 SERVES 6
2 white onions, sliced
1tbsp garlic powder
3 cloves of garlic, grated
2tsp cracked black pepper
1tbsp tomato puree
1pt chicken stock
400g pulled pork (follow previous recipe to prepare this)
2 green peppers, diced
1 green chilli, sliced
1tbsp American mustard
Zest of 1 lime
Pinch of cayenne pepper
1tbsp smoked paprika
1tsp marjoram
TO SERVE:
6 glazed hot dog buns
1tbsp pickled green chillies
2 banana shallots, sliced into rings
1tsp toasted yellow mustard seeds
3tbsp sour cream (in a squeezy bottle)
3tbsp American mustard
In a heavy-based saucepan, heat a little oil and fry off the onions until golden. Add the garlic powder, fresh garlic, paprika, marjoram and black pepper and sweat down for a few minutes to release the flavour. Add the puree and chicken stock and bring up to the boil.
Once boiling, add the pulled pork and simmer for one hour. 10 minutes from the end, add the green pepper and green chilli and allow to soften slightly.
To finish, add the mustard, lime zest and cayenne pepper. To serve, spoon the mixture into the glazed hotdog buns, scatter over the pickled chillies, shallot rings and mustard seeds. Then pipe over the sour cream and mustard.
TOM KERRIDGE'S SCRUMPY AND APPLE PULLED PORK PIE WITH CLOTTED CREAM MASH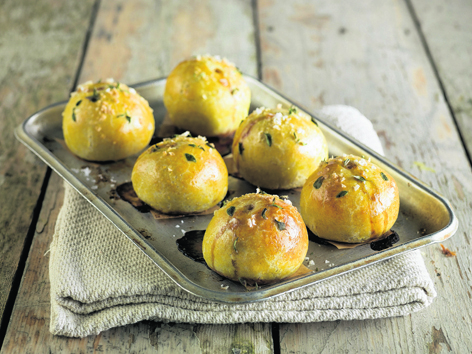 SERVES 6
1 onion, diced
550ml dry cider
3 Granny Smith apples, peeled and diced
1tsp English mustard
200ml chicken stock
400g pulled pork (follow first recipe to prepare this)
1tbsp brown sauce
1tsp sage
2tbsp chopped dried apple
200g caul fat (available from the butcher)
FOR THE PASTRY:
125g wholemeal flour
125g bread flour
50g semolina
Pinch of mustard powder
90ml water
75g lard
Egg yolks to glaze
1tsp picked thyme
Pinch of sea salt
FOR THE CLOTTED CREAM MASH:
100g double cream
30g butter
300g dry mashed potatoes
Salt and white pepper
100g clotted cream
Fry the onion until soft, then add the cider, all the apples, mustard and stock. Bring to the boil, then add the pulled pork. Simmer until the mixture has reduced by two thirds, and then remove from the heat.
Leave the mix to cool and then add the brown sauce and sage. Work the mix into 100g balls then put them in the fridge to set.
Once set, wrap each one in a single layer of the caul fat, and then put back in the fridge for the fat to dry a little.
While this is happening, make the pastry. Put all the dry ingredients into a bowl. Combine the fat and water in a saucepan, bring to the boil and stir this into the dry mix with a wooden spoon.
Once the mix is fully combined, work with your hands and then divide into six. Roll out and wrap the balls of meat (now out of the fridge) individually. Repeat until you have six lovely round pies, prick a hole in each one and brush with the egg yolk. Season with a little sea salt and thyme. Bake at 185C for 16 minutes, turning each pie once.
To make the mash, bring the double cream and butter to the boil. Stir this in to warm the dry mash, then season with salt and white pepper. To finish, stir in the clotted cream.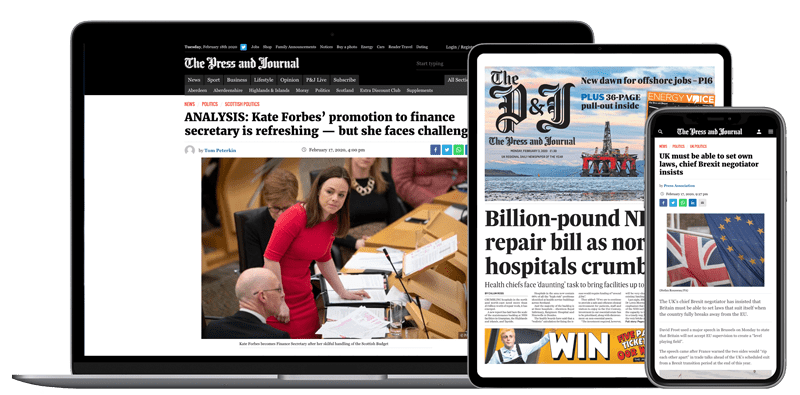 Help support quality local journalism … become a digital subscriber to The Press and Journal
For as little as £5.99 a month you can access all of our content, including Premium articles.
Subscribe