Last year was a special one for Kenny McMillan of Macdonald Hotels & Resorts as he was named executive chef of the year at the 2015 Scottish Hotel Awards. Today he's giving local produce top billing, with a trio of recipes using some of his favourite ingredients to create warming dishes for chilly nights
BAKED CONNAGE CLAVA WITH PISTACHIO CRUST, CANDIED ROASTED HAZELNUTS AND SOURDOUGH TOASTS
SERVES 2-4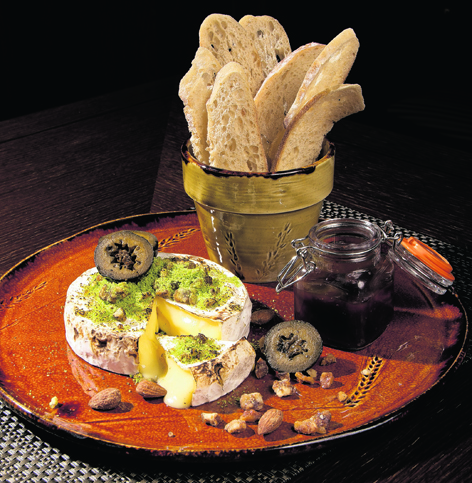 Located in close proximity to the Macdonald New Drumossie Hotel in Inverness, Connage Highland Dairy is a supplier of top quality cheeses. This recipe for their award-winning Connage Clava brie-style cheese is ideal to enjoy as a starter, or with a glass of wine on a cold evening.
120g Connage Clava
4tbsp Panko breadcrumbs
3tbsp fresh herbs (e.g. rosemary, thyme, parsley) washed and dried
1tbsp peeled pistachios
1tbsp flaked almonds
1 clove garlic, crushed
Olive oil
Salt and pepper
1 sourdough loaf
120g hazelnuts
50ml water
50g sugar
Preheat the oven to 180°C. Place the almonds on a baking tray and bake until golden brown. Set aside. Put the breadcrumbs, garlic, pistachios and herbs in a food processor and blitz until a green crumb is formed. Drizzle in enough olive oil to bind the mixture together.
Season the cheese with freshly ground black pepper before topping with the crumb. Place in an ovenproof dish and bake until the crumb is crunchy and cheese is soft and gooey in the middle.
To make the sourdough toast, slice the loaf to create shard-like fingers. Brush with olive oil, and toast in the oven until dried out but not golden. To make the candied hazelnuts, place the water and sugar in a saucepan and boil until a syrup consistency is achieved. Cool slightly then add the hazelnuts and toss to coat.
Transfer to a baking tray and roast in the oven for six minutes then deep fry in hot oil and serve scattered on and around the baked cheese. For an extra nutty taste, scatter on some pickled walnuts too.
GOURMET BEEF BURGER WITH STORNOWAY BLACK PUDDING, PICKLED RED ONIONS AND TRIPLE COOKED CHIPS
SERVES 4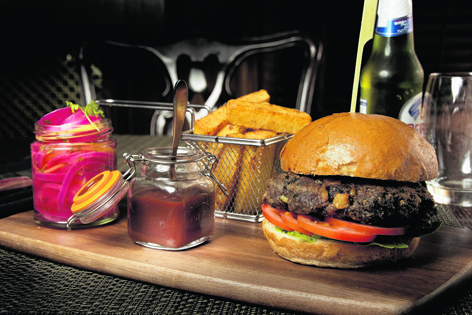 Located in the heart of Aberdeenshire, Macdonald Pittodrie House Hotel near Inverurie lies within a stone's throw of leading meat supplier Scotbeef Inverurie. This gourmet burger is a great twist on a family favourite.
FOR THE BURGER
720g lean Scotch Beef mince
40g Stornoway black pudding, diced
10g sun blushed tomatoes, chopped
10g fresh chopped basil
4tsp of chopped chives
1tsp Worcestershire sauce
1tsp tomato ketchup
1 clove garlic, crushed
4 brioche buns
FOR THE PICKLED RED ONION
2 medium red onions, sliced
2 small limes, sliced
100ml white wine vinegar
2tbsp sugar
1tsp salt
1tsp black peppercorns
1tbsp fresh coriander, chopped
FOR THE BBQ SAUCE
8tbsp tomato ketchup
1tbsp balsamic vinegar
1tsp dark brown sugar
1tbsp soy sauce
1tsp Jack Daniel's
Salt to taste
FOR THE TRIPLED COOKED CHIPS
Vegetable stock cube
6 large baking potatoes
1tbsp of Cajun spice
In a large bowl mix the mince with the ketchup, Worcestershire sauce, chives and garlic. Add the Stornoway black pudding, tomatoes and freshly chopped basil then shape into burgers. In a hot pan seal the burger both sides for 60 seconds then cook in a 180°C oven 12 minutes. Serve in warm brioche buns.
This is ideally accompanied with pickled red onions which make an excellent addition to this and a variety of other dishes – it's a great one to keep handy in the fridge.
Plunge the onions in to boiling water for 20 seconds then remove from the water and set aside. Place the vinegar, sugar and salt in a pan and bring to the boil, then slightly cool. Now add the sliced limes, peppercorns, chopped coriander and blanched onions and keep in sterilised airtight container in the fridge for up to seven days.
For the BBQ sauce, heat the Jack Daniel's then add sugar, cooking until dissolved. Cool the mixture then stir in the other sauce ingredients.
For the triple cooked chips, peel and rinse the potatoes then cut into even pieces (roughly nine chips per potato). Add a vegetable stock cube to the cooking water and cook until al dente. Cool then blanch in oil. Remove, drain and freeze until required. Refry in hot oil at 200°C until the outside is crisp and brown, and the middle soft and fluffy. Coat in Cajun spice. Assemble the dish, serve and enjoy.
NORTH SEA COD FILLET WITH PANCETTA, BROCCOLI, PICKLED CAULIFLOWER, CONFIT TOMATO AND SAMPHIRE
SERVES 4
At Macdonald Norwood Hall Hotel in Aberdeen and other venues in the region, they are fortunate to work with Blueflag Seafoods in supplying customers with a bounty of fresh fish. Fish is healthy and quick to cook making it an ever-popular addition to the menu at home too.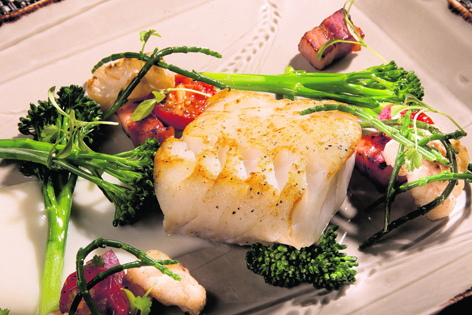 4 x 160g portions of cod fillet
160g tenderstem broccoli, trimmed
120g samphire
1 small cauliflower
40g sliced white onion
1 clove of garlic, crushed
1tbsp olive oil
1 knob of butter
250ml vegetable stock
200ml double cream
200ml white wine vinegar
Knob of butter
200ml water
150g sugar
Pinch of salt
1 star anise
1 bay leaf
2 x sprigs of thyme
150g smoked pancetta diced
200g cherry tomatoes, halved
250ml good quality olive oil
1tbsp sea salt
6 cloves of garlic, bruised
Fresh black pepper
Preheat the oven to 140°C. Drizzle the cherry tomatoes with olive oil, sea salt, the bruised garlic cloves, one sprig of thyme, black pepper then cook slowly in the oven until the tomatoes are starting to burst and collapse. Remove from the oven and set aside to cool, then put in an airtight container. Cover with the rest of the olive oil and store in the fridge until required (these tomatoes are also great for salads, pasta, cheese dishes).
For the purée, prepare the cauliflower into florets retaining 12 small florets for the pickle. In a small pan add the oil and butter and start to sweat the onion slowly. After a few minutes add the garlic and the cauliflower, slowly cook until the cauliflower starts to break down then add the vegetable stock and cook for a few more minutes. Add the cream then bring to the boil. Once the cream is thick remove from the heat, and blend in a liquidiser with a little salt and pepper until smooth.
For the pickle, cook the reserved cauliflower in salted water for one minute or until almost cooked. In a saucepan add the vinegar, water, sugar, salt, star anise, thyme and bay leaf, bring to the boil then pour over the cauliflower and leave to the side. Blanch the samphire in boiling water for 30 seconds, and the broccoli in the boiling water for 60 seconds then dip in cold water to refresh and stop the cooking process.
Fry off the pancetta. Once cooked add the pickled cauliflower and warm through, set aside in a warm place. Season the cod. In a hot non-stick pan add a little oil then fry the cod fillets skin side down. Once coloured put on tray and place in the oven at 180°C for eight minutes, then leave to rest in a warm place.
To assemble the dish, place a generous amount of cauliflower puree on the centre of the plate, then place the cooked pancetta around, with some gently warmed cherry tomatoes. Toss the cooked broccoli and samphire in a knob of butter and scatter around plate, now place the piece of rested cod on the purée. Serve with boiled baby potatoes tossed in butter and chives.