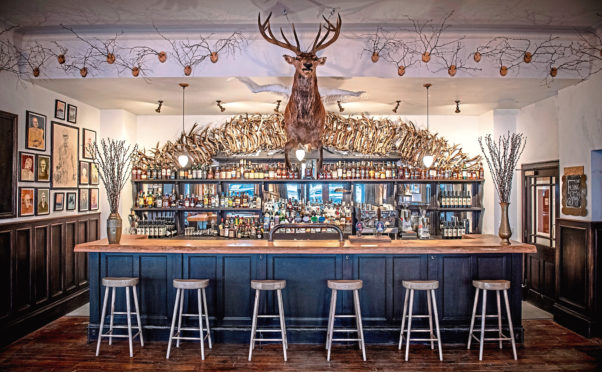 A piano plays by itself in the main reception area while a large stag with feathered wings flies over the bar.
A spider-like structure takes centre stage in the courtyard and "Queen Victoria" sits regal in a corner of the library.
No, this not a strange dream I had last night. This is the weird and wonderful world of The Fife Arms in Braemar.
The stunning hotel was given a dramatic makeover after being bought by Iwan and Manuela Wirth, co-presidents of Hauser & Wirth.
Officially opening in December last year, the owners have breathed new life into the 19th Century coaching inn and hotel, built by the Duke of Fife.
And we were lucky enough to enjoy a night's stay there.
From the outside, it looks fairly typical of a village hotel. But once you are through the door, it is something you've never seen before.
It is a feast for all the senses. You will feel like you are a child again walking around this hotel, stopping every couple of seconds and uttering the phrase, "ooh what's that?" at every turn.
Russell Sage Studio masterminded the interior design and has created a charming blend of old and new. Even with the knowledge that some of it is new, it all feels very original, like this is how it should have always looked.
I won't give it all away as part of the magic of this establishment is walking its corridors and discovering all the magical elements yourself.
There is one art piece that really stuck with me that was truly impressive. And all I will say is the artist has taken something completely ordinary, an everyday object, and turned it into something extraordinary. And you don't have to be a guest to enjoy it – the hotel holds regular art tours which are also open to the wider community.
Upstairs, the 46 bedrooms have all been individually designed. We were staying in the Heather, part of the Nature and Poetry collection, which had a lovely, calm decor and artwork and objects made from natural materials including a beautiful wooden headboard.
Our night began with some cocktails in Elsa's Bar and it felt like we had been transported to a scene from The Great Gatsby.
Then we headed for the main event in the stunning Clunie dining room. A large stag isn't our usual view for dinner – but it is when you are staying at The Fife Arms.
For starters, I went for the Arisaig lobster and heather-smoked blue mussels while my husband tried the seared red deer haunch with sweet pea emulsion.
Like the hotel itself, my starter was an explosion for the senses. Every bite revealed something different and it was beautifully cooked. Given how quickly David finished his choice, it was safe to say he enjoyed it.
For mains, I went for the birch-smoked Highland beef fillet with coco blanc beans and David chose the west-coast halibut. The beef was cooked to order and the chargrilled taste was just unbelievable. I've never tasted something so flavoursome. While I did miss some potatoes to go with the meal, the beans were a great accompaniment to the dish. The halibut flaked away as my husband tucked in.
We were stuffed – but still managed to squeeze in some dessert by sharing a coffee and cream creation and some chocolate ice cream. Once again, the pudding was full of strong flavours that married up beautifully.
In the morning, the culinary feast continued with a hearty breakfast, complete with game sausage, and later a trip to the Flying Stag bar for a pub lunch. And yes, as the name suggests, there is a flying stag above the bar.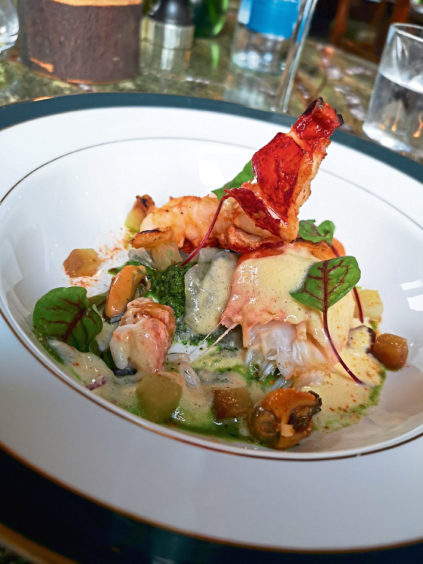 It was Braemar's original village pub and has now been re-imagined but still very much the first stop for locals in search of a pint and pie – which was evident from how busy it was on a weekday lunchtime. It had a lively atmosphere and the decor – a mix of comfy armchairs and benches – gave it a communal feel.
For lunch I had the beer-battered fish and chips and it was bangers and mash for David.
It may have been your typical pub grub menu, but the food was anything but. The batter was so light and fluffy and the fish just melted in my mouth.
For dessert I couldn't resist a dark chocolate brownie with elderflower ice cream, which was as incredible as it sounds.
Eventually we were able to tear ourselves away from the wonder that is The Fife Arms to explore the rest of our surroundings.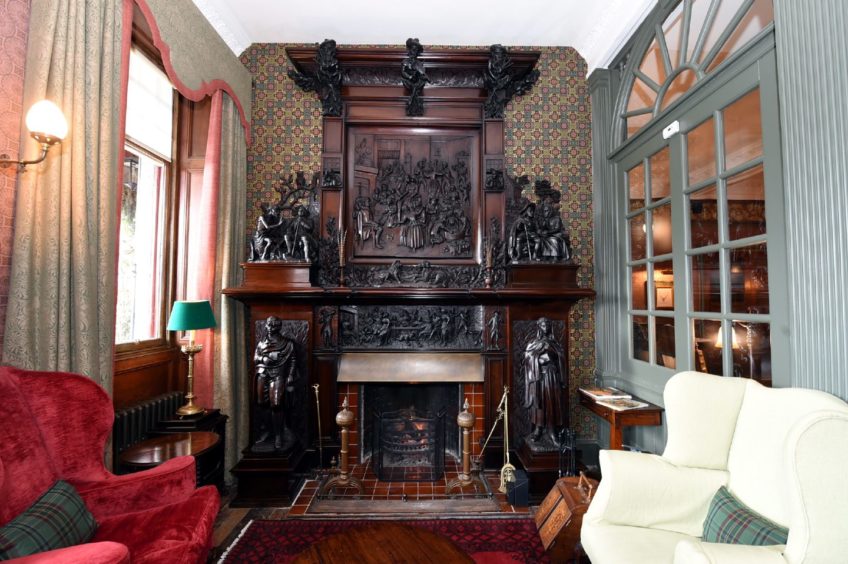 There really is something for everyone in the area including hiking, fishing and stalking for the outdoor lovers and a visit to Braemar Castle for the history buffs. Nearby Ballater is also worth a trip to explore the Old Royal Station, and whisky aficionados shouldn't miss a tour around the Royal Lochnagar distillery at Crathie, by Balmoral Castle.
THE HOTEL
The Fife Arms, Mar Road, Braemar AB35 5YN
Call: 01339 720200
Visit: www.thefifearms.com
Rooms at The Fife Arms are priced from £250 per night (inc VAT and breakfast) and suites are from £795.