Amy Laughinghouse finds her voice on the first "Yodel Hiking Trail" in the Alps
I'm standing 7,500ft up an Austrian mountainside, attempting to imitate an Alpine aria as performed by the love child of Mariah Carey and a demented Siamese cat in heat. The man tasked with taming my tortured yelps into a melodic yodel, not an oxymoron apparently, when it's done right, is Christian Eder, founder of the Königsleiten Jodelwanderweg, the first "Yodel Hiking Trail" in the Alps.
I know, I know. You're probably doing a forehead slap right now, wondering "Why didn't I think of that?"
Well, that's possibly because you didn't read about a yodelling course in the local newspaper, as Eder did, and become besotted with this Alpine tradition. Now, he's on a mission to bring yodelling to the masses by establishing an eight-station hike that winds downhill from a mountaintop cable car stop to the village of Königsleiten below.
At each station, wannabe yodel-meisters can press a button, blasting a song from the speakers. Then it's your turn to copy it. Inghams tour operator has just introduced the hike, led by Eder or his sister Ursi, as part of its programme of summer excursions from the Tyrolean resort town of Mayrhofen.
If folks choose to do it on their own, they shouldn't have a terribly difficult time locating the yodelling stations. Each is marked by a massive plastic sculpture, such as a round of cheese with a slide and lederhosen so big, they can fit half a dozen people.
Eder, clad in decidedly smaller leather lederhosen, explains that yodelling began as a means of coded communication between the mountains and valleys. Of course, that was in the days before mobile phones and texting, if anyone can remember back that far.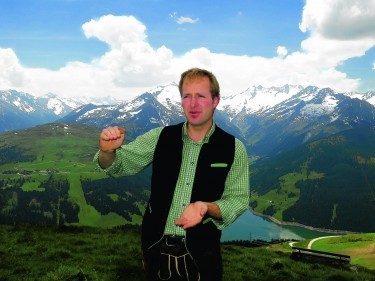 A joyful yodel would mean "Everything is fine. We're happy here on the mountain," he says. A more mournful song in a lower register, by contrast, indicates "something a little bit sad. Maybe your cow is dead." (Alpine problems).
"Everyone can yodel," he assures my companions and me. "It's not about singing perfectly. The most important thing is to be loud. It's easier to hit the right note when you sing loudly."
It's also easier to hear it when you don't, I think, imagining myself bringing down an avalanche from the snowcaps that top Austria's highest peaks year round.
Fortunately, today we won't be doing any "extreme yodelling," which requires quick changes between the head and chest voices. "You can't learn that in one day," Eder says with a solemn shake of his head. "We do the easy ones."
We begin with a warm-up, howling like banshees and flailing our arms and legs in giant windmills. I suspect this may simply be a means of getting us over our fear of looking (and sounding) silly, as I find it hard to imagine Beyoncé behaving like this before a concert. Then Eder leads us through a couple of yodels, but he finds that something is still lacking.
"Your voice sounds a little bit scratchy. You need some medicine, maybe," he says with a grin, whipping a flask and shot glasses from his carry-all.
Our whistles whetted with potent pink homebrewed liqueur, compliments of Eder's sister, the yodels slide from our schnapps-slicked throats like we were born yodellers.
Or so I'd like to imagine. Just as we start to head down the hill for lunch at Larmach Alm, with a spacious deck overlooking the valley and an affable accordion-playing proprietor, the skies open up. The drizzle quickly turns to a downpour, then to tiny pellets of hail. Could this be the powers that be expressing their disgruntled opinion of my yodelling prowess… or lack thereof?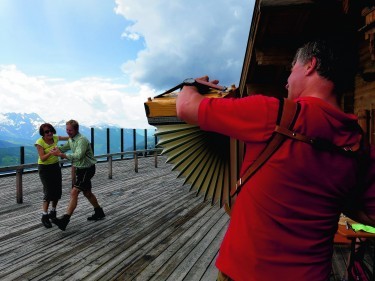 It could be miserable, but then something magical happens. One of my friends starts to yodel, her voice high, hearty and jubilant, despite the fact that we're under fire by the heavens. One by one, we all join in. Our spirits lift instantly, even if the clouds don't, and suddenly, our wet jodelwanderweg has become an "I wouldn't trade it for the world" adventure.
The Dirndl Damsels, as we've dubbed ourselves, might not be walking away with the top prize from Britain's Got Talent anytime soon, but we might just have a shot at the next Eurovision contest. Once we're decked out in the form-fitting, rib-scrunching, bosom-heaving Alpine dresses from a little shop we've found in Mayrhofen, I reckon those Polish milkmaids have got nothing on us.
THE HOLIDAY
For summer 2014, Inghams has introduced a range of new experiences, including learning to yodel in the Austrian Tyrol. Inghams (01483 791114; www.inghams.co.uk) offers seven nights at Mayrhofen's 4-star Sporthotel Manni's (with a rooftop pool, sauna and steam room), from £699 per person on half board, including return flights to Innsbruck and resort transfers. Regional flights available from Edinburgh (+£59). The "Learn to Yodel" hiking trail costs £35 per person, including lunch.
More information: Tirol www.visittirol.co.uk; Zillertal region www.zillertal.at; Jodelwanderweg www.jodelweg.at/en/home.html.
Additional attractions: The Hintertux Glacier (www.hintertuxergletscher.at/en/home.html) is the only place in Austria where you can ski 365 days a year, and in the summer, it features beautiful hikes on the lower slopes, through fields of wildflowers and past rushing waterfalls.
At the top of the snow-capped glacier, strap on a helmet for a guided tour of the underground Ice Palace. Local Alpinist Roman Erler discovered the crevasse, which stretches half a kilometre long, in 2007. It's a slippery labyrinth kitted out with ladders and rainbow-coloured lights that illuminate stunning stalactites, stalagmites, glittering ice crystals and frozen waterfalls. There's even an underground lake. Remember to dress warmly, whatever the season. 45-minute tour: adults 8euros (£6.40), children 4euros (£3.20). 70-minute grand tour: adults 16euros (£12.80), children 8euros (£6.40).
Shopping: Wiesnstadl (www.wiesnstadl.eu) in Mayrhofen sells lederhosen and dirndls. Proprietress Sonja Bechler ensures that you get just the right fit. (Hint: If you can barely breathe in your dirndl, much less yodel, it's probably the correct size).