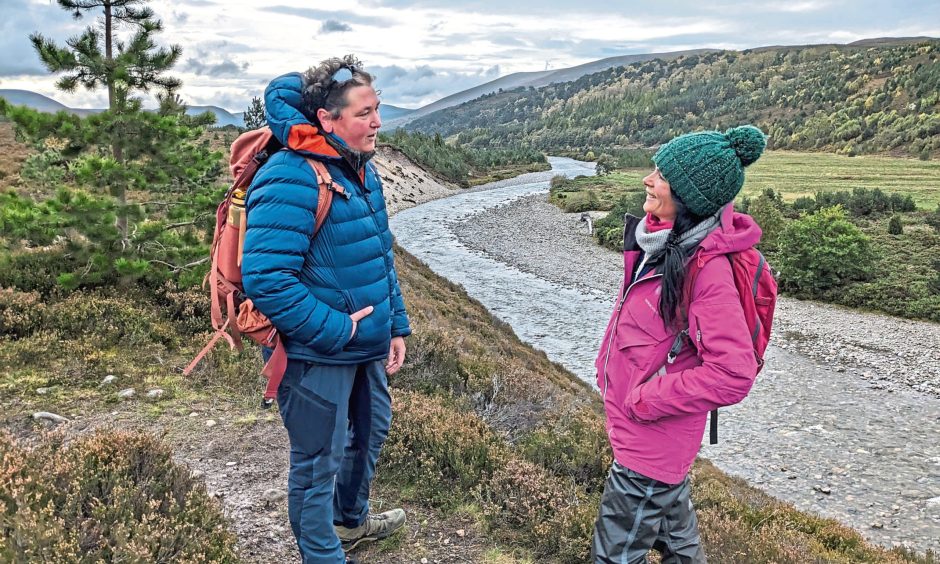 Gnarled, centuries-old granny pines are surrounded by new life, with saplings springing up and spreading in abundance.
Nature, it seems, is taking back control, and the last remnants of the ancient Caledonian forest are beginning to recover in Glen Feshie.
"The landscape here was nothing like this 30 years ago," reflects rewilding campaigner Peter Cairns, pulling out an old photo to show the contrast, which is both startling and inspirational.
Three decades ago, the glen was barren, with very few trees and overrun with vast numbers of red deer guzzling vegetation. Trees didn't stand a chance.
Today, it's a feast of green, with Scots pine, birch, alder and rowan seedlings creeping up the slopes of hills and along the River Feshie.
Wildlife is thriving – the glen is a haven for capercaillie, wildcats, ospreys, otters, pine martens, buzzards and golden eagles – and native trees are regenerating.
Rewilding journey in Cairngorms
I'm on a "rewilding journey" based at Ballintean Mountain Lodge. It started life as a small farm, but it's been under the care of Peter and Amanda Flanigan for the last three decades. Together, they re-shaped this wild corner of the Highlands into a quiet, nature-focused getaway.
I'm lucky enough to be enjoying a "taster" of a five-day experience run by rewilding charity Scotland: The Big Picture (SBP).
These give guests the chance to immerse themselves in the landscape and learn more about the flora, fauna, history and heritage of the area.
Food plays a big part, too, with local produce like wild venison and foraged mushrooms used in dishes prepared by Ballintean's brilliant chef Wendy Sylvester.
The lodge sits within a 120-acre "rewilding" reserve, part of the Northwoods Rewilding Network, where apart from a small herd of Highland cows, nature is left to do its thing.
It's all about hope
It's 8am when we head out into the glen for a recce, and Peter is buzzing with energy.
"It's all about hope," he enthuses. "Many people are seduced by the 'raw beauty' of the landscape, but Scotland is one of the most nature-depleted countries in the world."
While wild forest once stretched across much of Scotland, beavers and cranes hung out in extensive wetlands and salmon and trout filled the rivers. Lynx, wolves and wild boar stalked the wooded glades.
We're a long way off that, but as Peter, who's executive director of SBP, says, there's a vision.
Teeming with life
Since deer numbers were dramatically reduced and a management programme implemented, Glen Feshie has begun to teem with life.
"Nobody can say the landscape hasn't transformed as a consequence of a reduction in grazing pressure," says Peter.
"Trees can regenerate in the presence of grazing animals – just not hundreds of them. Remove grazing pressures and trees start popping up."
Another benefit is that deer are becoming bigger and healthier, where previously they were scrawny and undernourished – a result of too many competing for food.
What should Scotland look like?
"It's about asking what Scotland could, and should, look like," muses Peter.
"Nature doesn't recover quickly. We're right at the beginning of the rewilding journey in Scotland."
With less deer around to nibble at gorse, trees and scrubland, wooded islands in the River Feshie are regenerating, and there's more vegetation, to bind soil and stabilise the riverbed.
Trees that topple into the water are not regarded by Peter as "messy" or "lost".
"Seeing them in a river signals damage and devastation to some people. In their minds, a tree's only a proper tree if it's standing vertically.
"That's because we're conditioned to look for an orderly, managed, tidy landscape. We're reluctant to let dynamic natural processes play out.
"To me, it's really exciting ecologically. It looks like nature taking control. The river moves, cuts away and changes on a weekly basis. Call it damage, call it change – the net result is the same."
Further along, we stumble on a pile of what Peter reckons could be wild cat scat. Nobody takes up his offer of giving it a sniff.
Secret waterfall
After a hearty breakfast, we drive to Auchlean and set off on foot to explore another part of the glen with rewilding guide Stef Lauer.
Our jaws drop when we reach a stunning "secret" waterfall, and then stumble on a huge ant hill. Other highlights include the discovery of cotton grass, star moss and fungi.
Lunch is a picnic on the banks of one of the sparkling Uath lochans before we climb up to the wooded rim of Farleitter Crag for breathtaking views.
Potential beaver habitat
Later in the afternoon, we explore a wetland near Aviemore which Stef describes as "potential beaver habitat".
It's a fabulous mosaic of ponds, channels, reed beds and scrubby woodland, and it's easy to imagine the creatures, often described as "nature's engineers", making it their home.
Back at Ballintean, dinner is outstanding, with wild venison on the menu for those who fancy it (there's also a veggie option).
Perilous state of salmon
The evening's entertainment is a screening of the film Riverwoods, produced by SBP and narrated by Peter Capaldi. It shines a light on the perilous state of Scotland's salmon.
I head off the next morning, but had I stayed, I'd have visited Ballinlaggan Farm, owned by rewilding practitioner Mark Hamblin.
Until three years ago, the farm comprised sterile sheep pasture but it's being transformed into a vibrant mosaic of habitats.
I'd also have explored Abernethy, one of the largest surviving tracts of the magical pine forest.
Pioneering rewilding projects
But of course, my experience was just a taster – sign up for the full "journey" and you'll gain a deeper insight into pioneering rewilding projects across the country.
You'll also get a chance to grill Peter on his own conservation journey – from lorries to lynx. He once ran a trucking business, but now has high hopes that lynx could be reintroduced to Scotland.