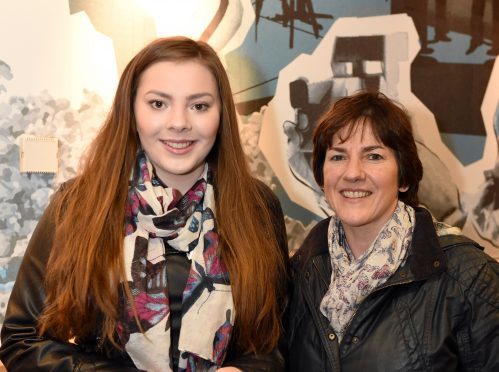 As this year's Home Delivery Awards grow ever closer, members of the public are continuing to nominate their favourites for deserved recognition.
The event will see the hard work of our delivery boys and girls celebrated at an awards ceremony at the Belmont Filmhouse for a second year.
At last year's inaugural ceremony, supervisor Ann Burr had extra reason to feel proud, with her daughter Lynsey being one of two of her delivery kids who was nominated for awards.
Lynsey Burr, now 16, and Sophie Anderson, 18, both received Highly Commended prizes at the 2016 Home Delivery Awards.
While Sophie has moved on from her paper round, Lynsey still has hers and seems as enthusiastic as ever.
Ann, who is supervisor for the Mintlaw staff, said: "I was very proud of them. I still have a very good team. They are reliable, consistent and self-disciplined."
All three of Ann's children, Duncan, 22, Hamish, 20, and Lynsey held down paper rounds and Ann believes it's a great way for young people to get a little bit of extra responsibility.
She added: "It creates a really good work ethic and I think it creates a healthy respect between young and older people.
"My own three had paper rounds and it definitely set them up for later life and helped them to mature."
She did admit: "It's not an easy job, especially in the winter.
"It can be very challenging in that sort of weather.
"But people who receive the papers really do appreciate it. For the older people, it keeps them safe as well."
Having been the supervisor for Mintlaw for five years, Ann has plenty of experience in how to get the best out of her delivery boys and girls.
She said: "I started supervising when my two boys were doing paper rounds. I was asked if I'd be interested and I decided to give it a go.
"It's important to have good contact with the kids, although these days they're so good I don't really need to do that much. But it's important to have a relationship with them and to be able to talk to them."
As this year's awards approach, is looking forward to seeing the delivery boys and girls being rewarded for their efforts once again.
"I think they awards are a really good thing.
"It's good for them to get recognised for all their hard work, especially when they go above the call of duty."
The awards will take place on Sunday, May 7.
Nominations should be submitted no later than April 8 and can be made by filling in the voting form at
https://www.pressandjournal.co.uk/tag/home-delivery-awards/