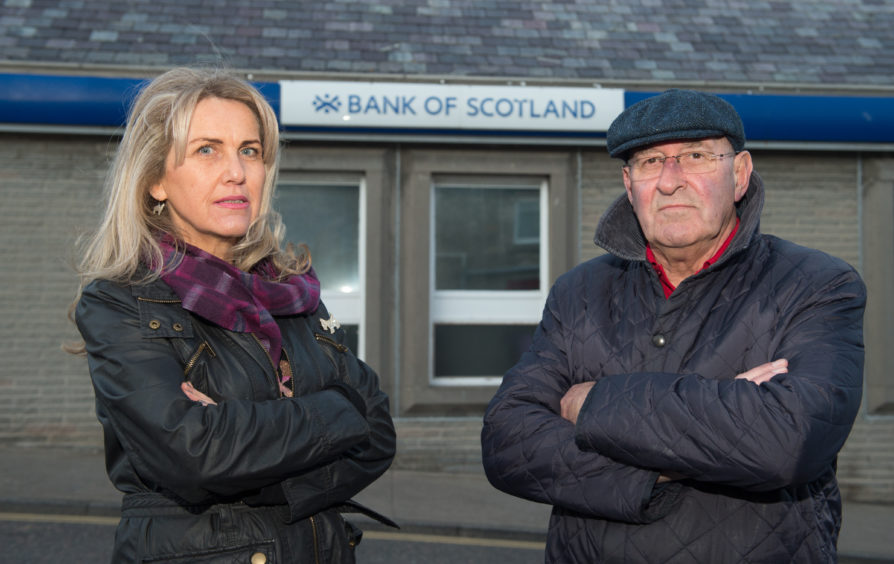 Lossiemouth locals gathered yesterday to discuss their fightback against the planned closure of their last permanent bank.
Two branches in Moray are poised to to be shut down after Bank of Scotland made the "difficult decision" to close branches in Keith and Lossiemouth due to a dwindling amount of customers.
Lossiemouth will be left without a permanent bank and townsfolk will have to rely on the unreliable mobile banking service.
The doors will close on the branch in Keith for the final time in May next year while Lossiemouth will follow in June.
Moray MP Douglas Ross chaired the first of three public meetings in the region to discuss what can be done to stop the bank being closed.
Mike Mulholland, chairman of the Lossiemouth Community Council, has appealed to the bank for a reprieve until after the town grows considerably when the RAF extension happens in 2020.
He said: "As a community, we will try to do everything in our power to get a stay of execution because although we take it they knew about the upcoming period of influx to Losssiemouth, we will state it to them."
"We can also look at attracting another bank if people were willing to change their banks."
Denise Bedson of the Lossiemouth Business Association stated that changing banks would not be that big a problem with local businesses.
She said: "A survey we launched showed that 60% of businesses chose to bank at Bank of Scotland after RBS closed in the town and two-thirds visit at least once a week."
Mr Ross hit out at the no-show from Bank of Scotland who were invited, but have chosen not attend any of the public meetings.
He said: "I've deliberately left an empty chair for the bank as it is unacceptable and unforgivable for them to not come here and face the music."
A petition has already been set up in Keith, while Lossiemouth Community Council have declared their intent to battle the proposals by writing to the Bank of Scotland.
Figures released by the firm say that 24 customers visit the Lossiemouth branch weekly, with the total amount of transactions declining by 8% in the last year, although those figures were disputed by attendees of the meeting who accused the bank of fudging the numbers.
A public meeting is being held tonight at Longmore Hall in Keith at 7pm and another is being staged at Lossiemouth Town Hall tomorrow at 10am.