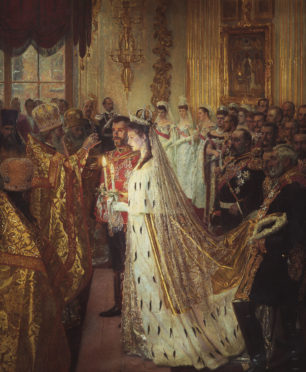 Portraits, sculptures and artefacts telling the story of the relationship between Britain, Russia and their royals have gone on display in a new exhibition.
Russia, Royalty & the Romanovs opens at the Palace of Holyroodhouse in Edinburgh today.
It tells the story of the familial, political, diplomatic and artistic associations between Britain and Russia and their royals for more than 300 years.
The unique relationship between the two countries is explored through portraits, sculpture, photographs and archival documents.
Many of the works of art were commissioned as diplomatic gifts, others as intimate personal mementos and these include miniature masterpieces by Faberge.
The majority of works in the exhibition will be on display in Scotland for the first time.
But the collection also includes examples of how the Jacobites established a close relationship with their Russian contemporaries during the early part of 18th century and features a letter which was written by Peter I, Tsar of Russia, to the Old Pretender more than 20 years before the Battle of Culloden in 1746.
Curator Stephen Patterson said: "Peter's letter, a rare survival of a manuscript letter by the Emperor, was a prized possession of the archives of the exiled Stuart court.
"It refers to discussions between Peter and the agent of the Stuarts who sought Peter and Russia's support against George I.
"Peter died before any action could be taken in support of the Jacobites and any overt support in Russia for the Jacobite cause seemed to have passed.
"However in 1741, when Peter's daughter Elizabeth took the Russian throne after a coup against the infant Ivan VI, Peter's half great-great nephew, and his mother who was acting as regent, the Stuarts saw an opportunity.
"As legitimate rule had been re-established in Russia with the return of Peter's immediate family to the throne, they hoped the new empress would support a similar legitimate claim to a throne, that of Britain.
"As a result, the letter was removed from the archives and a copy sent to Russia in the hope it would show Elizabeth that her father had been supportive of the Jacobite cause.  Unfortunately, the Stuarts' hopes came to naught."
The exhibition in the Queen's Gallery runs until November 3.