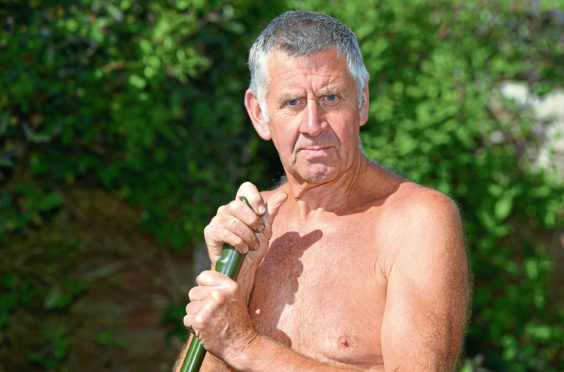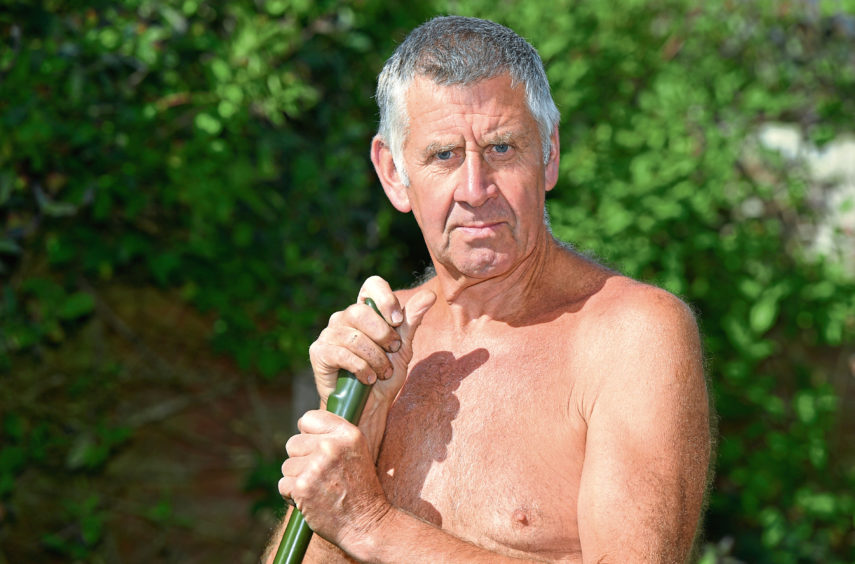 Robbie Gauld is softly spoken, and the retired grandfather can often be found exploring walking routes across Scotland.
He has recently returned from a hiking trip in Orkney and is the master of packing light for trips away.
Four T-shirts don't take up that much space in his camper van, with the added benefit of saving on washing.
His wardrobe may seem sparse, but Robbie seldom has cause to wear clothes in the first place.
He has been a naturist for decades and seeks out isolated walking routes in a bid to indulge his passion.
From hiking in the buff to pottering around naked at his home in Alford, not wearing any clothes is part of his daily routine.
Robbie is well aware that his hobby is perhaps the last taboo in a society which shares everything online.
From analysing our sex lives to joking about bodily functions, we've come a long way from feeling bashful about the human body.
Or have we?
Robbie believes that many people still feel uncomfortable about naturism, and are more likely to shy away from the topic as opposed to becoming involved.
And despite the fact that Scotland is famed for its stunning coastline, there are few official beaches where naturists can throw caution to the wind and strip off.
Crackaig Beach can be found just a few miles north off Brora, with an area designated for naturists.
Cleat's Shore on the Isle of Arran is also an official naturist beach, but is one of the least visited spots according to Bare Britain, The Complete Guide To Naturism.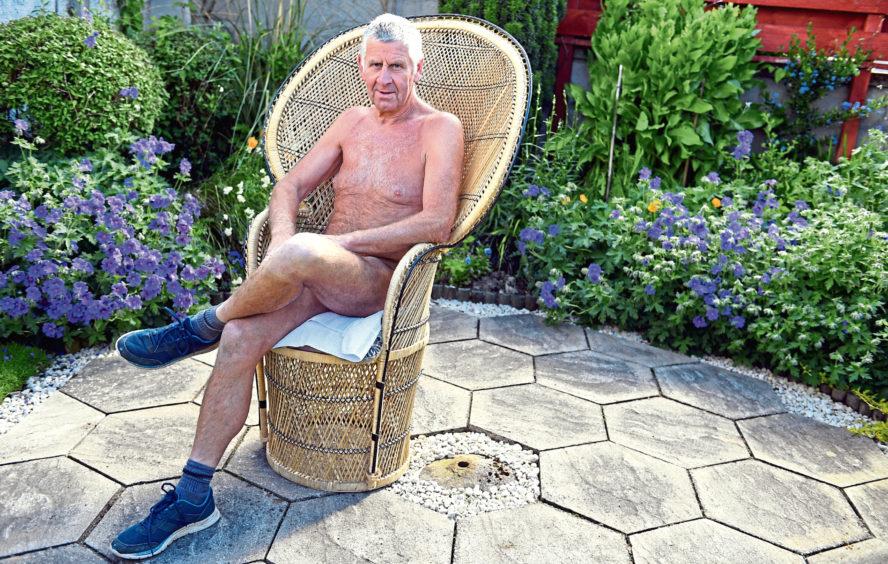 Those living in the north-east make do with far-flung lochs and unknown coves, in the hope they don't bump into anyone.
It would seem that secrecy surrounds naturism, with Sunnybroom Club declining to speak to the Press and Journal.
The naturism club is based in Corrennie Forest and it is believed the group has been active for many years.
The unwillingness to talk is all the more remarkable considering the fact that British Naturism has more than 9,500 members.
Robbie is rather bemused when it comes to people's reactions, although he has never had a bad experience when out hiking.
He recently joined nine other enthusiasts at Balmedie beach in Aberdeenshire for a skinny dip, and believes naturism could be the answer for a generation of people with body insecurities.
Young women in particular are more accustomed to seeing airbrushed models in magazines, although reality TV shows such as Love Island have come under fire for not showing a more diverse range of body shapes.
The body positivity movement has gathered strength on social media, with some women choosing to embrace stretch marks and body hair as the norm.
In Robbie's experience there is no typical body shape, and naturism celebrates a sense of freedom and acceptance.
"The way I see it, your body fits you perfectly," he said.
"I think that naturism can help with any insecurities, because you will see people of all shapes and sizes.
"We're not thinking about our bodies when we're naked, we're just enjoying the freedom.
"I never felt that taking my clothes off was a big deal.
"I've always preferred to be without clothes and I find them unnecessary.
"When I go on walking trips, I take four T-shirts and that's it.
"I choose to go walking without any clothes on; I would say that 80% of the time I've got nothing on.
"I sometimes bump into dog walkers and they are more worried about their dog jumping on me.
"The reaction is overwhelmingly positive, nobody has ever asked me why I'm not wearing any clothes.
"Sometimes people stare straight ahead and don't make eye contact, that's fine by me."
Although Robbie is now a solitary walker, he previously enjoyed naturism with his late partner, Jacquie Hood.
"She had dabbled in naturism but not to any great extent," said Robbie.
"For Jacquie, going naked gave a sense of total physical and mental freedom.
"She realised that there were so many different types of bodies out there, and everyone is perfect in their own way.
"A hip replacement had made her quite self-conscious about her body.
"So I introduced her to the naked swim which is held in the swimming pool at Bridge of Don Academy, on the first Saturday of every month.
"All her worries disappeared and it was fantastic to see."
Robbie and Jacquie enjoyed an active social life with fellow naturists, and were proud members of British Naturism.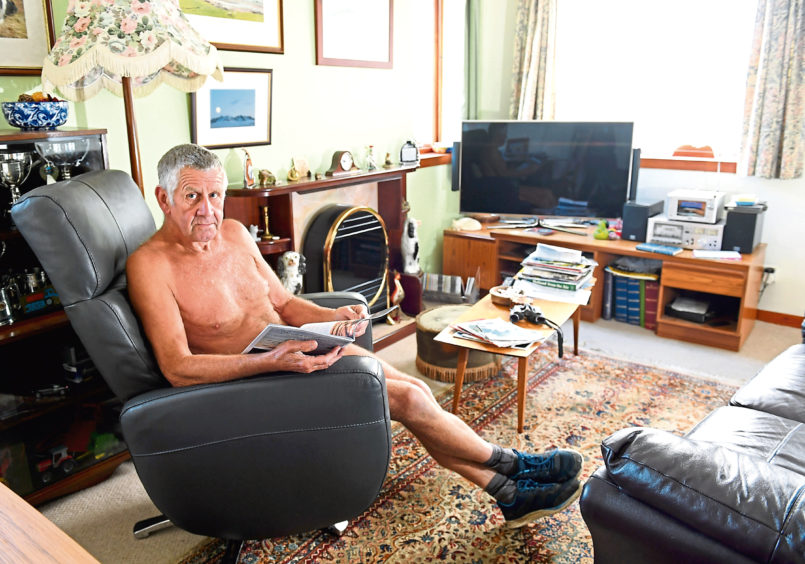 "We enjoyed lots of trips and meeting up with fellow like-minded people," said Robbie.
"It is much easier to become members of a naturist club as a couple, in comparison to if you're a single man.
"For me, naturism has always been about freedom and convenience.
"I feel much more connected to my surroundings if I'm naked.
"I used to be a farmer and would go about my work with no clothes on, it saved them getting dirty.
"If I'm at home I don't really wear clothes, my family accept that."
Robbie recently participated in a skinny dip at Balmedie beach, when fellow enthusiasts braved the North Sea in the nude.
Their chilly swim came as part of The Great British Skinny Dip, with events taking place across the UK.
People have been encouraged to try costume-free swimming across many locations, in a bid to promote body confidence and educate people on the benefits of naturism.
Organiser of the Balmedie dip, John Hughes, believes that attitudes towards naturism need to change for the better.
"The very first year I hosted the Balmedie skinny dip, only four people turned up," he said.
"I wasn't discouraged as one women had come all the way from Halifax to take part.
"This year 10 people participated, although we didn't have any female members."
John, who has been a naturist all his life, describes himself as an "opportune naturist", meaning he strips off when the weather allows.
His wife does not join him in his hobby, and he has always been open about his love of naturism.
"I certainly don't shy away from talking about it, and I think that's the main difference between men and women," he said.
"Women don't seem as confident in telling people they enjoy naturism.
"And people tend to be of a mature age, say in their 50s, before they become involved.
"Ironically it is the younger generation who would perhaps benefit the most by leaving their body issues behind.
"I think we need to go back to basics when it comes to getting more people involved in naturism.
"Children are taught from a very young age that they should hide their bodies away.
"A baby or even a toddler does not have an innate sense of shame when it comes to getting naked.
"We teach our children to cover up.
"I acknowledge that there is concern in society when it comes to things such as paedophilia, and parents are worried as to who might be looking at their child.
"We need to be teaching our children to embrace their bodies and feel at ease.
"I really think that would help with the problems young people have in accepting their bodies in today's society."
John always has clothes at the ready in case he comes across people when out walking, and doesn't tend to strip off regularly at home.
While there may be some way to go before youngsters join naturist clubs, other movements are also embracing the naked form.
Hayley Palmquist is used to attending weddings in her career as a photographer, and she covers nuptials across the north and north-east.
She also offers intimate sessions, whereby women can strip off for the camera and celebrate their body.
Bookings are increasing in popularity and Hayley believes women are growing more confident.
"Intimate sessions are very different from boudoir sessions, which bring up sexualised images of lace and silk," said Hayley.
"There's nothing wrong with that, but it's not what intimate sessions are about.
"If you want to share the pictures with a partner that's great, but the experience is first and foremost for you.
"A woman recently asked me to photograph her because she was due to have a mastectomy.
"I guess she wanted to immortalise her body as it was.
"Women normally get in touch with me from their late 20s onwards, when they've found more confidence in their bodies.
"Certainly when I was in my early 20s, I didn't have much body confidence at all.
"It's only as I'm about to turn 30 that I feel more confident in myself.
"The sessions are more common in North America as I split my time between there and the UK.
"Popularity is rising in Scotland, women are starting to feel empowered and celebrate themselves."