Retired grandfather Robbie Gauld regularly strips off in the great outdoors, and getting naked has become a way of life.
He has been a naturist for decades and seeks out isolated walking routes in a bid to indulge his passion.
From hiking in the buff to pottering around nude at his home in Alford, not wearing any clothes is part of his daily routine.
His family have accepted his hobby, and Robbie seldom wore clothes in his former job as a farmer.
Not everyone is so understanding of naturism, although Robbie believes that the dog walkers he encounters are more concerned about their pooch jumping up and doing some damage.
Despite the fact that Scotland is famed for its stunning coastline, there are few official naturist beaches.
Crackaig Beach can be found just a few miles north off Brora, with an area designated for naturists.
Cleat's Shore on the Isle of Arran is also an official naturist beach, but is one of the least visited spots according to Bare Britain, The Complete Guide To Naturism.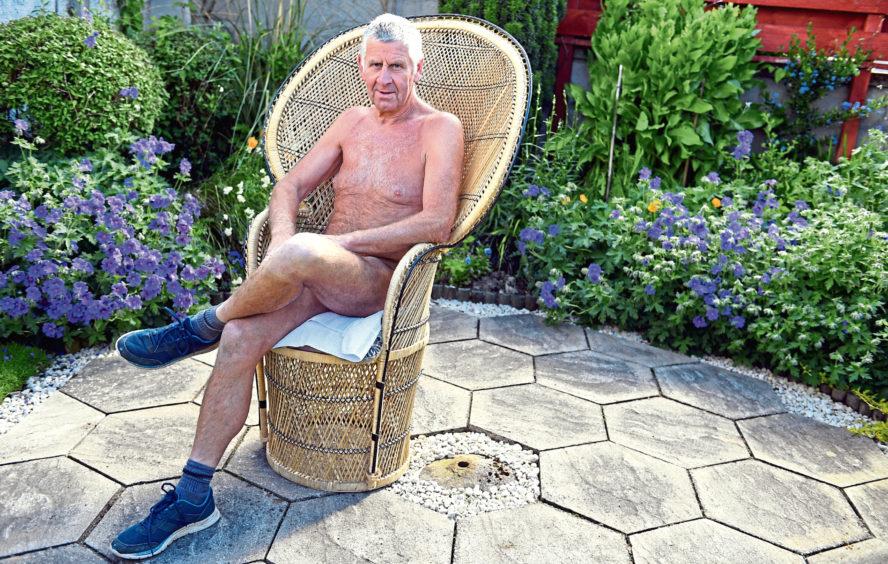 Those living in the north-east make do with far-flung lochs and unknown coves, in the hope they don't bump into anyone.
Robbie regularly joins fellow enthusiasts at Balmedie beach in Aberdeenshire for a skinny dip, and spoke to The Press and Journal about his experiences.
Body confidence in the buff
"The way I see it, your body fits you perfectly," he said.
"I think that naturism can help with any insecurities, because you will see people of all shapes and sizes.
"We're not thinking about our bodies when we're naked, we're just enjoying the freedom.
I never felt that taking my clothes off was a big deal."
"I've always preferred to be without clothes and I find them unnecessary.
"When I go on walking trips, I take four T-shirts and that's it.
"I choose to go walking without any clothes on; I would say that 80% of the time I've got nothing on.
"I sometimes bump into dog walkers and they are more worried about their dog jumping on me.
"The reaction is overwhelmingly positive, nobody has ever asked me why I'm not wearing any clothes.
"Sometimes people stare straight ahead and don't make eye contact, that's fine by me."
'Being naked gives me freedom'
Although Robbie is now a solitary walker, he previously enjoyed naturism with his late partner, Jacquie Hood.
"She had dabbled in naturism but not to any great extent," said Robbie.
"For Jacquie, going naked gave a sense of total physical and mental freedom.
"She realised that there were so many different types of bodies out there, and everyone is perfect in their own way.
Robbie and Jacquie enjoyed an active social life with fellow naturists, and were proud members of British Naturism.
"We enjoyed lots of trips and meeting up with fellow like-minded people," said Robbie.
"It is much easier to become members of a naturist club as a couple, in comparison to if you're a single man.
Naturism in Aberdeenshire has 'always been about freedom and convenience'
"For me, naturism has always been about freedom and convenience.
"I feel much more connected to my surroundings if I'm naked.
"I used to be a farmer and would go about my work with no clothes on, it saved them getting dirty.
"If I'm at home I don't really wear clothes, my family accept that."